When temperatures are in the record-breakingly low negatives, there're basically only two things you can do: 1) find an unoccupied tauntaun carcass, or 2) find a bar with a fireplace. Helping you with the latter, this guide to FIFTY fireplace-equipped Chicago bars.
The Dawson
730 W Grand Ave
Once you get past all of the James Van Der Beek references, hit this West Loop mega-restaurant's private room, which features denim walls (?) and a back-of-the-room wood-burner.
Howells and Hood
435 N Michigan Ave
114 domestic and international beers on tap + Tomato powder-crusted venison + Fireplace = Yes, please.
Tortoise Club
350 N State St
This State St mainstay oozes classic appeal -- the walls glow a vibrant red, every seat in the house is upholstered with plush, smooth leather, and a roaring fire blazes in the, um, fireplace. Order a stiff drink, a wild pheasant pie, and stay a while.
RM Champagne Salon
116 N Green St
The Champagne, charcuterie, dim lights, and cozy hearth set the stage for a romantic evening with someone special; let your good looks/wit/generously proportioned man-organ do the rest.
Allium
120 E Delaware Pl
Step 1: Settle into the fire-facing couch at this American farm-to-table restaurant within the Four Seasons Hotel. Step 2: Order their famous Mexican hot chocolate spiked with tequila. Step 3: Repeat Step 2.
The Grid
351 W Hubbard St
Futuristic, pod-like fire-starters elevate this drinks-after-work venue to something far beyond your average sports bar. Add mushroom-truffle pizza to the mix, and things get downright classy.
ROOF at the Wit
201 N State St
Chicago's premier rooftop stop for drinking, seeing, and being seen keeps the party alive all year long, thanks to a retractable roof and an ultra-modern/Beatles-y white fireplace.
Cantina Laredo
508 N State St
It's not exactly Margaritaville, but just in front of the contained flames at this River North outpost proves a worthy spot to throw back a couple icy margaritas (may we suggest the Mango Mint Gingerita?) over a shared order of fresh guac made tableside.
Drumbar
201 E Delaware Pl
Take in picturesque views of the city from this rooftop bar at the Raffaello Hotel, while imbibing high-end cocktails like the Back to the Future featuring Del Maguey Vida Mezcal, crème de cacao, Kochi American, lemon, orange, and hoverboards that don't work over water. Throw on a booze jacket and warm-up at the fireplace in the indoor lounge.
Sable Kitchen and Bar
505 N State St
This swanky destination (which also made our list of the Best Cocktail Bars in Chicago) is known for its epic cocktail list, delectable bar snacks, and a sleek electric flamer that keeps its cool Downtown crowd warm.
Vertigo Sky Lounge
660 N State St
Fire and ice team up for an elemental experience at this al fresco lounge. Dress warmly, belly up to the famed ice bar for a ginger-infused King's Sake, and enjoy it beneath a comfy fur blanket by their fire pit.
Zed451
739 N Clark St
You can dine like a king with fresh cuts of fire-grilled skewered meat served tableside, and the option to turn any single-serving craft cocktail into a pitcher for the table/just Rip Torn.
Quartino
626 N State St
This restaurant's focus is Italian cuisine served tapas-style, which means you can get more variety without obscene portion sizes. Dine outside in the Summer, or near the fire in the Winter. And don't go without the penne alla vodka and some house-made gelato.

Blue Line Lounge and Bar
1548 N Damen Ave
Right beneath public transit, this lounge is home to plush, velvety couches situated next to a fireplace. $5 specialty martinis flow every Wednesday night, along with $4 fresh mojitos on Thursdays.
Frontier
1072 N Milwaukee Ave
This pioneer-inspired eatery is one of the only restaurants in Chicago offering whole-animal services, ranging from alligator to wild boar. Better still, there are multiple fireplaces scattered throughout the interior and beer garden spaces.
Homestead on the Roof
1924 W Chicago Ave
Situated on the rooftop above Root's Pizza, this heated haven is now open year-round, and boasts absurdly creative cocktails from Beverage Director/mastermind Ben Schiller. Warm up by the fireplace and with the Weston, a bourbon drink with Dark Matter Coffee essence and pipe tobacco.
Bluebird
1749 N Damen Ave
Pull up a seat around one of Bluebird's 100yr-old reclaimed-wood tables, order your choice of wine or craft beer, and enjoy the vintage vibe pulsing through the bar. The space also frequently holds great beverage-focused events and tastings that can't be missed.
Lincoln Tavern
1858 W Wabansia Ave
PBR is always on tap at this Wicker Park lodge-y hideout. Pair your cold one with some comfort food like meatloaf, a game of darts, and some friendly banter by the flame-maker.
Pint
1547 N Milwaukee Ave
With its wood-trimmed fireplace and beautiful brick back-bar, this prim and proper drinkery is ideal for thirsty people looking for cheap drinks without the dive-y ambiance that typically follows. Enjoy $5 Long Islands every Sunday.
Northside Bar and Grill
1635 N Damen Ave
This bar and grill is a glorified eat-drink-and-be-merry party house for sports fans. The space is heavy on wood and iron, and comes equipped with a retractable roof, a pool table, and a place to toast your s'mores.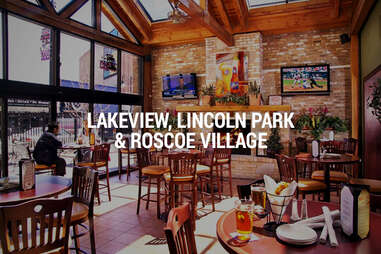 Range
1119 W Webster Ave
When life gives you a half-pound, grass-fed beef burger with grilled & pickled onions and white cheddar, you eat it. And pair it with a beer flight. And a nice spot near the fire.
Ten Cat Tavern
3931 N Ashland Ave
Mismatched furniture, stained-glass windows, a mosaic mural, and a huge, gas-powered fireplace make this one of the most eccentrically decorated places to get your pool game on.
Sheffield's
3258 N Sheffield
From Chicago watch parties to holiday-themed shindigs, there always seems to be something fun going on that involves craft beer at this Lakeview mainstay. Also: fireplace.
North Pond
2610 N Cannon Dr
Nestled in the heart of Lincoln Park overlooking a pond, this cozy restaurant is prime for city views and a seasonally-inspired tasting menu. Request a table near the fireplace... you deserve it.
Lion Head Pub
2251 N Lincoln Ave
As with many of the bars and pubs on this list, this joint pushes all sorts of daily food and drink specials. There are also a variety of events to partake in, so plan your visit accordingly.
Vines on Clark
3554 N Clark St
This is the go-to bar before or after a Cubs game, so if your allegiance lies anywhere but within the friendly confines, you may want to steer clear. Take advantage of the daily drink specials, which are significantly cheaper than ballpark prices, and enjoy the warmth of an f-place when weather conditions don't hold up. So... now.
D.O.C. Wine Bar
2602 N Clark St
This quaint, urban-chic wine bar is great for casual wining and dining, and offers bar seating, soft chairs for lounging, and a fireplace. Because this round-up is all about bars with fireplaces (stay with us!). Go for the Butcher's Plate for a shareable selection of bruschetta, cheeses, and meats.
Zella
1983 N Clybourn Ave
Catch the latest Notre Dame game (go Irish!) at this deceptively spacious neighborhood bar outfitted with just enough exposed-brick to attract the young professional crowd. Specials are available most days of the week, including half-off burgers on Thursdays and half-off bottles of wine on Mondays.
Kirkwood Bar and Grill
2934 N Sheffield Ave
Dubbed Chi's official hangout for Indiana basketball and Nebraska football, this neighborhood bar delivers on quality bar fare and a solid drink list. Snag $4 hard ciders and $2 pretzels on Fridays, a $5 trio of sliders on Saturdays, and $5 Miller and Coors stadium cups on Sundays.
Duffy's Tavern Grille
420 1/2 W Diversey Pkwy
Go for the Duffy's Euchre League, stay for the House Party every Friday night. $3.50 drafts and a fireplace are just bonuses.
Full Shilling
3724 N Clark St
When a place identifies itself as an "Irish pub", great beer, impromptu Irish drinking-song sing-alongs, and wicked St. Patrick's Day parties are a given... and here, you can enjoy all three fireside.
Matisse
674 W Diversey Pkwy
Find a cozy lounge, a full-service bar, and hardly boring menu (hello, baked brie, BLT mac 'n' cheese, and stuffed beef tenderloin) at this little neighborhood tavern.

Table, Donkey and Stick
2728 W Armitage Ave
On $5 Mondays, you score with $5 $0.50 PBRs (!), Taleggio funnel cake, and a cozy spot around the outdoor fire pit.
Scofflaw
3201 W Armitage Ave
With not one but two fireplaces, more than 40 gin varieties, and 12 single-brewery drafts, this neighborhood spot has something for the G & T devotee, the adventuresome cocktail drinker, and everyone in between.
Chief O'Neill's
3471 N Elston Ave
This Irish pub gets dressed up with white table linens, an elegant fireplace, and gourmet Irish-influenced fare. The Scotia Eggs and Shepherd's Pie are standouts, as well as the whiskey selection and the all-you-can-eat Sunday brunch buffet.
City Tavern
1416 S Michigan Ave
This tavern exudes 18th century appeal with dark wood, damask wallpaper, and an old-fashioned fire-thingy juxtaposed with modern-y fare like beer-battered cheese curds and sunchoke & bacon salad.
Ignotz Ristorante
2421 S Oakley Ave
This kitschy, Old World, Italian outpost is perfect for getting warm with friendly conversation over an antipasto platter and cheap domestic beers.
Patrick's
6296 S Archer Ave
This low-key tavern is one of Garfield Ridge's hidden gems. Score $1.50 drafts and $2.75 domestic bottles and mingle with the regulars near the flames.
The Grafton Pub
4530 N Lincoln Ave
Located next to the Old Town School of Folk Music (paaaaarty!), this inviting pub hosts musical talents on weeknights at 9p, serves up hearty Shepherd's Pies and Beef & Guinness stews, and is home to a respectable selection of beers and whiskeys you can drink by some fire.
Moody's Pub
5910 N Broadway St
In the Summer, hit the beer garden. In the Winter, find a candlelit table near the fireplace and order a hug in a mug like the Cinnamon Toast cocktail with amaretto, hot cider, whipped cream, and a dusting of cinnamon.
Simon's Tavern
5210 N Clark St
When in Andersonville, do as the Swedes do: sip glogg, listen to some Scandinavian metal on your iPod, and warm your toes by the fire in Simon's rec room.
Hopleaf
5148 N Clark St
What's better than the soul-warming combination of Belgian brews and a nice, little fireplace? When you think of something, let us know. We'll be cozied up at this Uptown tavern.
Quince
1625 Hinman Ave
Go for the globally-influenced food that flirts with molecular gastronomy, stick around to squeeze out every glorious moment near the beautiful, brick wood-burner.
Uncommon Ground
3800 N Clark St & 1401 W Devon Ave
There are two fireplaces at this rustic restaurant's Clark St outpost, and one at its Edgewater location. The food, drinks, and décor are all made with a green/organic mentality in mind, and many of the fresh ingredients come directly from the rooftop garden.
Wilde
3130 N Broadway
Luxe accents like pin-tucked leather booths, built-in bookcases sporting a small library of old-timey reads, and a marble-finished f-place are like one grand invitation to get comfy and enjoy a juicy bison burger washed down with a bottle of Delirium Tremens.
Fireside Restaurant and Lounge
5739 N Ravenswood Ave
Have your pick of seating at an all-weather patio with a retractable roof when Mother Nature is feeling kind (so... never?), or a warm spot by the restaurant's namesake. Also: snag a half-pound burger for $5 every Thursday night.
Pumping Company
6157 N Broadway
At one time, this historic space supplied local fire trucks with water. Now, it supplies you with beers, sandwiches, a contained fire, and water. There are rotating daily drink specials, so be sure to check their Facebook page for specials updates.
Fountainhead
1970 W Montrose Ave
This Old World watering hole boasts a creative menu and an equally creative and carefully selected list of libations, along with mahogany woodwork and an inviting fireplace.
Black Rock Pub and Kitchen
3614 N Damen Ave
As the self-proclaimed best-kept-secret of the North Side, this neighborhood bar manages to stay effortlessly cool without pandering to a trying-to-be-cool crowd. Plus, a remarkable majority of the 16 beers on tap hail from local brewers/taste better when sipped by the fire.
Vie
4471 Lawn Ave
The hike to this Western Springs restaurant is worth the trip for three very important reasons: the incredible specialty cocktails, the fresh, local ingredients, and the tile-framed structure where Franklin D. Roosevelt totally would've held chats.