Watch the Blackhawks debut as they take on the reigning champion Los Angeles Kings at Saturday on Park Tavern's projection screen (or just a regular flatscreen if the thought of Coach Q's giant 'stache frightens you) while gorging yourself on half-priced apps and $3 brews.
Recommended Video
Buffalo Chicken Beer Cheese Fondue Fries Are Like an Edible Sports Bar
Previous Venue
Next Venue
Venue Description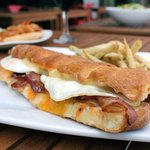 1. Park Tavern Chicago
1645 W Jackson Blvd, Chicago, IL 60612
Park Tavern is a double-decker sports bar well-suited to watching the game thanks to the well-placed flat-screens and a mighty 14ft projection setup. Try not to get sauce all of your face while munching on fried egg 'n pulled pork-laden Animal Tots sporting cheese curds, grainy mustard, and gravy spiked with Bell's Kalamazoo Stout. Beer is obviously aplenty.