It's no secret that Chicago has a long and sordid association with the mob. While the glory days of the Prohibition era may be long gone, that doesn't mean you can't still party like a gangster. So find a real-deal speakeasy and don your seersucker suit for a night of running rum (to your stomach) at these eight Chicago bars with insane mob connections.
Our big thanks to Jonathan Knotek of Chicago Prohibition Tours for providing the historical information below. Many of these bars you can hit on the tour, so do it already.
Recommended Video
This Bubble Tea Is Set on Fire
Uptown
This famous Al Capone hangout is littered with mob history -- not to mention hidden underground tunnels. The story goes that despite being so far on the North Side, Capone's favorite entertainer of the era performed there: singer/comedian Joe E. Lewis. When Lewis eventually got a better deal to perform elsewhere and tried to leave the Green Mill, Capone henchman Jack "Machine Gun" McGurn -- the likely mastermind and one of the shooters in the St. Valentine's Day Massacre who ran the place -- informed Lewis that he had a lifelong contract and couldn't leave. Lewis pressed his luck, so McGurn tracked him down, slit his throat, and cut off part of his tongue but left him alive. He wanted to make sure Lewis couldn't perform anymore.
Lincoln Park
Twin Anchors at one point was both a candy and soda shop where the dining room is and a speakeasy where the bar is located. The original front door was along the side of the building. If you enter the front door now and look immediately to the right, you'll see an ATM and a waist-high shelf. Under that shelf and next to the ATM is a random lock in the wall. When unlocked, that section of wall opens and leads you to a secret hallway out to the back alley. This was one of Frank Sinatra's favorite hangouts and his well-reported association with Sam "Momo" Giancana means he may have frequented this local spot for that reason.
River North
Capone rival Dean O'Banion provided the alcohol to this North Side location, with the upstairs run as an Italian restaurant by Vito Giacomo as a front for the speakeasy downstairs. It's one of Chicago's oldest bars and there's actually still a massive bookshelf that can be moved to reveal a hole in the wall that was once used to sneak in bootlegged kegs. Currently home of The Drifter, it's one of the few places that maintains its original speakeasy from back in the day and keeps it fairly authentic with burlesque shows and a secret entrance.
Loop
Exchequer was formerly the 226 Club which is simply its address, 226 S Wabash. This place actually has some documentation as a Capone hangout, where he likely ran the booze as well as the women as it also pulled double duty as a brothel. The ceiling inside Exchequer is a drop ceiling and the space actually goes up another 10ft or so. There was a mezzanine in the back dining area where Capone would oversee the operation and two different tunnels provided quick escape routes, one of which still exists.
Bucktown
Club Lucky at one point was two separate buildings; the bar area was a working hardware store and the dining area a Polish reception hall. Liquor was kept in the basement of the hardware store and passed through a hole in the wall into the reception hall. The car used in the famous St. Valentine's Day Massacre -- where members of Capone's gang dressed as policemen and gunned down members of the rival North Side gang against a Lincoln Park warehouse -- was also found in an alley only a couple blocks away.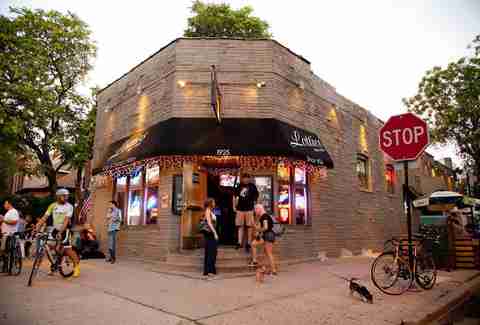 Bucktown
Lottie's has been a bit of everything over the years, including a grocery store with a speakeasy in the basement known as a rathskeller, a strip club, an illegal gambling joint, and even a hangout for politicians and prominent businessmen. The beloved Lottie ran a sport-book operation out of the basement along with mob associates and when she was arrested during a raid, politicians called the police station where she was being held to demand her release.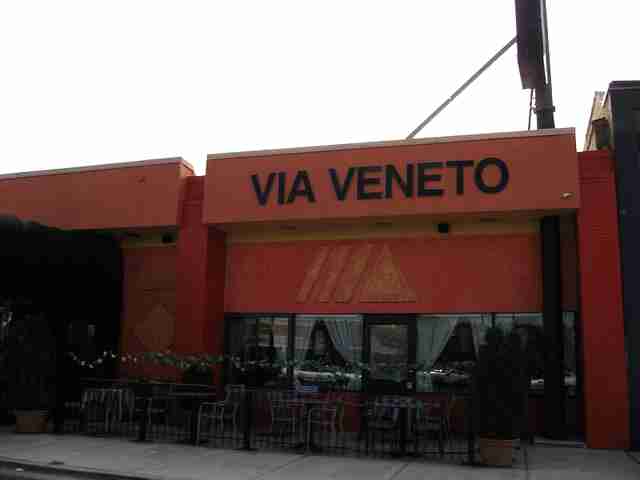 North Park
Before it was Via Veneto, it was Room 21, the site of Capone's largest speakeasy and brewery. The former owner was quite proud of the tunnel they found leading out to the street with the number 21 at the end (hence the name). It is also reported to be the site of one of the biggest busts of the Prohibition era, when Eliot Ness and his crew of Untouchables charged into the speakeasy with a 10-ton truck and seized a reported 200,000 gallons of alcohol.
South Loop
Gioco is another former speakeasy and still maintains some of its original fake wall paneling, behind which mobsters would hide the illicit hooch. The joint even has a trap door that leads to a tunnel that was rumored to go all the way out to the lake. Being just blocks away from the famed Lexington Hotel where Capone was known to conduct mob business, it's more than likely that Capone provided the booze.
Sign up here for our daily Chicago email and be the first to get all the food/drink/fun in town.
Jay Gentile is a Thrillist contributor and he is pretty sure 200,000 gallons of booze is a lot of booze. Follow him: @innerviewmag.