It's no secret that Chicagoans love to drink, a sentiment made blatantly clear when Governor Pritzger not only permitted but encouraged the city's many bars and restaurants to keep the booze flowing via takeout and delivery throughout the COVID-19 shutdown. Thus, watering holes from Rogers Park to Hyde Park took to the internet, updating their websites with inventory and ordering information and running out cases of beer and bottles of wine to socially isolated civilians like the capeless heroes they are. But with all these new options -- not to mention the state's ever-changing stockpile of rules and regulations -- it's tough to figure out where to start.
Here's everything you need to know for sheltering-in-place in spirited style while we weather this storm alone together.
Note: While a lot of these spots are utilizing third-party delivery services like Caviar and Grubhub, you can often cut out the middleman by ordering directly from the bar, restaurant, brewery, or distillery. It's always a good idea to check the company's website for more information before triggering the app.
For beer, look to the source
Small breweries need your love more than ever these days and many of Chicago's fermented finest are bravely carrying on to ensure you get your sudsy fix.
Marz Community Brewing
The innovative Bridgeport boys have set up a virtual cooler on their website so you can check out all the creative brews, seltzers, and shrubs they're stocking well in advance. Peruse the offerings then shoot holla@marzbrewing.com an email or use the online shopping portal to place your order for next-day pick-up or delivery.
Off Color Brewing
While their beloved Northside taproom has woefully (and, thankfully, only temporarily) closed, these sour specialists have thrown their entire fleet up on Caviar for our drinking pleasure.
Maplewood Brewery & Distillery
These Logan Square rabble rousers have also made their lot of shiny tallboys available via Caviar, alongside fresher-than-fresh 32 ounce crowlers and a few housemade bottles of the hard stuff (i.e. whiskey and gin) to make it a complete breakfast.
Dryhop Brewers
Another Caviar convert, these Lakeview haze-masters are cranking out a selection of cloudy wheats, IPAs, and saisons in 32 ounce crowlers in addition to a full lineup of delicious pub grub.
Revolution Brewing
Sure, you can grab a case of Anti-Hero at the grocery store like normal times, but you can keep the pants in the drawer by using Caviar. Your freshly-filled crowler and juicy two-patty Butter Burger will be knocking on your door in no time.
Right Bee Cider
It's not all about the grain! Go gluten-free with a Caviar-delivered growler of refreshingly crisp small-batch hard cider lovingly supplied by Chicago's very first cidery.
Empirical Brewery Taproom
The self-proclaimed nerds over at Empirical have shuttered their Edgewater taproom for the time being but don't despair -- you can still satisfy your craving for artfully-crafted unfiltered lagers and fruity IPAs via the good folks at Grubhub.
Pilot Project Brewing
Baby Bucktown beer haven Pilot Project has also jumped on the Grubhub train, offering four-packs and 32 ounce crowlers of their ever-changing inventory. Expect enough brews, kombucha, cider, wine-beer hybrids, and even cold-pressed juice to last you 'till spring.
Forbidden Root Restaurant & Brewery
West Town's most bodacious and botanical brewpub has long been crushing the Grubhub game, and now they've added lots and lots of beer to the mix. Crowlers and tall boys lead the charge here, many of them limited-run and most of them sold at a notably steep discount.
Middle Brow
Take advantage of this Logan Square stunner's no-contact, no-cash, no-credit card pick-up by purchasing your desired brews (and/or hand-picked natural wine) on Toast before dropping by Bungalow to fetch it, social distance-style.
Hopewell Brewing
Don't forget about your Lil Buddy! Hopewell is running pick-up and delivery through their online shop and they've also thrown in some much-needed cheer in the form of optional houseplant add-ons.
Half Acre Beer Company
Stop by either Half Acre location for cans, growlers, howlers, big boy bottles, and even kegs (!!) ordered off the brewery's handy online shop and trucked out to you curbside. It doesn't get much easier than that.
Whiner Beer Co.
Hit up these Southside Belgian-style wizards on Instagram or email (instructions here) for next-day home delivery at bargain prices. Yes, that means you can literally order Le Tub from the tub. Enjoy.
Old Irving Brewing
Stay safe and hydrated by dialing up Old Irving and placing your no-contact curbside pick-up order, now available from noon to 8pm every day of the week.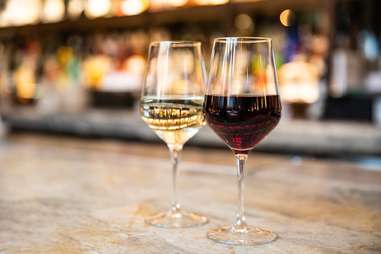 Up your wine game with expert recommendations
There's nothing like staring down a towering wine list to make you feel like an uncultured child. Avoid the anxiety by trusting the pros behind these expertly-curated collections, each available for pick-up and delivery.
Lettuce Entertain You Restaurants
LEYE's vast array of Chicagoland eateries have always been on point in the wine department. Check out their updated website for the full rundown of vino-savvy offerings from A-list purveyors like Aba, Bar Ramone, Beatrix Streeterville, Cafe Ba-Ba-Reeba!, RPM Steak, and Quality Crab & Oyster Bah. And keep your eyes peeled for some amazing deals and rare finds -- they're bringing out the big guns for sure.
All Together Now
Ukrainian Village darling All Together Now has taken an uber-creative approach to pushing their boundary-pushing wine selection: they've opened a "drive-through window" facing Chicago Avenue and are happily handing over bottles of the good stuff to passersby on foot, in their cars, or on roller skates. They've also launched a Wine and Cheese Hotline (773-661-1599) to attend to all your solo dinner party-planning needs and for the thirstiest social-distancers, there's always Grubhub.
Dorian's
Wicker Park's ultra-hip record shop/wine bar is helping to keep spirits high with "Quarantine Care Packages" available for Friday pick-up through Tock. The little bundles of joy feature natural wine, hand-picked vinyl, art, and other mood-elevating goodies.
Parachute
Michelin-starred dining on Caviar? Get weird with a bottle (or three) of funky natural deliciousness salvaged from the Korean-inspired Avondale award-winner's extensive collection and keep tabs on their Instagram to see what's up next.
Red & White
Milwaukee Ave's most inviting wine shop is now treating quarantiners to assorted cases and four-packs of their farm-to-bottle favorites. Order from their website for daily delivery and pick-up.
Maple & Ash
Nothing makes a peppercorn crusted 28-day dry-aged NY Strip sing like an incredible bottle of bubbly. Fill out the online order form and pick up both from this swanky Gold Coast chophouse.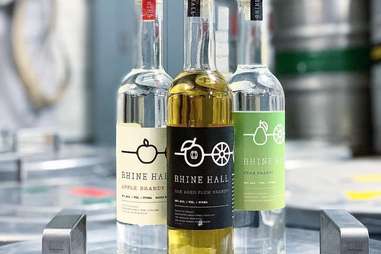 Hone your mixology skills with DIY cocktail kits
Unlike California and New York, Chicago has yet to clearly legalize the sale of opened, premade mixed drinks for take-out. Instead, bars and restaurants like these are limited to batched cocktails in sealed containers, full bottles of liquor, and DIY kits complete with barware, tinctures, and other fun drinkables. Here's where to roll up your sleeves and get started.
Three Dots and a Dash & Bub City
Tropical meets Southern on Bub City's Grubhub page, now featuring mouthwatering batched cocktails as well as breathtaking bottles of whiskey, rum, and other Godsends from both celebrated River North institutions. Need something pretty to sip from? Toss in a festive mug from Three Dot's awesome online shop.
Lettuce Entertain You Restaurants
A few fellow LEYE joints are also climbing aboard Three Dots and Bub City's cocktail kit bandwagon. Scroll through boozy delights from Aba, Ramen-San, Summer House Santa Monica, RPM, and more on the mighty hospitality group's website.
Bar Biscay
Whip up classic martinis, Manhattans, spritzes, and more with a kit from Bar Biscay's take-away arm, Bodega Biscay, now offering no-contact delivery and curbside pick-up every dang day.

The Aviary
Test the gilded molecular gastronomy waters with a Grant Achatz-approved bottled concoction developed in collaboration with Mississippi River Distilling Company. Orders for pick-up can be placed via Tock.
Maria's Packaged Goods
Bridgeport's best is holding it down on its website with curious cocktail kits like the Chicago Handshake, a sixer of Old Style plus a sixer of mini Malort bottles for a cool $20. No physical contact involved.
Parson's Chicken & Fish
Negroni slushies! Get 'em while they last via the Logan Square staple's Caviar.
The Whistler
Pull up to this Logan Square hotspot and pop the trunk every day from 3pm to 7pm to load up on their heat-sealed bottled cocktails. See what's brewing before you head out on their website.
Dusek's
The upscale Pilson pub is rolling out a line of $10 "Pocket Cocktails" starting April 1 on Caviar, so stay tuned for updates.
Rhine Hall Distillery
Stay clean with a bottle of tasty housemade brandy and Rhine Hall's own hand sanitizer, available for pick-up via Tock. The sanitizer comes in a 2.5 ounce bottle and the proceeds go to support the distillery's donation efforts toward non-profits, public service workers, and hospitals.
And don't forget to tip your bartender
Despite their best efforts, most Chicagoland bars and restaurants were forced to lay off the bulk of their teams behind the stick. But you can still throw these local heroes a well-deserved bone by participating in the many fundraising efforts around town. Everybody's got their own thing going on, so search GoFundMe or head directly to your favorite bar or hospitality group's website for more information.
Sign up here for our daily Chicago email and be the first to get all the food/drink/fun in town.