Now that we're all done celebrating America's dominance in Rio by running through the streets wearing nothing but an American flag shouting "USA!" at everyone within spitting distance (or was that just us?), it's time to train for 2020. Which means honing your Olympic-level bar game skills at these 10 local bars that constitute the great Chicago Bar Decathlon, organized by geographic proximity as you fan your way outward from Downtown. You may not take home a gold medal, but the glorious hangover will last a lifetime.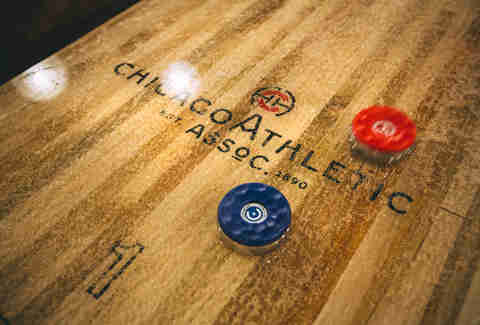 The Loop
The sport: Shuffleboard
Game Room at the newly souped-up Chicago Athletic Association may be most well-known for its crushed oyster shells bocce court, but shuffleboard is no slouch either at this upscale bar sports training center complete with cards, chess, and checkers in addition to the typical billiards and foosball fare. With the rooftop Cindy's above and Shake Shack below (not to mention the uber-swank Milk Room), you could easily go into extra innings in these friendly confines. Or whatever the hell they call playing shuffleboard for far longer than any reasonable human being should.
Streeterville
The sport: Jenga
We've all been to bars with Jenga sets, nothing spectacular there. But true bar Olympians hone their craft with LIFE-SIZED Jenga sets, preferably in some ridiculously beautiful setting like the outdoor terrace at Streeterville Social. So make eyes with that group of hotties across the lawn and challenge them to a game. You've got nothing to lose. (Except, of course, your dignity if you're the one who knocks the whole goddamn thing over.)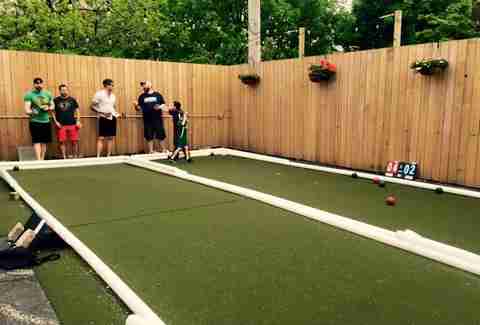 West Loop
The sport: Bocce
Pinstripes and Game Room both offer a solid indoor bocce experience, but to truly experience the old-man sport of royalty one must saunter over to the outdoor bocce court popping up in Kaiser Tiger's glorious beer garden in the warmer months. They are so into the sport they even have a Sunday night summer bocce league made up of eight-person teams complete with referees, playoffs, trophies, and "tears of shame." Bonus: the court transforms into an outdoor curling rink in the winter months, bring your Canadian friend.
Wicker Park/Logan Square
The sport: Video games
It doesn't take much to envision a world in the not-too-distant future where gamers share a seat at the medals table (I mean, could they be any worse than Ryan Lochte?). Until then, you can get your fix at one of the many arcade bars that have sprouted up across the city like pot leaves in Denver, including the original: Emporium. It's not all Donkey Kong and Pac-Man, mind you. They've also got a regular rotation of limited brewery releases, food truck collaborations, and live music/DJs sets from the delightfully weird weirdoes at Odd Obsession. Not to mention foosball tourneys, air hockey tourneys, and pub trivia. Tinder date set.
Humboldt Park
The sport: Ping-pong
Happy Village and Ada St both keep their ping-pong game tight, but ponging on the sunny court centrally located in the Parson's back patio is the quintessential Chicago bar sports experience. The ping-pong balls may be deflated due to overuse almost to the point of being worthless, but that just makes the games more interesting. Stadium-styled seating, fried chicken, and a Negroni slushy-slinging bar just steps away makes this one drinking sport we can definitely get behind.
Logan Square
The sport: Skee-Ball
"Logan Square's favorite shit show" is the motto of this late-night neighborhood institution, and we couldn't have said it better. Infamous for its dance floor and bottled cocktails, the real draw here for bar Olympians (besides chatting up hunnies) is Skee-Ball, the game you swear could have earned you a college scholarship had your alma mater just had the wise foresight to start up a Skee-Ball team. No matter, you can get your reps in here under the dim red lights and post epic Vines of your domination on Harvard's Facebook page to guilt them into finally fielding a team. Or just drink beers with your buddies, whatever works.
Lakeview
The sport: Bowling
The great Ernie McCracken reminded us all why bowling should be an Olympic sport in the seminal 1996 cinematic masterpiece known as Kingpin, but 20 years later the chosen sport of fat balding dads from the suburbs has yet to gain traction with those snobs in the IOC. No matter, you can still walk into Southport Lanes any day of the week and roll with the best of 'em till the wee hours. And yes, there will be mini corn dogs and yes, there will be Wisconsin butterburgers. This is still bowling, after all.
Lakeview
The sport: Bags
As one of the most underrated back patios in the city, this unassuming Lakeview dive has all your back patio needs including bags (otherwise known as "cornhole" to your stupid cousins visiting from out of state), darts, dogs, and a grill where yes, you can in fact grill your own meats. So the next time you find yourself walking around the city with a pound of raw ground beef in your pocket, you know where to go.
Wrigleyville
The sport: Batting cages
At first glance, it would seem alarmingly foolish to arm anyone drinking at a bar in Wrigleyville with a bat. Why not allow fencing during St. Patrick's Day? Archery on New Year's? But Sluggers makes it work with a full-on upstairs game room offering the full bro experience thanks to batting cages, pop-a-shot hoops, and other mainstays of local bar gamer culture. Unless you win the lottery to buy Cubs playoffs tix, this might be the closest you'll get to Joe Maddon's clubhouse fog machines.
Andersonville
The sport: Turtle racing
Monday Night Football. Super Bowl Sunday. Friday night turtle racing. A longstanding tradition in the annals of the local dive bar Hall of Fame (if such a place existed), this regal sport of kings pits these laid-back little creatures tortoise-à-tortoise as you cheer your chosen turtle along while drinking pitchers of beer out of red Solo cups. Is there a better way to close out your bar decathlon experience? No. Is it more fun than the Closing Ceremonies? Yes.
Sign up here for our daily Chicago email and be the first to get all the food/drink/fun in town.