Day drinking is a summer rite of passage to any Chicagoan as well as an eagerly anticipated milestone to look forward to all year long. But just because it's dark and freezing and that festival tee has long since been begrudgingly covered with a clunky snowsuit doesn't mean you can't also day drink in Chicago during winter. In fact, it's pretty much the only thing to do in Chicago during winter. Sure beats building a snowman.
So until the sunny outdoor patios pop open and winter coats finally get ripped off in favor of short sleeves, here are our favorite bars for day drinking through a Chicago winter.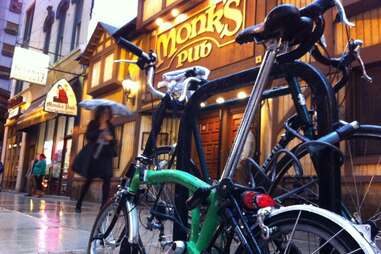 Loop
Day drinking doesn't have to be a strictly local affair. And while summer offers the perfect excuse to ditch work to go boating, if you're playing hooky in the winter to drink beer you thankfully don't have to travel far. Take an "extended meeting" at this long-running Downtown den of Old World-style wooded décor modeled after a monastery the owner once lived in as a boy. Also known as one of the finest places to grab a burger Downtown, this warm, inviting space of dusty old kegs and heady Belgian brews is as easy to access as it is hard to hate.
River North
One of the last bastions of weirdness in the increasingly corporate conglomeration that is River North, Rossi's is tailor-made for day drinking in winter. It's the perfect kind of dark dive you enter to shut out the world behind you and replace it with a no-frills, cash-only utopia where you make your selections from a fridge of beers and turn to grouse about local politics with an intriguing cast of characters ranging from grizzled old timers to lost tourists. And in case mid-day drinking isn't early enough for you, they open at 7am.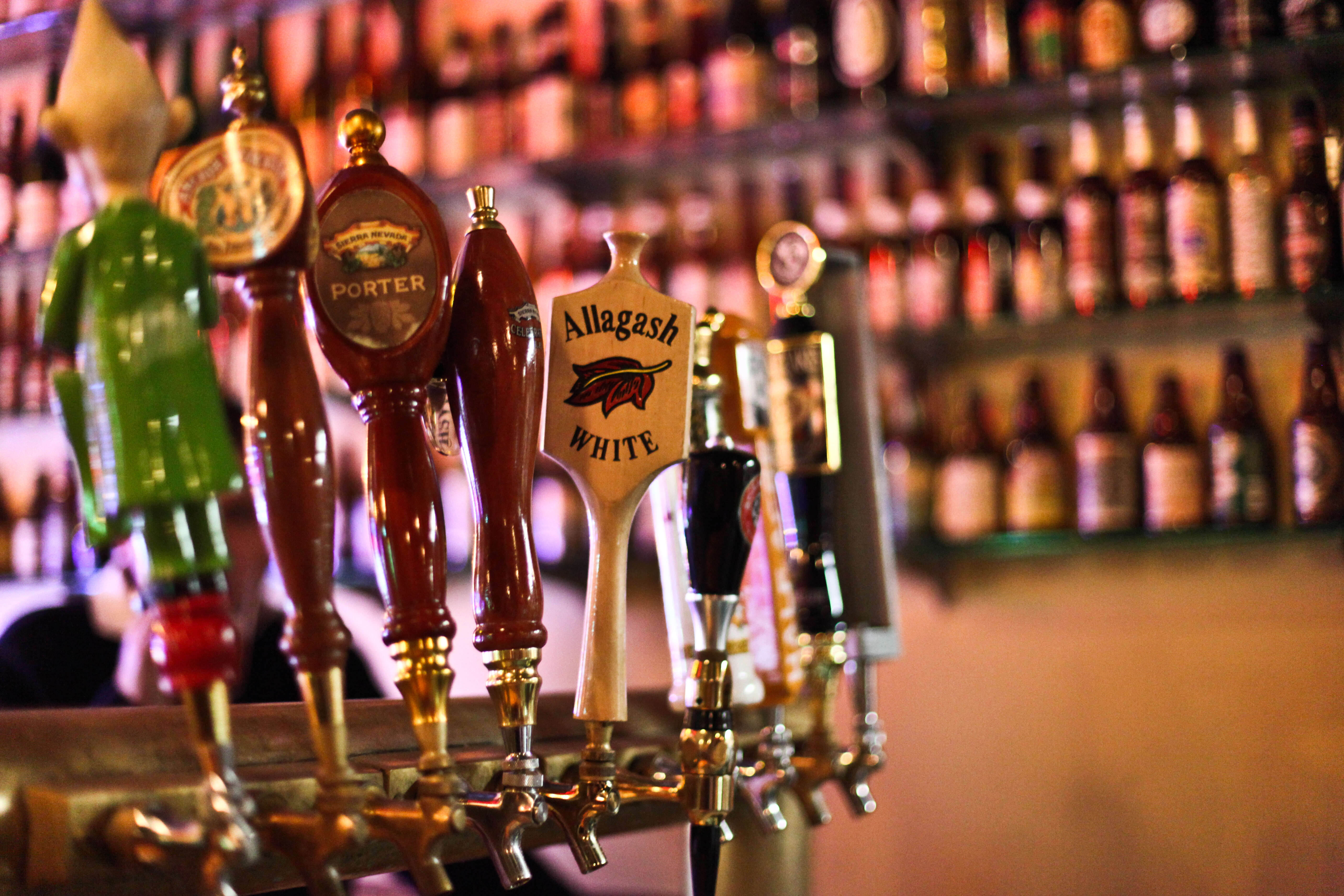 Andersonville
As one of the best beer bars in the country and one of 50 Chicago bars to drink in before you die, Hopleaf is already the stuff of local legend. But if for some reason you have yet to visit this Andersonville institution known for its heavy-hitting selection of Belgian beers and perennial favorite bar dish of mussels and fries, winter is the perfect time to get acquainted with this friendly neighborhood hangout. While it makes a damn fine visit any time of year, Hopleaf's cozy confines seem most fitting when the weather is cold and the snow outside is piled high.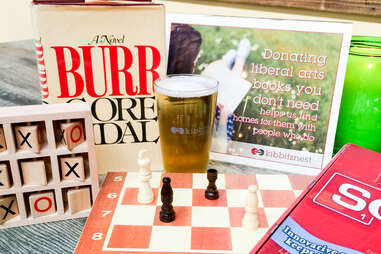 Lincoln Park
With a spacious front lounge of books and newspapers opening up to a fun back room stocked with games and a foosball table, this newish Lincoln Park "bookbar" seems to have been designed specifically with winter in mind. With a goal of "preserving face to face communication," Chicago's first "Wi-Fi-free hangout" offers beer, wine, and slow-brewed coffee in addition to a small menu of cheeses, Chicago-style hot dogs, and ice cream. Just around the corner from a booze-serving movie theater and deep-dish kingpins Pequod's, it's the ideal destination to hunker down for a Sunday Funday and wait out the storm.
Edgewater
As one of Chicago's top fireplace bars, Moody's Pub is a wintry ski-lodge-like paradise of massive charbroiled burgers and warm-up drinks like the Moodymint (peppermint schnapps and hot chocolate topped with whipped cream) designed to bring you in from the cold. The medieval-style fortress that looks like a church from the outside has only been around since 1959, but feels like the kind of place a medieval knight might choose to day drink casks of mead. While the excellent back patio may not be the most conducive to winter drinking, the bar's twin fireplaces, stained glass, and candlelit tables make for a perfectly acceptable romantic-without-trying-too-hard winter Tinder date locale.
Lincoln Park
We feel pretty confident in the fact that we're not breaking any news with the following declaration: Winter in Chicago sucks. But when times get tough, you can always turn to grandma for some homespun creature comfort. Especially when that grandma happens to be Rose, the Macedonian matriarch of this long-established neighborhood dive (and one of the best dives in America) who lives upstairs. Stop by for frosty mugs of Old Style, year-round Christmas lights, and well-worn couches in a fun basement party vibe that feels like your parents are out of town and they left your cool grandma in charge.
Bucktown
This self-described "traveler's tavern" is the perfect place to impress the hottie at the next barstool with your geographic prowess by locating Azerbaijan on the map on the wall or correctly identifying the Brazilian flag on the ceiling. As of one Chicago's finest beer bars, it's also a terribly enticing location to spend a wintry day paging through weathered copies of National Geographic while exploring a ridiculously long beer list like the Marco Polo of a boozy Saturday afternoon. They also offer continuing education in the form of their beer school program, so the more brain cells you kill the more you learn.
Logan Square
No one would fault you for wanting to wait out the next Polar Vortex in your new Cubs Snuggie, drinking beer and playing video games all day. But you can also do pretty much the same thing at Logan Arcade, featuring the city's largest public collection of pinball and video games plus the 10-player Killer Queen -- which has reached something of a mythical status amongst the city's gaming nerds. You can also attend socially conscious events like fundraisers for the ACLU and Oakland fire relief while making your way through a massive selection of hipster-approved craft brews. Hell, wear the Snuggie if you feel like it.
East Village
Just as culturally relevant as deep-dish pizza and corrupt politicians, the Chicago bar/liquor store combo known as the slashie is a glorious yet criminally underrated aspect of local culture. And winter is when they really shine. Such is the case at Rite Liquors, which clings to its craggy old man bar aesthetic despite the encroaching gentrification surrounding it on all sides. With little more than a long bar with a pool table at the end opposite a checkout counter for newspapers and to-go booze, this erstwhile establishment is your winter home base for watching the short daylight hours evaporate as you play scratch Lotto tickets and commiserate with perhaps the most beautifully random assortment of mankind ever assembled.
Sign up here for our daily Chicago email and be the first to get all the food/drink/fun in town.