While dating apps like Tinder and Bumble have made it possible to meet other singles without leaving your couch, that isn't always the most productive method. Thankfully, we live in a huge city filled with countless ways to meet singles and plenty of bars for every personality and interest. Whether you're looking for Mr./Mrs. Right or just a short-term fling, these are the best bars for singles in Chicago... no flattering filters and strategic camera angles needed.
Ukrainian Village
Somehow, Bar DeVille manages to be laid-back and quirky yet sexy, much like its patrons, who run the gamut from industry folks to creative types and hipsters. The dim lighting, extensive cocktail menu and craft beer list, old-school corner bar vibe, and French boudoir decor make it the perfect spot for meeting interesting, creative types.
Noble Square
While ESTATE definitely attracts a good-looking crowd, the vibe at this particular rooftop bar is slightly more chill and approachable than its Downtown counterparts. Not only does the jaw dropping skyline view at this riverfront spot provide a sultry ambiance, the StarDeck's open layout and lounge seating make it easier to mingle and work the room... err, rooftop.
Logan Square
The color red is said to be both stimulating and able to evoke feelings of passion. While we're not entirely sure if that's true, we'll be the first to admit that Slippery Slope's red-lit bar does a pretty good job of setting a flirtatious mood. Keep things lighthearted and challenge your fellow singles to a game of Skee-Ball, or cozy up in a (stimulating?) red booth.
Near North Side
With its classy old-school interior and its status as one of Chicago's best whiskey bars, The Berkshire Room is the perfect place to meet the Don Draper or Joan Holloway of your dreams. You know... if Don worked at a digital ad agency in River North and Joan lived in Lakeview. Anyway, what we're trying to say is that The Berkshire Room is the perfect place to mingle with singles that fall into the "grown and sexy" category.
River North, Lakeview
Headquarters Beercade is the cure for anyone who's found themselves pining for the dating scene they enjoyed in their youth. Plus, let's face it: challenging an attractive guy/girl to an intense game of NBA Jam is much, much easier than trying to come up with a new and creative way to say, "So... do you come here often?"... and probably slightly more effective.
River North
Thanks to its laid-back vibe, Rockit is one of the better (and least-intimidating) River North spots for singles. While the second floor lounge gets quite busy on Friday and Saturday nights, the weekday after-work crowd is comprised mainly of young professionals, making it less of a traditional singles scene and a bit more conducive to meeting right one rather than just the right booty.
West Town
Thanks to their '80s/'90s dance parties on Friday and Saturday nights, Innjoy is the perfect place to find a mate that shares your undying love for "Come on Eileen". When the upstairs inevitably gets packed, grab your drinks and head to the basement for a more low-key rec room-style atmosphere that's better suited to chatting.
Pilsen
Punch House's laid-back rec room-themed atmosphere is quite conducive to mingling, and their signature bowls of punch are the perfect type of liquid courage you need to seal the deal. Of course, if that doesn't work, you can always sneak into your preferred gender's bathroom and write your name and number on the chalkboard walls... but just don't blame us if some Tommy Tutone-wannabe turns your contact info into a song.
Wicker Park
OK, so Nick's Beer Garden may be a bad decision bar around the 4am mark. However, before 2am, the crowd tends to be friendly, laid-back, and very approachable, making it a good place to meet other singles. Of course, the cheap drink specials and nice outdoor patio don't hurt, either. Just be sure to high-tail it outta there around 1:30am or so -- right around the time other bars in the area start announcing last call. Don't say we didn't warn you.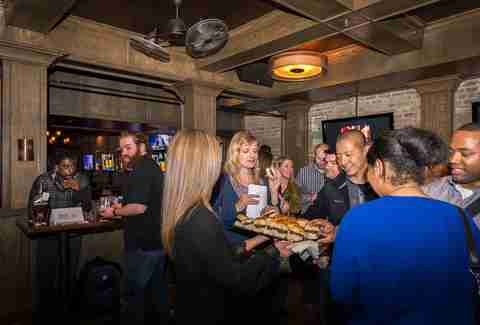 West Loop
While WestEnd Bar may not be the best spot to meet ladies, the exact opposite is true for down-to-earth women on the prowl. Because it's a popular spot to watch Chicago sports, the crowd skews towards males in their late 20s and 30s, yet is blessedly devoid of rambunctious frat boys. Of course, the fact that they make a killer Bloody Mary doesn't hurt, either.
Lincoln Park
The combination of sunshine, sand, amazing lake views, South Beach-style cabanas, and tropical cocktails tends to attract a younger, attractive, and very, very single crowd to this North Ave beach venue. While you may not find your future husband or wife at Castaways, you can definitely find your next summer romance.
Sign up here for our daily Chicago email and be the first to get all the food/drink/fun in town.