The secret is that here in Chicago, cuffing season is year-round. You never know when the city will just punish us with a 17-degree weekend in the middle of June just because. So for all you lovelorn singles out there, we've got your back. We've narrowed down 15 of the best bars in the Chicagoland area for you to meet someone new using metrics like price, volume level, activities offered, and general vibe. Read on: The list is scientifically formulated to give you the highest chance of actually meeting someone.
Lincoln Park
Featuring a frankly stunning array of canned, bottled, and draft brews, Beermiscuous is a great place to make a connection over a pint. Everything on draft also comes in four-ounce tasting pours, allowing you to sample a bunch of different brews. The coffee shop vibe also encourages conversation, backed by a selection of borrowable board and card games. Let your curiosity get the better of you, order a pour for someone interesting at the end of the bar, and compare tasting notes.
Skokie
If you're looking for your player 2, you could do a whole lot worse than going to Ignite up in Skokie, ordering a World of Warcraft-themed cocktail, and saying to anyone within earshot "Hey, I've reserved the Switch area for the next few hours, anyone wanna play Super Smash Bros.?" Ignite also hosts regular events like trivia and fighting game tournaments, so head to their events page and find a time to swing by and get your game on.
Ravenswood
If you've written Redline VR off as just another bar looking to capitalize on a trend, you need to give it another look, because they are one of the city's most fun bars, and they have so much more to offer than fancy headsets. Redline VR plays host to open mic nights, Magic: The Gathering events, drop-in Dungeons & Dragons nights, karaoke, and competitive skee-ball, in addition to a selection of board games available for use. Make a connection over a Delta-8 cocktail during your MtG draft, and then retire to the VR area to complete a virtual escape room together. What could be more romantic?
River North
In a whirling miasma of River North bars that charge $17 for an "elevated" 7 & 7 and cater exclusively to recent business school graduates, The Green Door Tavern is a breath of fresh air. A full menu, reasonable drink prices, and an open floor plan make the bar a safe, spacious haven for folks to meet and mingle. After you meet someone at the bar, head downstairs to The Drifter, a speakeasy that, between its live burlesque performances, rotating tarot card-inspired drink menu, and intimate decor, is probably the best date spot in the city.
Bucktown
Meeting people at a live music venue can be tricky, especially when the actual bar/socialization area is relatively small. Though The Hideout does fall into this category, it's also one of the least intimidating spots in the city to just go and dance before or after a show. The vibe is kind of like going to a house concert one of your cooler friends told you about, from the tables out front, to the porch that overlooks the street. Come for the music (or the comedy, or the podcast taping), stay because you've met somebody.
Lakeview East
Though it's only one of a billion dive bars along its section of Broadway, Friar Tuck is far and away the best spot along that strip to meet someone new. Uniquely positioned within walking distance from Lincoln Park, Wrigleyville, and Boystown, the clientele is varied enough that no matter what you're looking for in a partner, you're likely to find it there. Plus, there are plenty of events tailor-made for meet-cute opportunities—from karaoke to bingo.
Logan Square
If you're searching for your pinball wizard or your killer queen, look no further. The space is large enough that it's comfortable and easy to start up a conversation over a round of Street Fighter Alpha, and the bar's huge collection of obscure and imported arcade cabinets is tailor-made for bonding over. That's not even mentioning constant events like movie Mondays and magic Tuesdays. Looking for a quick way to make a new connection? Saunter over to the Killer Queen machine and politely ask someone to show you the ropes. Works every time.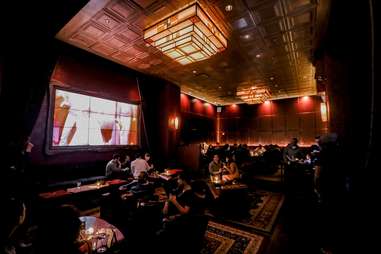 River North
Untitled isn't the only bar that's trading on a gilded-age-revival aesthetic, but it's one of the few that does it right. Not only does the bar feature the world's largest American whiskey collection, there are also live events every day of the week, from blues to burlesque, from soul to rhythm & blues. Wear that fancy outfit you save for special occasions.
Old Town
If you're looking to bag yourself the next Tina Fey or Stephen Colbert, you should be making Old Town Ale House a part of your regular bar-hopping. A traditional after-show hangout both for folks taking classes at Second City and folks who perform there, Old Town Ale House is an extrovert's dream. Just make sure you're not too engrossed in your new beau to take note of the, ahem, unique art on the walls.
Roscoe Village
There's this really interesting stretch of Belmont Avenue between Damen and Leavitt where you can find tons of tattoo parlors, custom guitar shops, open-late Mexican restaurants, and liquor stores. The crowning jewel of this Roscoe Village punk oasis is undoubtedly Beat Kitchen. Of course, it's a legendary music venue that hosts the country's best bands (and comedy shows), but it's also a great bar in its own right. Finish sewing those patches onto your denim vest and get on out there.
Logan Square
Slippery Slope might be the most unique, odd bar in the city. It is, at once, a packed dance club, a skee-ball lounge, a dive bar, and an intimate upstairs speakeasy. This might be what makes it such a popular gathering space for folks trying to meet someone new. Feeling extroverted? Swing by on a weekend and leave your heart on the dance floor for someone else to find. Social anxiety taking over? Drop by on a Monday with a buddy and play skee-ball with them until someone else wants to play. Strike up a conversation, and if sparks fly, go upstairs to the cocktail lounge and enjoy a classic Ramos gin fizz.
Streeterville
Tucked between a couple of towering office buildings on Ontario street sits Murasaki Sake Lounge, one of Chicago's best-kept secrets. Though they offer private karaoke for groups, the front bar is an incredible place to meet someone after work, or really at any other time. The menu of otsumami (Japanese small plates) is extensive, as is the selection of whiskey, sake, and shochu (the largest in the entire midwest). The bar also plays host to some of the area's best DJs every Saturday night, spinning disco, dance, and city pop classics, so post up at the bar and strike up a conversation.
Lakeview
Lakeview East's DryHop was also a contender, but its cousin to the west gets the nod thanks to the spacious and social atmosphere. That said, since it's owned by the good folks behind DryHop, you can expect a wide, rotating selection of brewed-in-house beers sold at reasonable prices, with delicious food to back it up. Set against the backdrop of the bustling Southport shopping corridor, it's a spot that encourages socializing at the bar, so pull up, make a connection, then hop next door to Lush to pick up some romantic bath products together.
Lakeview
Go to Schubas, any night of the week. Spend, like, $20 and see a concert put on by an up-and-coming artist that's going to be headlining a show at The Metro in three months. Hang out afterwards, and order a Chicago Handshake at the bar as people trickle out of the show. Ask someone how they liked the concert.
Union Park
If you've visited Kaiser Tiger before, you already know that its claim to fame is that it's one of the only spots in the city to offer ice sheet curling to the public, as well as bocce after St. Patrick's Day. That's enough to make Kaiser Tiger a popular spot for people looking to try something new for the first time, which in turn makes it a great spot to try and meet folks.