The Can't-Miss Bars on Chicago's South Side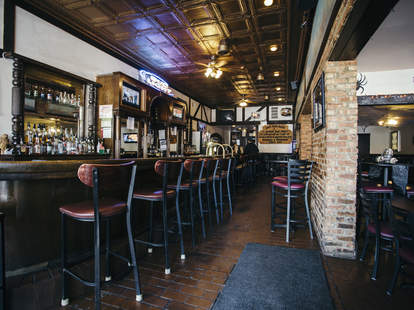 Chicago's South Side is not only home to the Sox and unrivaled views of Lake Michigan, but also dozens of vibrant neighborhood bars. Finding the right watering hole to settle into can be a daunting task. So that you can stop wasting your time searching for a place to drink (and redirect all that energy towards actually drinking), use this roster of 12 go-to bars that has a little something for everyone -- even your friend who insists on a round of Connect 4 alongside his craft beer.

The moment you set foot inside Falcon Inn you can feel how deep the dive bar's roots run within Hyde Park. Everyone seems to know everyone, yet, there's room for one more: you. The charm of Falcon Inn is this indescribable feeling that this place is "your" bar. If you're looking for a bar to cheer on the Bears like you would at home or shoot the breeze with the bartender then you've come to the right place. Plus, Falcon Inn is next door to Cholie's Pizza.
The M Lounge is mainly reserved for the chic, sophisticated bar patron. Whether you're interested in a "grown and sexy" happy hour spot, small-scale live music venue, or weekend party place, you'll be covered. M Lounge is also a great, sneaky place for people-watching because of the open layout and eye-popping atmosphere.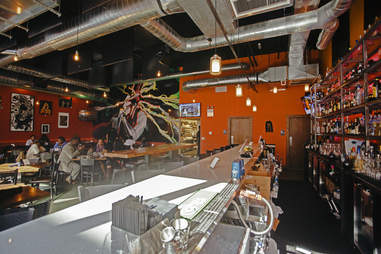 Jim Vondruska/Thrillist
Ja' Grill is a no-brainer for mature socialites seeking authentic Jamaican cuisine complemented with satisfying drinks. On any given night, prospective patrons can expect a fun, sophisticated, beehive-like atmosphere great for a date night or meeting new people. Reservations are highly suggested on Thursday through Sunday evenings to dodge wait times, though there may be seating at the community table or bar if you're lucky.
Buffalo Wings & Rings brings a slice of the Wrigleyville aura to the South Side within walking distance of U.S. Cellular Field. The wing chain provides wall-to-wall sports coverage and wings with an impressive balance of spiciness and sauce flavors at a favorable price. Wings and Rings' bar area is perfect if you're in need of a muted sports bar experience while still enjoying your game.
Wednesday through Sunday evenings, Jokes and Notes creates an ideal climate for great comedic performances offering gut-busting laughs and nightly drink specials. The venue is much bigger on the inside than it appears, yet, make no mistake, tickets can be scarce at the door so call in advance to ensure entry. There's no better showcase of up-and-comers and local veteran comics from the area.
The Cove is the perfect one-size-fits-all community bar with a few wrinkles that you can't help but love. For starters, The Cove mashes a traditional bar set-up on one half with complementary long, wooden park-style benches and tables on the other half which makes for very close quarters with your fellow bar goers. Another funky wrinkle is the wide spectrum of patrons who frequent The Cove, from college students to old bar flies to casual visitors.
Jim Vondruska/Thrillist
This combo music venue/record store/bar/restaurant/rooftop deck has something for everyone. Playing host to a cavalcade of different bands blowing through the Windy City for a gig or two, there is always live music on tap. There's also a curbside patio, shuttles to Hawks games and Dark Lord Day, and a rooftop deck with a full-sized basketball hoop for a proper game of Pop-A-Shot.
One of the best late-night bars/clubs on the South Side, this LGBT-friendly spot is well known for its drag shows and special events. The dance floor size is more than serviceable and the bar is fully loaded which make for the perfect party combo. On nights when the Pub is not on Level 10, it transforms into a chic, relaxed neighborhood bar perfect for a drink on a side of town not necessarily known for its bar scene.
Chant successfully combines elements of a coffee shop, an art gallery, a neighborhood bar, and a live music venue all into a picturesque Hyde Park getaway. Its "Quiet Storm" music playlist sets the tone for engaging in a conversation with your group or for an enjoyable night flying solo. Weekends bring live music and Chant's patio offers the sights and sounds of 53rd St during the warmer months.
If you are looking for a great time before you jump on the Bishop Ford Expressway off of Stony Island Ave, stop in Family Den Lounge & Restaurant. Beyond its commuter friendly location, Family Den has a fun community atmosphere on the weekdays and really turns up on the weekends. The Family Den has all the essentials: a full bar, capacity for big crowds, live music, freshly prepared meals, DJ booths, a dance floor, etc.
Maria's formula of old-school board games and a massive beer selection sounds like music to the ears of 20-somethings looking to hang out in a stylish, fun space. In the front of the house, Maria's is a quaint storefront where visitors can purchase alcoholic and non-alcoholic beverages but the real fun is in the back. Have you ever asserted your Connect 4 dominance over your friends while a Bruce Lee film plays in the background? At Maria's you can check that off the bucket list. If games aren't your fancy there's enough space to sit and talk to friends. Good luck with the bathrooms, the stalls are tight and can only service one person at a time.
Lemelle's Luxury Lounge has all the ambiance of a neighborhood watering hole with the flair of Downtown Chicago. Lemelle's uses lighting, strategically placed seating near the dance floor, a large backyard patio area, and a live DJ to establish a fun atmosphere. Parking is made easy with a lot adjacent to the building and free street parking on side streets. Lemelle's is the perfect oasis for fun seekers looking to stay on the South Side.
Sign up here for our daily Chicago email and be the first to get all the food/drink/fun in town.
Lee Edwards is a general assignment reporter based in Chicago.