The Chicago bar scene has come a long, long way when it comes to beer in the last 10 years. These days a solid selection of craft beer on tap (with at least a few local options) is a baseline expectation rather than the exception to the rule. This also means it becomes harder and harder for bars to stand out on the merits of their beer game. When it comes to the bars that rise above the rest, that reliably deliver that unbeatable "there are so many beers here I haven't tried and I want them all right now" experience, these are the places you must seek out.
Important Note: This list is not meant to include breweries. Revolution, Half Acre, Haymarket, and the like are great places, and you should drink at them (and probably do). No disrespect meant, we're just treating them as a separate category.
Recommended Video
This Bottle Opener Can Open An Entire 6-Pack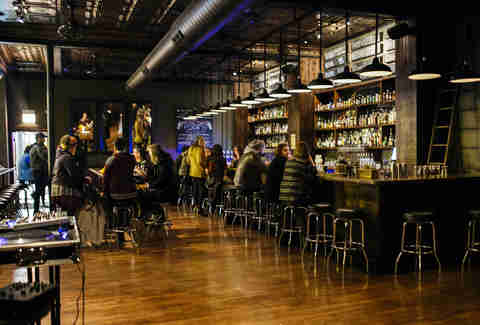 Avondale
The folks behind High Dive and Rocking Horse took over the longtime liquor store that presided over the Milwaukee/Diversey/Kimball intersection, outfitted it with a spacious and comfortable wood-laden taproom, and the rest is history. When you step in and scan the chalkboard panels above the bar touting the 24-strong tap list (they might be changing one out as you're perusing; it turns over fast) you might find yourself paralyzed with indecision figuring out whether to go with, say, a Backwoods Bastard or an Abraxas. Luckily they happily do cheaper half-pours so you can cycle through your targets quickly and efficiently. In non-beer but nonetheless important news, the $3 shot dice are as entertaining and dangerous as they sound. Also important: they don't serve food, but Dante's Pizza (which they also own) is close by if there's booze that needs soaking up. And there will be.
Lakeview
After a Cubs game, let those with less refined tastes pile into the slightly more geographically convenient Clark St bars. You're heading a bit further South to Sheffield's for many a fine beer and some BBQ. Better yet, go here when there isn't a Cubs home game. The beer garden is legendary, as is the beer selection. Pros know that the best action can be found at "Beer School" -- the bar-within-the-bar inner sanctum offering its own particularly eclectic tap list and particularly knowledgeable barkeeps.
Wicker Park
Bangers = Sausage. Lace = The foamy remnants left behind on the glass from the beer you consumed washing-down said sausage. Those Two Combined = You, happy. Truth be told, while the encased meat fare here is definitely a positive, if you go just for the beer, you won't be disappointed, either. The 32-strong, deep-cut tap list is constantly refreshing with everything from one-off local collabs to international brews you may not be able to pronounce. Pro tip: try a flight from the Six Pack, a sextet of kegs housed in an antique cooler that usually represents the most unusual/rare of whatever they're tapping.
Andersonville
Such is the demand for the glory of this Andersonville mainstay, that even with the purchase of the neighboring building to make for additional room (and a most-welcome expanded kitchen), it remains perpetually packed. You won't find a better lineup of Belgian brews in the city, and their stateside lineup is also a force to be reckoned with. To throw back a few beers at Hopleaf while powering through piles of moules-frites is to know happiness.
Bridgeport
Remodeled and renamed several years back for the owners' mother who ran this Bridgeport staple for years under the name Kaplan's Liquors, Maria's still has the soul of a dive, but is now combined with more contemporary appointments like chandeliers made of beer bottles. Oh, and they have some 400-plus beers for you to choose from, owed in part to the adjoining bottle shop, but also a reliably killer tap list. You're going to like drinking here. You're also going to like eating here, because even though they don't have a kitchen, Pleasant House Bakery next door does, and will happily run your food straight to your table at Maria's. It's a gloriously symbiotic relationship. Get there on a Friday for fish and chips. Do it.
Avondale
The bar refers to itself as the Logan Square location but really it's just north of the border in Avondale -- no matter, because where there while there were once upon a time three Small Bar locations, now only one remains, sitting on a quiet stretch of Albany just as cozy and snug as the name would suggest. As the name would suggest this isn't the place to come looking for 50 taps, but even the most cynical beer nerd will inevitably find something that makes him (or her!) say "oh damn, I really want to try that." Slip through the kitchen and into the laid-back patio, order up a burger, and you'll feel like you're at a backyard BBQ hosted by a friend with incredible taste in beer and an abundant supply of tater tots.
Bucktown
Another one of the OG Chicago beer bars (opened in 1992), The Map Room dubs itself "A Traveller's Tavern" (see the flags?), and appropriately, anytime a beer geek is passing through Chicago, this is typically one of their pilgrimages. They've been in the game long enough to have struck up some deep ties in the brewing community, which means you'll find yourself saying things like, "I've never seen that on tap before" when you start perusing the list. They also host regular Beer School meetings to help you navigate their menu (and all the others) with even more confidence. They're cash only. Come ready to spend some on delicious beer.
Lakeview
If you're going to trade in offering an esoteric list of harder-to-find beers on tap, the reality is kegs are going to kick on the regular, and the printed beer menu in your hand (if there is one) might not always be 100 percent up-to-date. Most seasoned drinkers understand this -- but the key to a really strong beer bar is that when the server says "oh I'm sorry we're out of that," the unfortunate statement is immediately followed by "BUT we just tapped this other equally or possibly even more exciting beer you should try." Such is the case at Northdown, a funky joint, whose dozen taps turnover quickly, whose handful of pinball machines provide a welcome diversion from actually having to interact with your tiresome friends, and whose candied bacon will make you say "I don't care if you're trying to tell me the bacon trend peaked five years ago, this is delicious and I am eating it."
Lakeview
You could knock this place for a cutesy name and concept -- at this "beer cafe" you get your beers not from a bartender but a "beerista", etc. But look, nomenclature aside it's a bit different than any other place in Chicago and a valuable addition to the craft beer ecosystem, with cooler upon cooler of alphabetized bottles you can take home in a mix-and-match six pack or drink right there on the premises for an upcharge. If you're more a draft devotee, the dozen-strong taplist always makes for some interesting pints or flights. The free wi-fi befits the atmosphere, which really does skew a little more cafe than bar, so if you have a work-from-home gig and feel like you can be productive with a beer or two in you, it's also an underrated spot to get some work done. No food beyond some light snacks (and free pretzels!) though, so you'll have to order that lunch in.
Jefferson Park
Before there was Maria's or Crown Liquors, Fischman was quietly doing its "old-school Chicago slashie with an almost disconcertingly incredible beer selection" thing up in Jefferson Park, and it remains both a neighborhood staple and a destination for beer geeks, especially when they're throwing one of their (quite frequent), ticketed events that feel like amazing mini-beer fests (because that's basically what they are). No matter when you visit, come prepared to spend more time than you anticipated and drop some money in the bottle shop on some selections you just couldn't bear to go home without.
Ravenswood
Easily No. 1 on the list of bars frequently mistaken for an Ayn Rand homage (it isn't, though there are some parallels... you know, just hit their website and read their explanation if this is a sticking point). The mahogany-enveloped interior makes for a fantastic backdrop to hole-up for a pint in the cold. The rooftop garden is gorgeous for the two months that it's nice outside. You could be forgiven for allowing yourself to be distracted from the beer list by the menu (don't skip the pub cheese) and the equally robust selection of whiskies, but don't be, because the beer list is always fantastic. If you're really indecision prone just stay a while and consume everything, especially if you've scored a rooftop table.
Logan Square
Opened in 1979, this laid-back corner bar on the Bucktown/Logan border was a craft beer bar way before people on the internet were making lists of good craft beer bars. Because there was no internet. And, there weren't really other beer bars. They aren't really the type to brag that they did it first, though (well, they do call themselves "Chicago's Original Beer Bar", but they don't broadcast it too loudly). They're too busy maintaining an unassailable tap list, throwing kickass rock shows in the back, and offering kickass-er specials all week. Just because you have great craft beer doesn't mean people can't appreciate $1 Blatz and $2 mystery shots.
Lincoln Park
The reverberating heavy metal and serious brew selection here will make you completely forget that just before you entered, you saw a nice-looking couple walking their French bulldog down a sleepy, tree-lined street in Lincoln Park. If you can't find something you like on draft (highly unlikely), there's also an impressive bottle selection (rarer large-format options in particular). Really, though, you'd be remiss not to sample at least one of the house-branded options (!) they make at other Midwest breweries. This little dive doesn't quite have room for fermentation tanks.
Sign up here for our daily Chicago email and be the first to get all the food/drink/fun in town.
If you want to meet Thrillist Executive Editor Matt Lynch for a beer, suggesting one of these places is a good starting point. Tell him where he should go next @MLynchChi