There is perhaps no finer example of civic achievement than the art of the booze cruise, and Chicago has perfected it with precision thanks to a ludicrous array of options. From renting your own floating Tiki bar to BYOB sailing sessions, behold your menu of 11 booze cruises in town.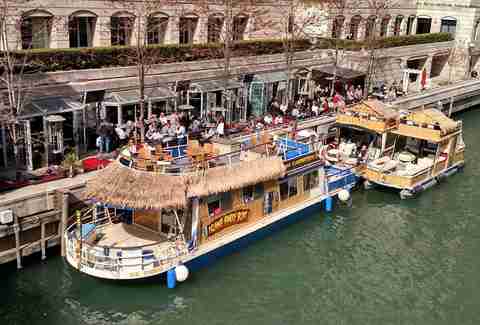 Rent a floating Tiki bar
Island Party Boat
Where to catch it: Monroe Harbor
The mother of all Chicago party boats, this 49ft floating Tiki bar has room for 35 of your best friends with eight speakers on two levels, a 30ft cabin with two rooms (for more "private" parties), and a 32in flat-screen. You can also opt for the smaller 26ft tri-toon party boat with its own built-in water slide (waxed daily) as well as its own mascot, the Rusty Pelican.
Cost: Prices vary
Attend a beer fest on a boat
Mystic Blue Small Craft Beer & Cider Cruise
Where to catch it: Navy Pier
For a more upscale boating experience, hit up this yacht with fancy LA-style sofas on the deck, live DJs, and a fully stocked cash bar. Choose from either the Monday Night Sunset Cocktail Cruise or the Tuesday Night Happy Hour Cruise... because booze cruises aren't just for the weekend. Or opt for the July 26th Small Craft Beer & Cider Cruise, which is basically a beer fest on a boat featuring Ale Syndicate, Atlas, Temperance, Begyle, and more.
Cost: $32 for afterwork cruises, $36 for beer & cider cruise

Pontoon the Chicago River
Corporate Tailgate Pontoon Boat Rentals
Where to catch it: Estate Ultra Bar
Bring your own booze at this 2-hour tailgate where they foolishly let you drive the boat yourself. Meet at the docks outside Estate Ultra Bar and try not to get bowled over by huge yachts as you navigate the river like a novice. Pro tip: head away from Downtown to the river's more chilled-out South Branch and, whatever you do, don't jump in the water unless you'd also like a complimentary trip to boat jail (we learned this the hard way).
Cost: $109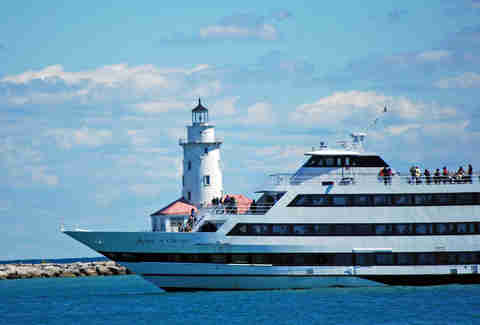 Sip with your pinky out on a cocktail cruise
Spirit of Chicago Cocktail Cruise
Where to catch it: Navy Pier
Nosh on meatball sliders, chicken tenders, and spring rolls paired with Lagunitas IPA, Berghoff Pale Ale, Ketel One, and Jameson at this two-hour booze cruise aboard a massive vessel big enough for 500-600 people. Just watch out for Michael Scott... you know he's probably lurking around here somewhere.
Cost: $37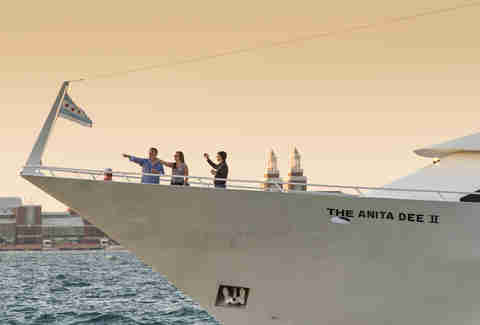 Booze with people from your Big Ten college
Chicago Party Boat
Where to catch it: DuSable Harbor
As Chicago's purveyor of the most extensive menu of booze cruise options, it's got everything from day booze cruises and fireworks cruises, to moonlight cruises and cruises for Illini, Indiana, and Dayton alumni. (Were guessing you're probably gonna hear the fight song more than once.) It also has something called the El Hefe cruise featuring a live DJ and penny beer at the after-party at El Hefe.
Cost: Prices vary

Take a BYOB sailing cruise
Offshore Adventures BYOB Sailing Cruise
Where to catch it: DuSable Harbor
Just because you're sailing doesn't mean you can't also be boozing. So throw on your "Don't Hassle Me I'm Local" T-shirt from What About Bob? and set sail Bob Wiley style with Captain Rick aboard either the 35ft Alpha Puppy or 30ft Sundog. You bring the booze. They provide the coolers, ice, flatware, and killer skyline views.
Cost: $69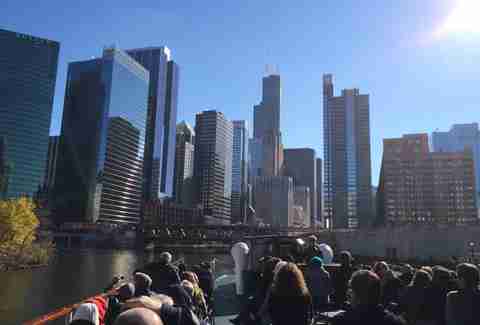 Take an all-you-can-drink cocktail architecture cruise
Chicago Line Cruises Cocktail Architecture Cruise
Where to catch it: Ogden Slip
Because nothing goes better with a docent describing buildings than Green Line Pale Ale and Maker's Mark, there's this laid-back cruise hitting the lake waters around the Adler Planetarium and the river from Wolf Point and back. Opt for unlimited beer, wine, and mixed drinks and check out the fireworks aboard this 90-minute floating bender.
Price: $42 (plus $20 for unlimited beer, wine, and mixed drinks)

Rent your own yacht
Chicago Adventure Club two- or three-hour yacht rental
Where to catch it: Burnham Harbor
Ever want to take a BYOB booze cruise to Horseshoe Casino in a massive Carver 350 Mariner with US Coast Guard-certified captains, a 22in TV, and built-in MP3 sound system? Well, now you can, in addition to trips to Northerly Island for a concert, the Air & Water Show, or wherever the hell you feel like going. Because you're on a yacht, for Christ's sake.
Price: $499
Go on a beer & BBQ cruise
Wendella Beer & BBQ Cruise
Where to catch it: 400 N Michigan Ave
Yes, cruises with Goose Island beer flights are nice. Cruises with Sweet Baby Ray's BBQ are also nice. Cruises with both are this bi-level, monthly, finger-licking rager at sea with beautiful river and lake views.
Cost: $54
Get boozy at sea with Revolution Brewing
Summer Brew Cruise with Revolution Brewing
Where to catch it: Navy Pier
If you prefer Revolution over Goose Island, this is the cruise for you with seasonal tastings of Revolution beers, appetizer pairings, and live music aboard a saucy, 90-minute cruise. Perfect for those times when the brewpub is too packed. Beards optional, but encouraged.
Cost: $39
Take in beer flights on the river
Seadog Beer Flight River Cruise
Where to catch it: Navy Pier
For those who can't decide on just one craft beer, there's this multi-event partnership with rotating Chicago area breweries including 3 Sheeps, Ale Syndicate, Atlas, and SweetWater. Sample four beers from your cruise's featured brewery as you listen to the docent talk architecture on this quick one-hour-and-15-minute cruise.
Price: $37
Sign up here for our daily Chicago email and be the first to get all the food/drink/fun in town.
Jay Gentile is a Thrillist contributor who is still on the lam from Chicago boat police. Follow him @innerviewmag.