When it comes to the art of the booze cruise, Chicago has perfected it with precision and now boasts a ludicrous array of options that has something for everyone. From renting your own floating tiki bar to an alcohol-fueled comedy cruise, behold your menu of the best drinking boats in town.
For: Craft beer enthusiasts, obviously
Where to catch it: Navy Pier
Instead of chugging warm Miller Lites on your buddy's boat, hit up Mystic Blue for a more highbrow experience. Sample 20 beers from leading craft kingpins, and pair them with snacks like Italian meatball sliders and mini-quiches. Each month has a tasting theme, such as Belgian, barrel-aged, and Wisconsin beer, brats, and cheese.
Cost: $40
For: Lovers of BYOB and freedom
Where to catch it: Estate Ultra Bar
This company not only lets you bring your own food and booze, it also -- for some reason -- lets you drive the pontoons, which hold up to 12 people. You'll leave from the docks outside Estate Ultra Bar, then try not to get bowled over by huge yachts as you navigate the river like a novice. We suggest you head away from Downtown to the river's more chilled-out South Branch and, whatever you do, don't jump in the water -- it's illegal to swim there and you'll get a complimentary trip to boat jail (we learned this the hard way).
Cost: $300-$500
For: The name pretty much says it all
Where to catch it: 400 N Michigan Ave
Yes, cruises with beer flights are cool. Cruises with Sweet Baby Ray's BBQ are also cool. Cruises with both, not to mention climate-controlled lounges, are great. Find all of that on this bi-level, bi-monthly, finger-licking rager at sea.
Cost: $54
For: Lovers of tiki drinks, Jimmy Buffett fans
Where to catch it: Monroe Harbor
With its own fleet of ridiculous tiki- and island-themed boats, there are perhaps no more appropriate vessels for raging at sea than these over-the-top cruisers, most of which are equipped with waterslides. Choose from the yacht-styled Island Time, the bi-level Polynesian, or the thatched pontoon known as the Fiji. The company also has traditional speedboats, catamarans, and sailboats for rental, but where's the fun in that?
Cost: Prices vary
For: More sophisticated drinkers
Where to catch it: Navy Pier
Nosh on chicken wings and pigs in a blanket while sipping an assortment of top-shelf cocktails. The two-hour cruise runs on Thursdays and Fridays aboard a massive vessel big enough for 500-600 people.
Cost: $42
For: Comedy fans
Where to catch it: Navy Pier
Shoreline has a number of options, but the most unique is its collaboration with Zanies comedy. The club books two comedians to hop on the boat with the sole goal of making you laugh, plus you get a free drink ticket. If comedy isn't your bag, there are also hard cider and wine-tasting cruises, and summer rides with Revolution Brewing's finest beers.
Price: $49
For: Night owls
Where to catch it: Navy Pier & DuSable Harbor
As Chicago's purveyor of the most extensive menu of booze cruise options, this company has "moonlight" ones that last till 2am, and celebrations of every major holiday from Cinco de Mayo to Halloween. There's also a cruise to the El Hefe taqueria for an afterparty, where your first beer or cocktail only costs a penny.
Cost: Prices vary
For: Those who appreciate fine buildings and open bars
Where to catch it: Ogden Slip
If your goal in life is to drink on all three branches of the Chicago River in one evening, this ride has you covered. Certified docents narrate the trip, telling you all about the amazing buildings that line the waterway. And for only $21 extra, you can get unlimited beer, wine, and mixed drinks aboard this 90-minute floating bender.
Price: $43 (plus $21 for unlimited beer, wine, and mixed drinks)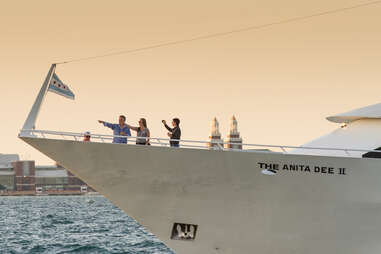 For: People who've had a long day and just want to be on a yacht
Where to catch it: DuSable Harbor
For happy hour, you could go down to your local watering hole, but does it have two dance floors and 360-degree cityscape views? We didn't think so, and that's why we recommend hopping on the Anita II yacht on Mondays and Tuesdays to have a few cocktails and watch the sunset.
Cost: $25
Sign up here for our daily Chicago email and be the first to get all the food/drink/fun in town.