Anyone who's ever spent more than five seconds in Chicago has come away with one irrefutable nugget of local knowledge: Chicagoans lovetheirbeer (also, their hot dogs). And while the shift from Schlitz and Old Style has been many decades in the making, few could have predicted the craft beer industry's explosive growth over the past 15 or so years. Now with well over 200 breweries and counting in the city and suburbs, we did the dirty work for you and hand-selected the 12 best Chicago brews to crack open for a fine taste of everything the Windy City has to offer—from the big boys of craft to tiny new upstarts you definitely need to know.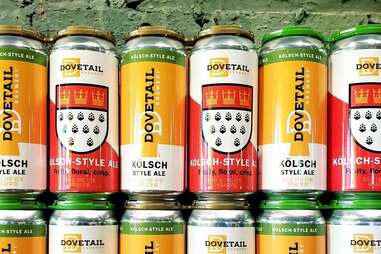 North Center
Dovetail founders Bill and Hagen met at beer school in Munich, where they learned how to implement old world brewing techniques including open fermentation modeled after the traditions of continental Europe. In other words—their words—they "brew like monks." Cool without trying too hard, Dovetail's laid-back North Center digs boast a biergarten and sidewalk patio welcoming both dogs and BYO-food (although they do have snacks). Merging newfangled styles with European standards has proven to be a winning formula for this on-the-rise team.
Must-try beer: Like most of their brews, the flagship Helles makes the most of its easy-drinking capabilities. They claim the delicate, balanced lager is brewed especially for baseball season and—whether or not that's true—it sure beats the hell out of a $24 Budweiser at the stadium.
Logan Square
Fans of efficiency will love this affable brewery-distillery combo located on (you guessed it) Maplewood Avenue near the Regal City North IMAX. Their brews are simply a joy to behold, with a lineup spanning Juice Jorts Hazy Pale Ale and a hefty imperial chocolate stout dubbed Morbidly Obese Pug Extra Fudge. Grab a brew or up your cocktail game with a Brewer's Old Fashioned (a blend of Fat Pug White Whiskey with Fat Pug Oatmeal Milk Stout) and head out to their Maplewood Lounge outdoor patio to kick back with buds and a small assortment of snacks. It's pretty much a post-movie prerequisite at this point.
Must-try beer: We're big fans of stouts regardless of season, and Maplewood's Morbidly Obese Pug Extra Fudge packs the flavor with two varieties of chocolate to produce a deep cocoa profile paired with notes of freshly baked fudge. The 10% ABV doesn't hurt either—or wait, maybe it does.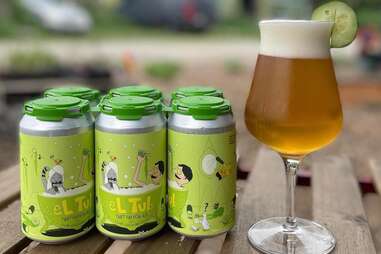 Back of the Yards
Housed in The Plant, a net-zero emissions energy business incubator in Back of the Yards, this small but mighty operation is known for its environmentally responsible brewing techniques paired with what might be the cutest can designs in existence. Le Tub is by far its most well known export, but they also brew up an array of offerings from large-format ales to kombuchas. With a focus on barrel-aged brews and a penchant for experimentation, you might just walk out with a favorite new beer.
Must-try beer: One can't sample Whiner without a dive into its flagship Le Tub Wild Farmhouse Ale, a good-time-in-a-can offering notes of white grape and tart lemon.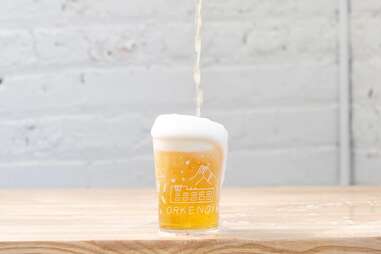 Humboldt Park
Those working up a thirst hiking the 606 won't have to travel far for a fine bit of refreshment. Ditch the Gatorade and head directly across the street from the trail (near the Spaulding exit) to find yourself in Humboldt Park's very first brewery, housed within the Kimball Arts Center. The brewery, cocktail bar, and Nordic-themed kitchen provides an artsy hangout in which to familiarize yourself with food-friendly roster standouts like Crystal Apache Wild Currant Leaf Lager and Gaston Merrymac French Pilsner. Add in Scandinavian-style fare like Dutch pork belly open-faced sandwiches alongside cocktails like Swedish Tiger boozy Thai iced tea, and you've got a party on your hands.
Must-try beer: Get a taste of what this creative incubator is all about with a pint of More Lifelike Hazy Pale Ale, brewed in collaboration with Chicago art rock band Sunjacket and inspired by their latest album. Offering hints of sea buckthorn berries and mango fermented with tropical Lithuanian farmhouse yeast, does it taste like art? You be the judge.
North Center/Bowmanville
Founded in 2006 well before the current craft beer craze took hold, Half Acre is one of the OGs of the Chicago brewing scene and is regarded by many as the finest in the city. Manning not one but two breweries on the North Side (within a 10-minute drive of each other), Half Acre not long ago added its massive 60,000-square-foot Balmoral facility to the mix, a testament to its increasing popularity and thirst for experimentation. Daisy Cutter (one of five year-round ales) is the beer that put Half Acre on the map, but the Balmoral spot has carved out more room for so-called wyld beers marked by offbeat techniques mixed fermentation.
Must-try beer: With touches of blended pine, citrus, papaya, and mango, the deliciously dank and dry Daisy Cutter remains popular for good reason. It's basically summer patio drinking in a can.
Ravenswood
A haven for German-style beers and lagers since 2009, Metropolitan largely flies under the radar among suds novices but continues to reign as one of the most respected makers in Chicago. While many contemporary breweries fall all over themselves trying to get your attention with the weirdest or most hop-forward beers imaginable, Metro keeps things simple with flat-out good beer that puts drinkability front and center. The venerable brewery's profile has been raised slightly, thanks to the fairly recent addition of its Rockwell on the River Tap Room—one of the best taprooms in the city thanks to its homey atmosphere spanning reclaimed wood furnishings and floor-to-ceiling windows overlooking the Chicago River.
Must-try beer: Krankshaft, their flagship Kolsch, is brewed in homage to Cologne, Germany, featuring a burst of lemony aroma and a dry, clean finish characterized by Metro's trademark smoothness.
Logan Square
Founded as a brewpub in 2010 by former Goose Island employee and Handlebar founder Josh Deth, Revolution has spearheaded the local craft revolution and become the largest independently owned brewer in Illinois. Picking up the mantle left by Goose following its sale to InBev, Rev's massive 90,000-square-foot Kedzie facility houses a German beer hall-style taproom that starred in the 2013 film Drinking Buddies. Famous for its aggressive flavor profiles and hop-heavy creations, Rev is known for year-round numbers like Anti-Hero and Fist City, but the popular seasonals and excellent Deep Wood series ales showcase its bottomless talent pool.
Must-try beer: For something a little different, dig into the Deep Wood series with an award-winning Deth's Tar Barrel-aged Imperial Oatmeal Stout brewed with English specialty malts to create a rich, chocolaty profile with notes of vanilla, toasted coconut, and caramel candy.
Lincoln Park/Wrigleyville
Hipsters may have jumped ship when this heavyweight sold to AB-InBev in 2011, but the brewery that basically kickstarted Chicago's—perhaps even the country's—craft beer obsession continues to push out high-quality brews worthy of attention whether y'all like it or not. Founded in 1988 and shut out of the Great American Beer Festival in recent years (apparently it's no longer considered "craft"), Goose Island continues to forge ahead by opening new brewpubs across the globe in addition to its two Chicago locations. 312 is the one most locals know best, but food-focused offerings like Sofie and Matilda are steadily increasing in popularity. And if you've ever been to an area street festival, you know just how well their beers pair with good times.
Must-try beer: Three words: Bourbon County Stout. With thick foam the color of toasted oak capping an ocean of rich chocolate, vanilla, tobacco, caramel, and smoke, this dark and dense elixer has accrued a massive cult following. Are there long wait times during its much-hyped annual release? Sure, but it's worth it.
Bridgeport
Once a hidden gem frequented by Bridgeport beer nerds, Marz is now widely regarded as one of Chicago's top purveyors thanks to endless word-of-mouth buzz and two beautiful taprooms serving as essential beer pilgrimage sites. Founded by the owner of Maria's Packaged Goods and known for Chicago-centric offerings like The Machine and Bubbly Creek, Marz has amped up its production as of late to feature more internationally leaning offerings like Marz Bohemian Pils and the summery Marzarita. Sip their latest creation in their art-heavy South Side space while discussing the latest Pitchfork review with a crowd of boho beer lovers, homebrewers, neighborhood locals, and everyone in between. And stop by the new Bucktown nano-brewery, Marz Community Club, for even more heady action.
Must-try beer: Marz's flagship Jungle Boogie is an unlikely success story. The American Wheat Ale blends Mosaic hops with fruity Rooibos tea to produce a complex crusher that's just the right amount of quirk without verging on off-putting.
Logan Square/Lincoln Park
Known for inventive approaches and eccentric flavor combinations, Off Color continues to slay thanks to the relentless pursuit of excellence from its founders, ex-Goose Island barrel man John Laffler and Dave Bleitner, formerly of Warrenville's Two Brothers. While the brewery has only been around since 2013, it joined the big leagues with its Lincoln Park taproom, The Mousetrap. Stop by to have your mind blown by some of their latest and greatest small-batch specials.
Must-try beer: Brewed with grain and sugar to create a hazy, golden body, the ever-popular Apex Predator Farmhouse Ale pairs superior quaffability with a dry finish and fruity bite. What's not to love?
Logan Square
With a hop-heavy lineup of IPAs including Imperial, Belgian, Black, and Sessionable takes, Pipeworks started out in a tiny Chicago hideaway in 2012 and was originally geared toward brewing one-offs for beer nerds in the nichest of niche markets. Now, the hyper prolific operation is one of Chicago's more recognizable yet still-underappreciated outposts—in other words, knowing about Pipeworks still feels like being let in on your cooler big brother's secret. Pop into their McLean bottleshop (known as the Dojo) and load up on freshies to crack open with pals on your back porch.
Must-try beer: The famous Ninja vs. Unicorn is a full-flavored, unfiltered 16-ounce double IPA brewed with over five pounds of hops per barrel. It's not for the faint of heart, and can be immediately singled out thanks to its mythical can art.
West Loop
This "little brewery that could" has only been on the scene for a few short years, but it's already earned a dedicated local fan base in addition to growing national attention. Opening in the West Loop in 2017 and taking home the prize for "Very Small Brewing Company of the Year" at the Great American Beer Festival that same year, On Tour is known for jam band-inspired releases like Typical Daydream Saison and Mama Tried Barrel-aged Brown Ale. Grab one to enjoy in their sunny 1,500-square-foot taproom before hitting up the Phish show with a nice buzz.
Must-try beer: On Tour's Thalia Hall Pilsen is brewed in collaboration with none other than Pilsen venue Thalia Hall, a chill Bohemian Czech pilsner best consumed by the 60-ounce pitcher. (Luckily, they stock said pitchers.)
Jay Gentile is an award-winning freelance journalist specializing in travel, food & drink, culture, events and entertainment stories. In addition to Thrillist, you can find his work in
The Washington Post
,
The Guardian
,
CNN Travel
,
Chicago Tribune
,
Lonely Planet
,
VICE
,
Outside Magazine
and more. Follow @thejaygentile.