Some things are better left up to the experts, whether that be slapping pucks with sticks/headbutts or ranking Chicago area breweries. And since the Hawks are preoccupied this time of year, we turned to six local beer aficionados and had them rank the best breweries in Chicago while telling us a little bit about why the hell they ranked them so. These are the winning vote-getters.
Recommended Video
Irish Hazelnut Cream Is the Boozy Winter Warmer You Needed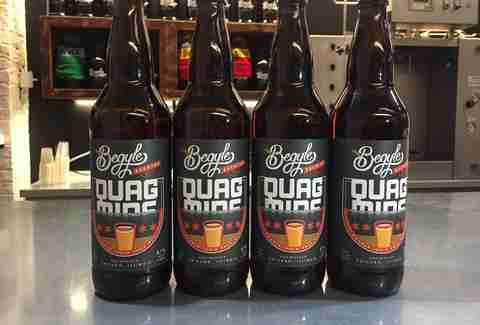 North Center
Founded in 2011 by supporters who bought subscriptions to this community-based brewery, Begyle raised another $19K the following year via a Kickstarter campaign for a counter-pressure growler filler. So clearly, this up-and-coming brewery in Chicago's crowded North Center/Ravenswood brewer's row has its backers. Aside from spinning the traditional brewery business model, they also put out satisfying beers that are as easy to like as they are.
Experts say: "They are passionate about what they do, they don't take themselves too seriously, and have been putting out solid products one after another." - Cleetus Friedman, Fountainhead
Key beers: Comb the Desert, Blonde Ale, Tough Guy Brown
Logan Square
As one of the newest breweries to make its way onto this list, Off Color was founded in early 2013 as a partnership between former Goose Island barrel-age brewer John Laffler and Dave Bleitner, formerly of Warrenville's Two Brothers. They thrive on making offbeat beers with a focus on brewing forgotten styles of ale, particularly those made in Germany before the late 15th century. Their experience and unorthodox approach to craft brewing has made them instant players in the local craft scene.
Experts say: "There is something about the obscure beers that I love, the label art, and [co-owner John] Laffler. It all goes so well together and I had no doubt they would jump right into the local beer scene." - Cleetus Friedman, Fountainhead
Key beers: Scurry (on nitro), Troublesome
Bridgeport
Helmed by Maria's Packaged Goods & Community Bar co-founder (and full-disclosure, expert for this article) Ed Marszewski, Marz is obsessive about its Bridgeport roots, with beers named after Chicago's favorite rotting river area, Bubbly Creek, as well as Marszewski's counterculture magazine Lumpen (he also publishes Mash Tun: A Craft Beer Journal). The Marz collective is comprised of home brewers, professional brewers, and artists who found each other while drinking beers at Maria's, and is currently one of the most sought-after small-batch artisanal beers in town.
Experts say: "This upstart Bridgeport brewery has come out of nowhere to be an instant favorite. Their mainline beers like The Machine are great, but it is their 'one-off' beers that are winning new fans daily." - Michael Roper, Hopleaf
Key beers: The Bubbly Creek, The Machine, Galaxy Buddy
North Center
Founded in January 2010 by Brad Shaffer and Jason Klein, Spiteful Brewing's name was taken from a childhood friendship that started instantly following a spiteful incident during a game of pond hockey. Initially homebrewing in the kitchen on a stove, their goal became supplying Chicago with proper beer that they would hand-deliver to liquor stores and bars. As other breweries continue to grow and expand, Spiteful remains committed to its nanobrewery roots.
Experts say: "Nanobreweries are aplenty in Chicago, but Spiteful makes some of the best IPAs in the region." - Ed Marszewski, Maria's Packaged Goods & Community Bar
Key beers: Bitter Biker Double IPA, Messenger IPA, Spiteful IPA
Geneva, IL
Started by two former Goose Island employees in 2014 in the western suburb of Geneva, Penrose focuses on Belgian-inspired session ales, oak barrel-aging, and alternative fermentation. These guys are as well known for their food-centric beers as they are for their taproom, which fits right in with Geneva's small, but bustling food and restaurant scene.
Experts say: "These guys are jerks. From the first dinner I did with them, to the second, third, and fourth. I love their beers and Belgian influence. I think they are going places." - Cleetus Friedman, Fountainhead
Key beers: P2, Wild V, Navette
Munster, IN
Even with it being outside the state limits, 3 Floyds is ubiquitous in Chicago's beer scene. Founded in 1996 with only a few hundred dollars, a five-barrel Frankenstein brew kettle, repurposed open Swiss cheese fermenters, and an old Canfield's Cola tank, 3 Floyds is just as "not normal" today as it was back then. Its across-the-border south suburban command center is a must-visit for any self-respecting craft beer nerd, and the releases on Dark Lord Day rivals Goose Island's Bourbon County Stout release on the beer mania Richter scale.
Experts say: "They consistently turn out high-quality beers highlighted by their IPAs. Their entire portfolio is filled with winners." - Kris Nagy, Scofflaw
Key beers: Alpha King, Zombie Dust, Gumballhead, Dark Lord Imperial Stout
Naperville, IL
Having recently marked its three-year anniversary with the annual Oath Day celebration, this emerging west suburban powerhouse is all about the party. Focused on Belgian-inspired and barrel-aged beers, its plan is to quickly rotate through dozens of beers across a range of styles while continuing to experiment with offerings such as its 12% ABV Heavyweight Ticklefight Champion of the World whiskey barrel-aged barleywine.
Experts say: "Newer to the scene, they have a ton of energy and it shows in their beers... Great lineup of American-style IPAs as well as Belgian-inspired brews." - Kris Nagy, Scofflaw
Key beers: Axe Scar Pig, Kidnapped By Vikings, Snaggletooth Bandana
West Loop
What is there left to say about the brewery that basically started the craft beer craze in Chicago? Even though it was famously sold to Anheuser-Busch and many of its employees have left to start their own breweries, it remains a powerhouse while continuing to innovate and make beers like Bourbon County Stout that fans will scour liquor stores for. And if you don't see them at a Chicago festival this summer, you're obviously not paying attention.
Experts say: "Lots of people have dropped them like a stone since the A-B purchase, but they are still making extraordinary beers... Blindfold test Sophie, Madame Rose, or Lolita and I doubt that anyone would call them anything but great." - Michael Roper, Hopleaf
Key beers: Matilda, Sofie, Fulton Street Blend Coffee Ale, Bourbon County Stout
Logan Square, Avondale
Revolution may not be quite as famous as Goose Island, but it was famous enough to star in the indie beer-centric film Drinking Buddies. And as the surrounding Logan Square neighborhood has blown up in terms of drinking signfigance, so has this Chicago institution founded by former Goose Island employee/Handlebar founder Josh Deth. With more aggressive flavor profiles than most Midwestern beers, a huge grassroots following, and plans to triple its brewing capacity, it's clearly on the cusp of something big.
Experts say: "Rev seems to be making all the right moves at all the right times, and makes a lot of damn good beer to boot... If you had to pick one brewery to serve for the world as Chicago's face of a truly independent, large-scale brewery, you could do far worse." - Karl Klockars, Guys Drinking Beer
Key beers: Anti-Hero, Jukebox Hero, Working Woman
Ravenswood
In 2009, Metropolitan Brewing was the first brewery to open in Chicago in 10 years. Specializing in German-style beers and lagers, Metro can be counted on to deliver solid, easy-drinking beers that are clean, flavorful, and always on-point. Making a bold move to focus on Vienna-style lagers in a sea of craft ales and IPAs helps set it apart, as does its affable geek humor and devotion to community.
Experts say: "A lager brewery doing traditional styles the hard way. Crisp, clean, and infinitely drinkable can describe their everyday lineup." - Kyle Fornek, Binny's Beverage Depot
Key beers: Krankshaft, Afterburner, Dynamo
North Center
Sans flash or in-your-face marketing, Half Acre is content to sit back and let its beer do the talking with expertly crafted brews like the flagship Daisy Cutter that has blossomed into a staple beer in every corner of the city. Founded in 2006, the brewery sponsors a local bicycle club and makes efforts to reduce its carbon footprint even as it eyes a new, larger brewery that has the local beer community salivating.
Experts say: "Half Acre has been doing everything right since their founding in 2006. Their model of creating a kick-ass brewery, store, and taproom has been the blueprint for all the great breweries in the city." - Ed Marszewski, Maria's Packaged Goods & Community Bar
Key beers: Daisy Cutter, Akari Shogun, Big Hugs

Sign up here for our daily Chicago email and be the first to get all the food/drink/fun in town.