Chicago's 5 best dog-friendly bars
Chicago Patio season is in full swing, which means you probably wanna drink a (lot of) beer(s) outside this weekend. Thing is, you've got a dog. Luckily, we've got this list of five bars that don't just allow dogs -- they encourage them.
Bad Dog Tavern: Hold up. A bar named 'Bad Dog Tavern' welcomes four-legged friends???? Shocking, right? Dogs are allowed on the bar's patio, and customers can submit photos of their pets to the "Dog Hall of Fame", a wall covered with framed photos of exceptionally awesome canines. Continue Reading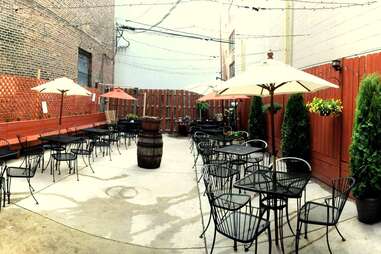 Clark Street Ale House: With an extensive beer selection, open-air garden, and dogs-welcome policy, Clark Street Ale House just may be Downtown Chicago's answer to every dog owners' Summertime prayers. The bar offers 24 drafts and 100 bottled beers, as well as cocktails and wine. Bonus: you can bring your ball-fetching bro inside, too.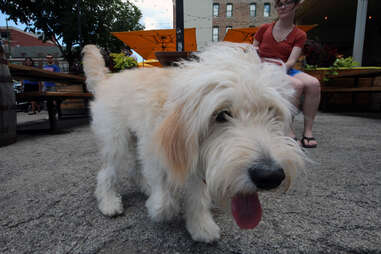 Big Star: Pups aren't allowed inside the taco joint, but they're welcome on the spacious -- and ridiculously popular -- patio. Feel free to enjoy a few margaritas and tacos with your pet in tow; there's a good chance you won't be the only person there with a dog. Now if you could just do something about the inevitable two-hour wait...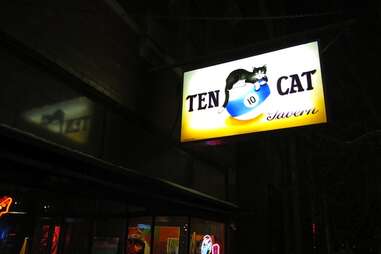 Ten Cat Tavern: Don't let the name fool you -- Lakeview's Ten Cat Tavern is totally dog-friendly. Enjoy a few games of pool, a couple of songs on the jukebox, and alllllll the cold beers from the bar's impressive selection. When the weather's nice (that's now!), head to the back-of-bar beer garden patio, a space that's sure to please both you and your little guy.
Cedar Hotel: Sift through the densely packed crowd of bros in tanks, and you might just find a dog or two at Cedar Hotel. The State Street Summertime hangout allows dogs on its trendy patio. You can't bring your pet inside the restaurant, but then again, who goes to Cedar Hotel to sit inside?