When it comes to mixing spicy tomato brunch cocktails and topping them with piles of bacon, ham, cheese, grilled cheese, and olives, Chicago does Bloody Marys in a big way. So you're never caught Mary-less, we had the brunch-obsessed ladies of Bloody Best hook up this guide to the best Mary in 23 different 'hoods.
Andersonville
Big Jones (address and info)
NOLA-inspired, Big Jones' offering is a Midwestern-meets-Southern Bloody with Crystal hot sauce and lemon that give it a flavor that's all, "I'm spicy and slightly vinegary, but down-to-Earth. Let's party". Bottom line, it tastes great with the warm, complimentary beignets. 
 
Avondale
Chief O'Neill's Pub & Restaurant (address and info)
You've arrived at the Disneyland of brunch, and this Bloody is the ride. The Chief (whomever he is) makes a sensory-overload Sunday buffet with a house-made Bloody that comes with a garnish-your-own bar, complete with cheeses, olives, celery, shrimp, hot sauces, and Worcestershire sauce. Wear sweatpants.
Bucktown
Hot Chocolate (address and info)
It's hard to stack up against decadent chocolate beverages with clouds of melt-in-your-mouth marshmallows -- unless you're this Bloody. You can taste the care and craftsmanship that goes into "Andy's handcrafted Bloody Mary mix". Plus, the blue cheese-stuffed olive is money. Cash money.
 
Edgewater
Broadway Cellars (address and info)
Do us a favor and host your next book club here. Throw down $10, talk about the book for five minutes, lament about girl/boy troubles, and slurp down all the Bloodys your heart desires. The bottomless Bloodys here aren't too tomato-y or too stiff, they're juuuuuuuuust right.
Gold Coast
Ditka's (address and info)
What does a touchdown taste like? Bloody Mike. Thick and hardworking, it's a powerhouse made with spicy, celery-salt laden Ditka's Kickass Bloody Mary mix. And Da Coach doesn't fumble with garnishes: think a skewer piled with shrimp, lemon, lime, tomato, pickle, tomato, and pepperoncini. 
 
Humboldt Park
Rootstock (address and info)
Wine bars know about complexity. So it's not a surprise that this intriguing gem of a Bloody is the palate-teasing favorite of Ji on Windy City Live. It's a tangy, refreshing brunch cocktail with a kick of spice and a hearty cured meats-and-cheese garnish. 
Lakeview
Headquarters Beercade (address and info)
This Bloody isn't just a thing Harold and Kumar movies are made of. It's a flavorful, video-game-fueling, spicy, insanely (ridiculously?) garnished Bloody that comes topped with a stack of meats, cheeses, veggies, and a White Castle slider. Game on.
Lincoln Park
Summer House Santa Monica (address and info)
Light, airy ambiance isn't all you get at this Halsted St joint; their Bloody is fresh, briny, and punctuated with cumin. With a garnish of crispy bacon, cucumber, a blue cheese-stuffed olive, celery, lemon, and lime, you'd better pull up a seat and brace for winter.
Little Italy
Three Aces (address and info)
If Giada and Keith Richards co-created a Bloody, it would resemble Three Aces'. A little bit Italian and little bit rock 'n roll -- much like the bar behind it. Think strong, classic tomato flavor offset with horseradish and a bacon-chile rim. Pro tip: drink it on their killer patio.
Logan Square
Lula Café (address and info)
Need a reminder that all Bloodys aren't created equally? Order the Classic Lula '99 Bloody Mary. We still dream of their smoky, spicy, gin-filled smooth operator that was strangely named 11am Sunday 54 E 1st St Bloody Mary. It's no longer on the menu, but rumor has it, they'll make it on request.  
 
Loop
Emerald Loop Bar and Grill (address and info)
The Loop is where you power lunch, not power brunch. But if you need an in-between-meetings drinking break, go to the Emerald and seek out the Bloody. It's a solid, go-to, tomato-heavy Bloody that makes even the worst boss slightly more tolerable.
 
Noble Square
Flo (address and info)
In this New Mexican-inspired establishment, Flo is sorta like Walter White if he made Bloodys instead of meth. And you're Jesse Pinkman if he helped make Bloodys instead of meth, so apprentice your ass off with your choice of tequila, vodka, or house-made bacon bourbon. Now, say my name.
North Center
Glenn's Diner & Seafood House (address and info)
Don't let the cereal boxes on the wall throw you off: My Big Fat Bloody Mary is for grown-ups. Its secret ingredient (milk stout) gives it grit and effervescence. Starting with horseradish, this spicy number finishes with honeydew melon, celery-salt seasoned shrimp, celery, and a crunchy carrot.
 
Old Town
Old Town Social (address and info)
Holy charcuterie! And other hard-to pronounce words! The Belvedere Southern Mary is made with horseradish and house-made hot sauce. But the show stopper is the brunch appetizer on top: crisp pickled okra, hearty smoked Gouda, in-house cured salumi, and prosciutto- and provolone-stuffed pepper.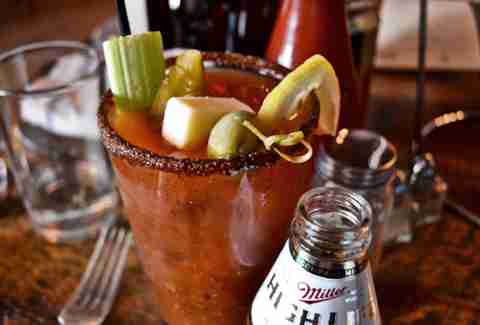 Pilsen
Dusek's (address and info)
Hipsters love this Longman & Eagle sister restaurant, and we do too. The Board & Beer Bloody is so well balanced that you can't pinpoint exact ingredients except for the bold use of horseradish. And what's a Bloody without a High Life pony?
 
Ravenswood
Fountainhead (address and info)
This Bloody Mary has always been a spicy, thick fan favorite, but it has reached epic status with the entrance of Chef Cleetus Friedman. His take on our favorite tomato drink, the Cleetus Heatus, is spicy with a sweet edge and made with North Shore Distillery aquavit.
River North
Sunda (address and info)
Sumo Mary topped our Chicago's most ridiculous Bloody list, but it's certainly no joke. It's 32-tomatoey-ounces of mouth-watering Asian flavors, cilantro, and cucumber with a buffet on top. Get ready: baked Alaska crab roll, Chinese duck bao bun, pork belly, grilled cheese with tocino, oshinko, roasted potatoes, shishito peppers, loompya, Chinese broccoli, and bacon.
 
Roscoe Village
Endgrain (address and info)
And you thought you had to go to Red Lobster to experience the miracle of fluffy cheddar biscuits. Look no further than this fresh-tasting, spicy brunch gem that basically come topped with a deconstructed ham sandwich. If only you could only get a basket of these at your table...
South Loop
Eleven City Diner (address and info)
The Serious Bloody Mary is serious...ly amazing! Tangy, spicy, peppery, with a generous dose of celery salt. Plus, you get a cute little flag with your mountain of garnishes. Take home a bottle of the house mix for $7.
Uptown
Fat Cat (address and info)
Known for its legendary Bloody Mary cart, this Northside bar is now known as the winner of the inaugural Chicago Bloody Mary Competition. Belly up on the weekend and ask for the "award-winning" Bloody that's spicy and sweet with BBQ boldness.
West Loop
Little Goat Diner (address and info)
Meet the cultural melting pot of brunch cocktails. The Bloody Mary at Stephanie Izard's diner outpost comes mixed with pickled onion juice, kimchi, masala, and miso. The result? Smoky, spicy, and a punch of pickled flavor. Oh and also: goat cheese-stuffed olive. 
 
West Town
Twisted Spoke (address and info)
The Bloodys at this biker bar are more than boozy tomato drinks. They're Chicago legends. You'll want to work your way down the eight on the menu, from the classic Road Rash, to smooth gin-cloaked Bloody Queen, to the smoky scotch-imbibed Deliv'rance.
Wicker Park
Bangers & Lace (address and info)
Tomato and pineapple juices. It shouldn't work, but it does in spades with The Hawaiian, a spicy, smoky, sweet, and utterly unique take on a Mary. Not into a Bloody version of a luau? The Meat & Potato with potato vodka, veal demi-glace,and a beef jerky garnish may be more your speed.
Sign up here for our daily Chicago email and be the first to get all the food/drink/fun in town.
Follow Elaine and Amber on their quest to find the absolute best Bloody Mary in all of Chicago's neighborhoods at BloodyBest.com.