From indie rock to indie publishing to indie film, it pays to be independent these days. That's why we've taken it upon ourselves to scour the city for the 10 best independent coffee shops in Chicago, an article you are welcome to read at your nearest Starbucks. Hey, that manuscript/grad school application ain't gonna write itself.
Recommended Video
The Best (and the Rest): Best Easy Ramen Hacks and Winter Beers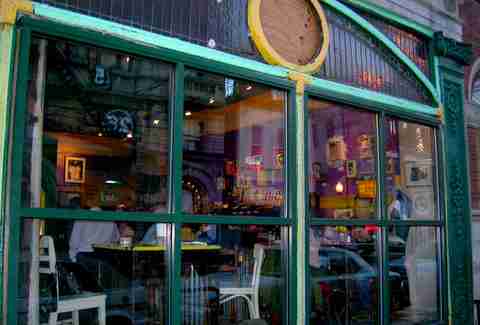 Pilsen
Part coffee house, part gallery, part central neighborhood meeting place for the past 20 years, this warm and inviting space not only opens your eyes with fancy caffeinated drinks like white satin mocha and iced Thai coffee, but also opens your mind too with some of the best revolving art demonstrations in the area, currently featuring the work of Spanish artist Pablo Serrano.
Logan Square
Yes it's true: hipsters drink coffee too. Discover this fact when ordering a black pepper vanilla fig latte while you listen to indie jams culled from a 1,200+ vinyl album collection. Check out live bands while digging into some vegan chili, which goes especially well with house cocktails like the Mayor Daley (bourbon, iced tea, lemonade) or craft brews including Two Brothers Outlaw IPA.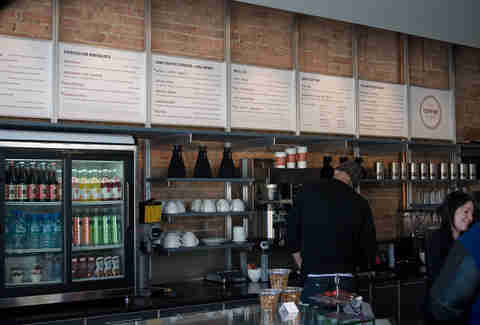 Andersonville
Looking immaculate amidst exposed bricks and pretty woods, this no-frills modern espresso bar plays music by everyone from Panda Bear to Beastie Boys while packing a massive punch with their double strength cold brew coffee. Chill out with a brie apple walnut flatbread followed by Miko's Italian Ice and more shots... of booze, not espresso (or both).
Logan Square
If you're less about Dunkin's turkey sausage breakfast sandwich and more about duck Benedict with a side of salmon tartine, this just might be the place for you. Taxidermy chic touches like deer heads sticking out of walls get you in the mood for some adventurous coffee drinking, from Ethiopian Yirgacheffe Kochere pour-overs to Brazil Laranjal Farm drip.
Bucktown
Sometimes it's not about the fancy touches. It's all about the coffee. One sip of the Nutella mocha or Ipsento latte with coconut milk and honey and you'll swear off Starbucks for good. They've even got sandwiches named after authors (F. Scott Fitzgerald = ham, Garrison Keillor = turkey), so you know they might have even read some of the books on their shelves.
Bridgeport
Located across the street from Maria's Packaged Goods, this all-day hangout helps anchor a recent neighborhood revival thanks to its welcoming, sunny vibe paired with standout roasts like Santa Josefita bourbon and Sumatra Gayo Sriwijaya. With four rooms of free Wi-Fi, it's the perfect place to hole up for hours and pretend to get tons of work done.
Wicker Park
If you're a sucker for full-scale Back to the Future DeLoreans, Teenage Mutant Ninja Turtles dolls, and framed Ghostbusters posters, this funky locals' favorite is calling your name. Your '80s revival comes complete with Nintendo, Star Wars trivial pursuit, and coffee drinks that have no business being this good like the Peanut Butter Koopa Troopa. The only thing better is the people watching.
Humboldt Park
This place is just... cool. You know it from the moment you walk in. With an old-school neon sign hanging over burnt orange walls, it feels like the place rock stars go for coffee. If they drank coffee. For you, they have Wake & Bake espresso with maple syrup and Unicorn Blood latte to open your eyes so you can better scan the long wooden bar for your next date, friend, employer, or all of the above.
Lakeview
This one-year-old sister shop of Star Lounge could not have had a more successful debut year, establishing itself as THE coffee scene in a neighborhood packed with coffee shops. The spicy Mayan mocha is a fan favorite and, with everything from steampunk art to weekend DJs, the café is clearly a popular space for first dates. Bonus points for the cool back patio with graffiti-covered picnic tables.
Uptown
Is it a bike shop? Is it a coffee shop? It's a bit of both and, combined with a gorgeous open space of sofas and exposed brick in the lobby of an apartment building, is one of the most legitimately cool places for your coffee fix in all of Chicago. The Lavender Latte is worth the trip it itself, and if you're in the market for a bike, they have that too.
Sign up here for our daily Chicago email and be the first to get all the food/drink/fun in town.