The 5 best hookah bars in Chicago
Tribalicious/Flickr
Tribalicious/Flickr
Chicago Chicago may not be Denver or Seattle, but it's still a pretty good place for a puff... of hookah!!! For the next time you want an exotic alternative to the bar scene (so... this weekend?), check out one of Chicago's five best hookah bars.
Samah (Edgewater): This is, hands down, the best place in the city for a chill, relaxing night of hookah smoking. Whether you're seated on floor pillows or chilling on sofas, each group gets its own VIP-style, curtained-off section -- the perfect environment to delve into an array of tobacco (or "shisha") flavors, ranging from Aladdin's Lamp to Irish Car Bombs. Continue Reading
Hubble Hookah (Dunning): The only thing better than smoking hookah? Smoking hookah with the help of a full bar, not to mention a bounty of eats ranging from popcorn shrimp and chili cheese fries to wings and calamari. With 65 flavors and a downtempo vibe, you may never have thought to pair your hookah smoke with a Tequila Sunrise cocktail. But once you do, it just makes sense.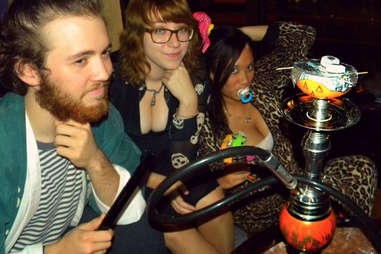 House of Hookah (Lakeview): Consider this place the Spring Break of hookah joints. With 120+ flavors and 60 hookahs, House of Hookah packs 'em in 'til 2am, seven days a week, with a late-night crowd in a fun, BYOB setting. It's got flavored tobaccos, including Skittles and Gummy Bears, not to mention a variety of glass pipes and hookahs for sale... some of which come in their own nifty little suitcase.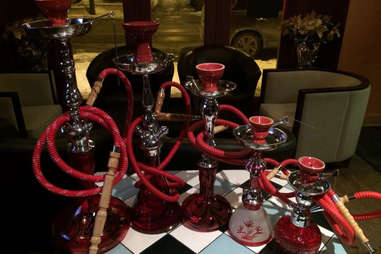 Ambrosia Café (Lincoln Park): If you're looking for more of a coffee shop-vibe for your hookah experience, this laid-back café gets the job done with flatscreen TVs and food you would get in, you know, a coffee shop (crème brûlée French toast, slow-roasted eggplant panini...), plus smoke varieties include everything from Sex on the Beach to Banana Split.
Hookah Joint Lounge (West Rogers Park): Can't decide between the club and the hookah bar? It might just be time to visit this part-puff palace, part-dancing den, where live DJs spin upbeat sets in an authentic BYOB environment situated within Devon's Little India neighborhood. You can also mix-and-match any flavor you want, so go ahead and combine your Miami Vice with Purple Kush. Just don't tell Don Johnson.