4 places to score jumbo margaritas this weekend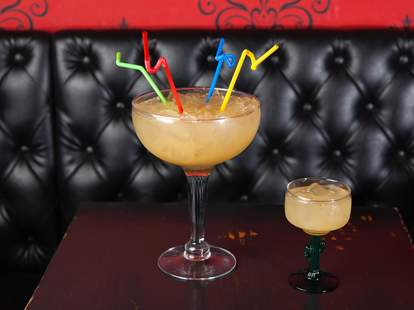 Since today is officially the 51-day anniversary of Cinco de Mayo (!!!), we're celebrating the only way we know how: by giving you four places to score giant-ass margaritas in Chicago this weekend.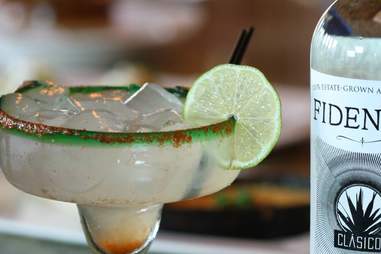 Revolución Steakhouse
34oz Revolución Margarita
Revolución Steakhouse
(
address and info
)
Lakeview
You can't get liter-a-Cola (or even a large Farva), but you
can
get yourself a liter of 'rita at Revolución that's made with Camarena Reposado, Gran Gala orange liqueur, agave nectar, and fresh lime. It's huge, classic, and delicious.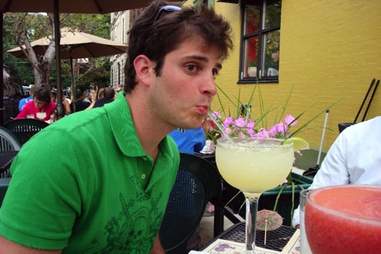 Colin Joliat
45.5oz Jumbo-Rita
Cocina Tarascas
(
address and info
)
Lincoln Park
You can either build your own 45.5oz margarita at Tarascas, or admit you know nothing and choose one of its many options. You can even get a Sangria Swirl Margarita if you're feeling... well, swirly.
Sean Cooley
56oz Kegged Cocktails
¡Ay Chiwowa!
(
address and info
)
River North
Question: what do passion fruit tea, açaí, jalapeño, grapefruit, and cucumber all have in common? Answer: they're all ingredients in different jumbo margaritas at ¡Ay Chiwowa!. You might get tipsy drinking one, but you certainly won't get bored!
El Hefe
64oz Macho-Garita
El Hefe
(
address and info
)
River North
El Hefe's standard 'rita is a sizable 20oz, but the real action is the Macho-Garita, which weighs in at a ridiculous two quarts! The drink -- made with Dobel, agave, sweet & sour, and fresh-squeezed limes -- is so big you can't order it solo. We sure hope you have
one
friend!