Because warm weather and bodies of water exist, man was naturally meant to drink at waterfront bars. So here is every single one of your best options along the Chicago River and Lake Michigan.
River West
If South Beach moved North for the summer, it would look something like this place where club music, hot servers, and one of the best rooftops in the city conspire to steal your afternoon. And as the late afternoon mules and sangrias give way to nighttime bottle service, thank God you can order $800 bottles of bubbly.
North Avenue Beach
Chicago's most infamous beach bar is the perfect place to pair Bud Light Lime-A-Ritas and Red Bull vodkas (they also have craft beers and more usual boat drinks like Mai Tais) with generally obnoxious straight-out-of-college behavior. In other words, it's the Ft. Lauderdale of Chicago.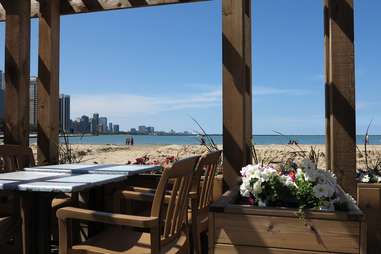 Ohio Street Beach
The antithesis of Castaways, this laid-back, underrated little beach bar sits on one of Chicago's most laid-back, underrated little beaches, with a great selection of booze from margaritas and mojitos to Polish beer and Macallan 12-year.

Edgewater
This super-chill spot in super-chill Berger Park is one of the city's top hidden gems and the perfect place for some laid-back Cuba Libres and live music. The craft beers and caipirinhas don't make for a bad afternoon outing either.

Lincoln Park
If you'd rather sip cocktails pondside than lakeside or riverside, one of Chicago's most affordable Michelin-starred restaurants has got you covered with an intriguing selection of cocktails from tequila and berries to gin and beet juice. Not to mention $331 bottles of wine, if that's your thing.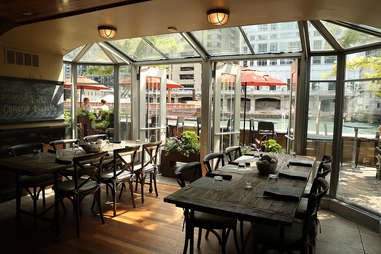 River North
Fancy yet approachable, one of Chicago's best riverside drinking spots has plenty of wines and beers such as Lagunitas Little Sumpin', not to mention a sweet root beer-flavored beer and whiskey shot combo. But its real claim to fame are the carafes of specialty cocktails including not one, but two, made with peach schnapps.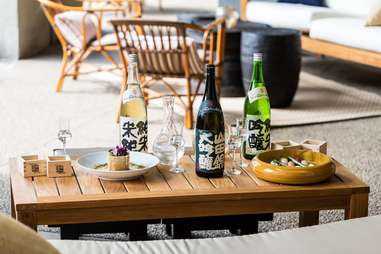 River West
If you're looking for more of a scene with your waterfront views, this always-packed riverside mainstay is your go-to for shochu, sake flights, Japanese whiskeys, and massive Japanese beers to sip in swank with the rest of the buttoned-up set.

River North
Another place to see and be seen (not to mention eat steak/party with Joel Quenneville and the Stanley Cup), you can raid this upscale eatery's ridiculous wine list and peep the river through either massive floor-to-ceiling windows or the chill riverside patio. Either way, you've officially made it in life.
River North
One of Chicago's top riverside eateries presents the ideal stopover pre- or post-boating excursion for the white-pants set with every imaginable alcohol including ciders, daiquiris, and Revolution Anti-Hero. And river views. Everywhere.
River North
Here you can either dine al fresco on the boat docks or sip cocktails in the stunning Atrium Lounge, a top choice for showing off your sexy side with a date over a sleek bottle of prosecco and a few Mad Man Tea cocktails. You'll hear a lot of "my boat's parked outside" kind of talk here.
Uptown
One of the coolest spots in the city. Period. Go for the boozy lemonades, rum punches, or beers, including Daisy Cutter and Zywiec. Stare at the lake, catch live bands (including, like, The Beach Boys) on one of the city's best summer stages, and consider yourself lucky to be alive.
River North
This former location of Fulton's on the River pulls a major upgrade with a serious craft beer list including Penrose and Boulevard, not to mention a sweet patio from which to collect summer cocktails with names like Unicorn Tears and Dragon Kisses. And did we mention the hand-carved meats?
Streeterville
One of Chicago's finest beachside drinking destinations strikes a nice balance between chill and lively with Tiki Fridays, beachside DJs, and games of cornhole (er, bag toss). While the drink menu doesn't stray far from the usual margaritas and rum punches, the Crockett and Tubbs Colada (an unholy piña colada and strawberry daiquiri combo) is a summer must.

South Loop
A more upscale and modern but still traditional Chicago tavern, South Branch's outdoor riverside patio is a cozy-yet-happening spot to run through a huge list of craft beers including rare Mexican lagers and English-style ales, not to mention seasonal cocktails like cranberry mojitos and jalapeño cucumber margaritas.

River North
This quality spot for checking out the (duh) river calls itself a "Euro-American Bistro" (whatever that means), but in summer it means sitting in the sun patioside and sipping Metropolitan Flywheel until your boss stumbles by and wonders why the hell you're not back from lunch yet. To which you ask him the same question.
River North
Pregame before taking an architecture boat cruise at this cool little patio spot along the riverwalk with sick building views and stiff summer cocktails. Heckling kayakers optional.

River North
Yes, it's on the water. But unless you're some lost tourist from Iowa, consider this your true last resort. Unless you consider Ed Debevic's the quintessential American experience.

Museum Campus
Adler Planetarium's in-house café is an oft-overlooked spot for waterside boozing with a breezy outdoor terrace offering the perfect place to run through Revolution seasonals while taking in massive lake and skyline views. Plus, planets and stuff.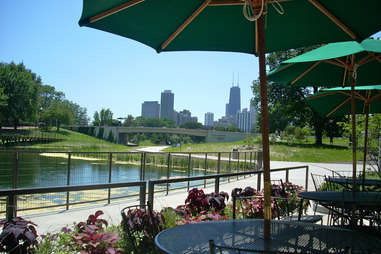 Lincoln Park
One of Chicago's oldest restaurants is serving up Green Line on tap and blackberry cilantro margaritas, plus craft beer buckets, live music, and brunch overlooking Lincoln Park's South Pond on the edge of Lincoln Park Zoo. In other words, it's a pretty damn good spot to be.

Navy Pier
Yes, the place is touristy. But that doesn't mean the panoramic lake and city skyline views are all bad or that the predictable beer selections are any less summery. You do, however, have to traverse Navy Pier to get here, something you'll definitely want to consider heavily when making your decision.
Jay Gentile is a Thrillist contributor who pretends to be too cool for Castaways but definitely is not. Follow him: @innerviewmag.