While the term "speakeasy" has arguably been so overused it's devolved into little more than a marketing ploy, feeling like you're in on a boozy secret remains undeniably irresistible. And in a city like Chicago, with our rich history of illicit hooch, opportunities to pair your booze with a smidge of mystery run as rampant as disappointed Cubs fans at the trade deadline. It might take a little extra work to track down these "secret" Chicago bars, but, hey, that's all part of the fun. Here are the best hidden and speakeasy-themed bars in Chicago, with tips on how to get into them.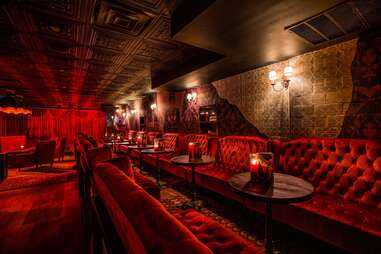 Wicker Park
This long-running den of sneaky delights is perched atop a red stairwell via an unmarked door above Mama Delia on Division, and does it ever take its speakeasy bonafides seriously. With live acts including fire eaters and burlesque performers, Bordel seeks to bring the energy of a sultry night in Paris to the mean streets of Chicago for a night of romance and intrigue. Bonus? Boozy punch served in fancy French tea sets—just try not to break anything.
How to book: Reserve via Resy.
Fulton Market
Alcohol and skin fades have always seemed to go pretty well together—as long as the customer's the one doing the drinking. Turn your next haircut into something to actually get excited about at this dimly lit little gem tucked away behind an actual working barber shop. You don't need to book a trim to get inside, but it certainly couldn't hurt. As an added incentive, it's located across the street from The Office, another local speakeasy gem, making for the easiest mini-bar crawl imaginable.
How to book: Reserve via Tock.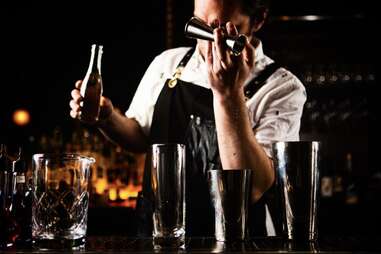 Pilsen
There are roughly three times as many actual aldermen on the Chicago City Council as there are seats at this supremely intimate (we're talking 16-seat intimate) new bar-within-a-bar at the ever-hip Pilsen Yards. Plush velvet banquettes? Check. Classic cocktails served from Chicago's most highly awarded mixologist, Lance Bowman? Check. You? If you're lucky.
How to book: Reserve via OpenTable.
Loop
This more-touristy speakeasy offers everything you might expect when imagining such a venue, including something you might not: karaoke. The entrance is technically signless, but the large neon martini glass in the window is a dead giveaway to those who might be stumbling around the Chicago Board of Trade in search of booze for some odd reason. Hey, to each their own.
How to book: Stop by for first come, first served seating.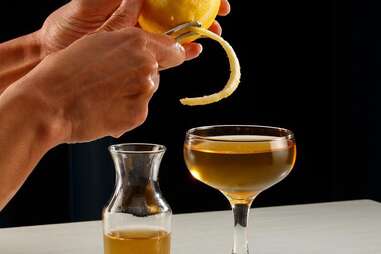 Wicker Park
We know, we know. Everyone and their uncle's in on the "secret," mural-strewn Damen Avenue entrance to this longtime cocktail hideaway. But while this Wicker Park institution may fall on the more obvious side of the speakeasy spectrum, it's still difficult to unearth a better cocktail in the city. Sleek curtains and a sense of decorum round out this bucket list-worthy (or should it be coupe list-worthy?) mixology experience.
How to book: Reserve via Tock.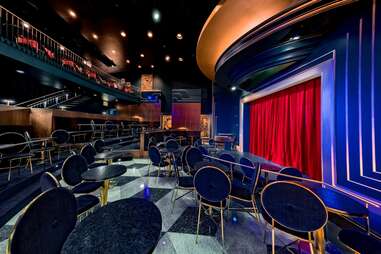 Andersonville
If you like your secret cocktail speakeasies served with a side of close-up magic, this absurdly unique performance space has your number. Enter through the laundromat to discover a large theatre space where shows like Music & Magic (music on stage, magic at your table) are doing their part to make slight of hand illusions cool again. You don't need a ticket to the show to hit the bar, where they're slinging drinks like How Houdini Died and Sleight of Hand alongside small plates including Toulouse sausage boards and pork belly sliders. Knock back a few then head up the road to classic Andersonville hangs like Hopleaf and Simon's.
How to book: Stop by for first come, first served seating.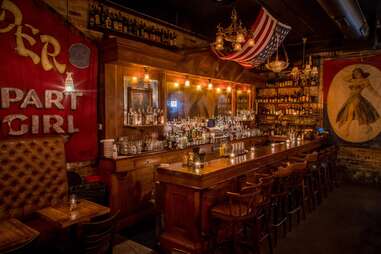 River North
The Green Door Tavern is a historic watering hole with a notably vintage vibe. And beneath it you'll find The Drifter, which somehow actually feels even more vintage. That's because it wasn't designed as a speakeasy—it's an actual, real-deal speakeasy left over from the tragically thirsty days of Prohibition. Restored to a sparkling sheen, this subterranean escape offers a rotating list of over 100 cocktails presented on Tarot cards alongside quirky entertainment that runs sporadically throughout the evening. Enter the Green Door Tavern, walk through the bar and down the back stairs, and you'll come to a waiting room. (Capacity is 37, so emphasis on the word "wait.")
How to book: Stop by for first come, first served seating.
West Loop
Located in Sushi Dokku's basement, Booze Box is a dark and sexy bar where you'll find Eastern-inspired drinks like Japanese highballs served alongside Japanese "trail mix" and a laid-back vibe. Hip-hop on the speakers is pretty common and the sultry lighting emanating from red lanterns makes this a great spot for a date night and/or million-dollar diamond heist planning session. Two words: sake flights.
How to book: Reserve via Tock.
Lakeview
On the exterior wall of Matilda bar, there's a curious sign that simply reads "Baby Atlas." While it sounds like a clothing line for plus-sized toddlers, it's actually the turnt-up basement lounge that pumps the vibes every Friday and Saturday night. A night-and-day difference from its upstairs neighbor, Baby Atlas is a small, loud boozery where you'll probably have to shout-talk, but also probably won't even care because you'll be busy CRUSHING IT like a Beyoncé backup dancer. Lace up your dancing shoes, stroll inside Matilda, find the stairs in the back of the bar, and head on down.
How to book: Stop by for first come, first served seating.
Irving Park
The Fifth Province is a traditional Irish pub, but its positioning is about as traditional as wearing clown shoes to a non-clown wedding. Located in the southern wing of the Irish American Heritage Center, the pub is completely hidden from view. The building itself looks very much like a local high school, so finding a bar inside really makes it seem like you've stumbled upon an after hours teacher's lounge. Enter through the main doors of the center, take a left and head down the hall. (It can also be accessed via the pub doors.)
How to book: Stop by for first come, first served seating.
Lakeview
With a discreet alleyway entrance just to the left of the Old Chicago Inn, this is perhaps the most "secret" bar in town, literally. To get in, you can either apply for membership for a yearly fee or earn an invite by staying at the hotel (where special cocktail flight packages are also on offer.) Your reward? Mixology-perfect drinks from the 1920s (did someone say Manhattan?), served with a healthy side of historical insights. All they ask is that you dress decently, for once in your life.
How to book: Request a reservation online.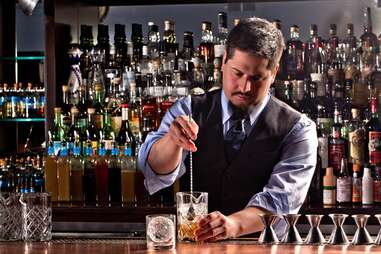 West Loop
Located below The Aviary is one of the most exclusive rooms in town. The entrance to this Grant Achatz-backed den of high-priced cocktailery requires an advance reservation, but is well worth the effort if you're looking to impress someone with your expert taste in classically inspired cocktails served with rare, antique spirits. Can't decide? Order a dealer's choice and let the supremely qualified barkeeps do the work for you.
How to book: Reserve via Tock.
Raf Miastkowski
always likes to divulge secrets to thousands of people at a time. Send him your most-guarded tips @RafFoSho.

Jay Gentile is a Thrillist contributor and equally terrible at keeping secrets.