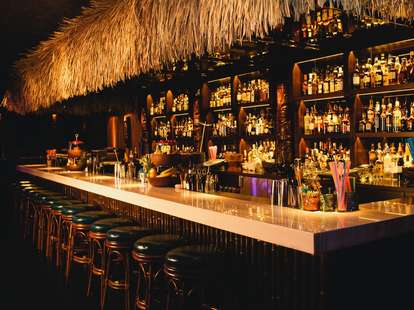 ANJALI PINTO/THREE DOTS AND A DASH
You don't have to deal with the killer leg cramps from a 14-plus-hour flight to experience the islands of French Polynesia when you can just throw back stiff, fruity cocktails at exotic-themed drinkeries right here in Chicago. From a Tiki-inspired underground speakeasy to tropical dim sum to a karaoke mecca packed with rum-filled revelers, the Tiki scene is still humming in this city and its 'burbs, offering boozy nectar served up in a conch shell. We're holding a torch up to 14 of the best Tiki bars around, so sit back, stretch your legs, and put an umbrella in it.
River North
What you're getting: Zombie Punch communal drink with Jamaican, Nicaraguan, and overproof rums, lime, pomegranate, grapefruit, and cinnamon served in a glass skull (serves 3-4 and you need to be seated to order it)
Part speakeasy and part Tiki bar, this subterranean sanctuary is hidden in the middle of the city. Access to riffs on classic Tiki cocktails, crafted for present-day beachcombers, is granted through an alley entrance where patrons pass a wall of blue skulls on their way down (you're a fan of hidden bars, right?). Many of the wooden Tikis and artifacts once belonged to Chicago's former Tiki hub, Trader Vic's. Of the "What one rum can't do, three rums -- and a gin and a whiskey and a brandy -- can" mentality, its selection boasts drinks served in glass skulls and treasure chests with dry ice fog pouring out.
North Riverside
What you're getting: The Dr. Fong is touted by many as the go-to signature drink, and its secret family recipe has been carefully guarded since 1976.
This '70s-style Tiki venue has Asian fusion specialities and popular island favorites like Coconut Fried Shrimp Po' Boy Sliders, plus the super-cheap tropical drinks you've been looking for. Elvis impersonators, Aloha Chicago's hula dancers, and fire-throwing performers put on shows here monthly, making it a festive atmosphere for swilling fruity drinks like the mysterious, neon green Dr. Fong, so your designated driver will at least have some fun.
Logan Square
What you're getting: Bunny's Banana Daiquiri with Jamaican, Guyana overproof, and spiced rums, as well as banana, coconut, and lime, topped with a carved banana dolphin garnish
Under a roof of lauhala and between the walls of iconic banana leaf-print wallpaper, Chicago's Tiki mogul Paul McGee (of Three Dots and a Dash fame) brings tropical vibes to Logan Square. The easygoing Tiki bar offers an island influence without the heavy theme park kitsch factor, and artfully crafted drinks are served in traditional Tiki wares, as well as shells and other sea-inspired souvenir glasses. End your mini vacation with takeout Chinese from the neighboring Thank You.
Avondale
What you're getting: Sneaky Tiki with orange vodka, coconut rum, peach schnapps, pineapple, and sweet tea
If you can get past the retro interior of the dimly lit, eclectic-sounding main lounge of this neighborhood haunt, you'll find unexpected solace on its back patio. The beer garden with a Tiki vibe has drinks complete with the little umbrellas you've been seeking, and you'll be able to gorge on pulled pork nachos and Cubano sandwiches al fresco. After all, if you were on a real island, you'd be outside, right?
Des Plaines
What you're getting: Lava Flow -- a piña colada with fresh strawberry puree and banana served in a Tiki mug
Amid the oversized palm fronds and totally Tiki kitsch, you won't even remember you're in a Des Plaines strip mall when you catch one of its action-packed shows against the backdrop of a couple 12ft Easter Island moai statues. Every Friday and Saturday night, its luau show, Echoes of Polynesia, features hula dancers and warrior chants from a variety of islands. Turns out, this is a fantastic way to embarrass someone on stage for their birthday or anniversary if you let them know what you're celebrating ahead of time.
Lakeview
What you're getting: Pain Killer with fresh-squeezed orange juice, pineapple, cream of coconut, nutmeg, dark rum, and overproof rum
Grab a mic and a tropical drink (or three) at this Wrigleyville Tiki-themed karaoke/sports bar. If you're walking in stone-cold sober, a potent Pain Killer will be your go-to choice for the evening, so you can stomach the inevitable sloppy bachelorette party renditions of "Don't Stop Believin'" or the guy trolling the bar with Nickelback songs. Plus, it'll be fresh-squeezed and rum-infused liquid courage for your turn on stage.
Wood Dale
What you're getting: Mai Tai with a blend of rums, Curaçao liqueur, and fruit juices served in a tall, palm frond-inspired glass
In Tahitian, the name of the quintessential Tiki cocktail "Mai Tai" apparently means "out of this world." This Tiki lounge puts its own twist on Trader Vic's original recipe from 1944, and it challenges you to find a better one. You could do that... or just stick around for any number of live performances from iconic bands and vocalist groups like The Drifters and board the "Love Train" instead.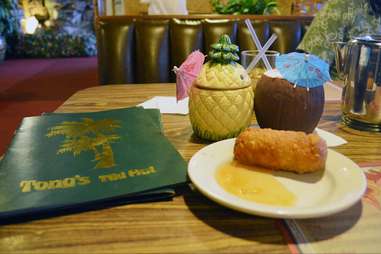 Villa Park
What you're getting: Piña colada in a coconut Tiki mug
It can be difficult to sustain a Tiki-themed establishment for very long, but this mom-and-pop "hut" has been around for more than 30 years. With a giant Easter Island Tiki head at its core, storefront windows and doors covered entirely by bamboo, hanging decor (like lobsters, "Tiki god" masks, and woven fish traps), and large murals dedicated to the motif, the restaurant/bar caters to the dine-in and takeout crowd and boasts the "best egg rolls" in town. And the piña colada might just have the creamiest coconut and rum blend you've ever tasted.
Chinatown
What you're getting: Volcano-sized Mai Tai served in a ceramic Tiki bowl with a flaming overproof rum shot in the center
All those Tiki cocktails can add up quickly, but this traditional Chinese abode has beverages that can easily accommodate two rum guzzlers for the price of a single drink at other fine establishments in the city. Load up on some damn-good dim sum while imbibing in giant, communal "volcano bowls" that include raised reservoirs filled with blazing 151-proof rum for $14 each.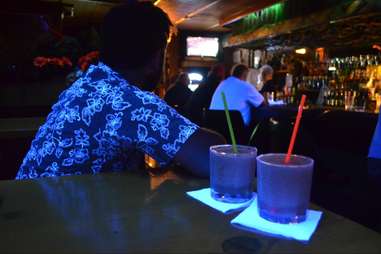 Montclare
What you're getting: Zombie Punch with enough rum to pickle the undead, plus cinnamon syrup, grapefruit & lime juice, falernum, Angostura bitters, Herbsaint, and grenadine
You'll find a lineup of middle-aged men noshing on house sausages and potato chips while intently watching the Blackhawks at this quiet, 60-plus-year-old Polish dive with a Tiki flair. If you're lucky, some patrons might take a break to tell you about the time they drank too many of the owner/bartender's deadly Zombie Punches and saw Tarzan swinging in the Blue Lagoon painting... which is probably why three different sizes of the drink aren't available anymore. With most of the lights used to illuminate a few fish tanks in the place, you won't exactly be able to see what you're drinking, but you should be enjoying it with your eyes closed anyway. And, if you didn't know it before you walked in, the lit sign by the bar will tell you, "This is a classy joint. Act respectable."
Willowbrook
What you're getting: Planter's Punch -- an islander's favorite featuring dark rum, lemon juice, grenadine, and a dash of Angostura bitters, in a vintage "Orchids of Hawaii Fu Manchu" Tiki mug
This Tiki joint with whimsical island decor has a mix of Chinese- and Polynesian-themed cuisine with tropical drinks and a lunch buffet for less than $7 each. Check out the Zodiac signs of various celebrities (did you know Sigmund Freud was a Dragon?), as well as your own while guzzling strong, fruity punches.
Monroe Harbor & The Chicago Riverwalk/The Loop
What you're getting: Tropical Margarita with a mean blend of tequila, triple sec, lime, and sour mix (boats are also BYOB with the exception of some special packages)
Tiki-philes can take their festivities to the next level via a waterslide-equipped Polynesian party barge out of Monroe Harbor. Seafaring groups of up to 36 people (and even their pooches) can cruise Lake Michigan and the river on one of eight vessels in the fleet, including the 50ft "Big Kahuna" or the smaller "Polynesian." Once you've downed a few fruity margaritas, continue the party at their new Tiki hut on the Chicago Riverwalk, where they have a full bar and live music on Saturdays, not to mention the "Kahuna Burger" with fresh pineapple chutney you'll be needing to soak up the booze.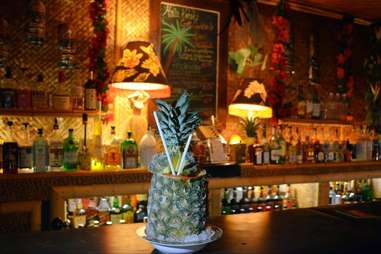 River Grove
What you're getting: Hala Kahiki with a blend of two of the lounge's 151-proof-rum-topped house specialities -- the Zombie and the Scorpion --served in a real, frozen pineapple
Named after a pineapple plantation in Hawaii, this lounge nobly sets a high torch for Tiki enthusiasts. Replete with soft-glowing hula girl lamps, blowfish-turned-light fixtures, wooden statues and signage, and an outdoor oasis, it's a shrine to all things Tiki. Choosing from the pages of its extensive beverage menu is an adventure. Should you opt for the impressive Hala Kahiki in a frozen pineapple (and you should), it'll be hard to pace yourself before you hit the bottom. But then you can ask for a spoon to finish it off as a rum-drenched slushie.
Sign up here for our daily Chicago email and be the first to get all the food/drink/fun in town.