There was a time in this town when a fancy drink consisted of anything that wasn't made in a bathtub. Well, times have changed, Sonny, as evidenced by the decreased occurrence of devastating fires started by cows and the vast improvement in the quality of our fine spirits. Don't believe us? Well, perhaps you should visit one of the best cocktail bars in Chicago and stir up a conversation.
River North
With its cloud-scraping ceiling and checkered Alice in Wonderland floor, this boutique-hotel bar seems much bigger than it really is. Yet, once you take a peek around, the bar feels quite comfy, and the cocktails here have a similar ability to defy one's expectations. Sure, you'll find a nice selection of local spirits and inventive drinks, but the real magic happens when you order a Dealer's Choice cocktail. You'll pick a spirit (such as aquavit or mezcal), flavor profile (smoky, spicy, etc.), and glassware (a Collins glass or beer bong [kidding about beer bong]), and *poof* a unique cocktail made specifically for you appears. Abracadabra.
Streeterville
Simply put, Drumbar is stunning. This may lead some to believe that it's the perfect spot for unfettered Snapchatting and throwing back rooftop mimosas like they're vicious slam dunks. On the contrary, the real deal is that Drumbar makes some of the best cocktails in town, and any visit that includes Whitney Morrow's seasonal cocktails and an epic lounge sesh in a tufted-leather sofa is really where the action is at.
Logan Square
Years before seemingly every neighborhood on the North Side had its own cocktail joint, the Whistler was drawing crowds to an unexciting stretch of Milwaukee Ave that mostly devoid of bars. Mixologist Paul McGee spent three-and-a-half years whipping up drinks here, but the bar is still going strong long after his departure. Patrons keep coming back for the live music and surprisingly affordable drinks, which range from $6 to $12, and seem like a downright steal when compared to some of the pricier options around town. The Whistler helped the craft-cocktail movement bloom in Chicago, but it hasn't aged one bit.
Gold Coast
Sparrow is eye candy, which you wouldn't expect to find this time portal of a lounge adjacent to some of the bro-iest bars in town, but there it is, sticking out like a sparkling needle in a stack of hay, waiting to whisk you away to 1940s Cuba. Inspired by a retro Havana hotel lounge, the bar's art deco stylings can be soaked in for hours. And while Sparrow isn't actually a hotel lounge, it does serve breezy rum cocktails such as the Hotel Nacional, made with pineapple rum, apricot liqueur, pineapple, and lime.
Lincoln Square
Kick back with a good drink at The Sixth, and you may start spacing out enough to think you're currently in a Downtown lounge. Yet, the lack of pretension here will quickly snap you back to reality, because for all its spirits-mixing wizardry, The Sixth still has the soul of a buttoned-down neighborhood bar. Benjamin Schiller (Berkshire Room) is responsible for much of said wizardry, making drinks such as the Trix-inspired Silly Rabbit, and the Weston, which contains ingredients such as bourbon, Dark Matter coffee, and pipe tobacco. Both are mesmerizing.
Streeterville
Place your trust in Julia Momose's bar program, you'll be more enlightened for it. Even the less-favorite cocktails on the menu have the capacity to be bold, exciting, and make you understand what the bartender was going for. That's the real draw of GreenRiver: it pulls no punches. It takes chances, and when it's successful, the drinks nail the landing, gloriously. Add impressive food, head-turning views of Downtown, and the sexy Annex lounge, and you have one of the finest drinking environments in town.
The Loop
Upon first glance, Milk Room just seems like too much fuss, hidden away in a small section of the Chicago Athletic Association's second floor, the bar has only eight seats. The drinks cost upwards of $50 each, and in order to visit, customers have to purchase a ticket in advance through Tock. For the masses, going through all this hassle is, as you can imagine, quite unimaginable. Yet, it's worth it if you have a taste for the uncommon, because the bar stocks spirits that are, in some cases, not even replaceable. Drinks are made with decades-old bottles that have been acquired at estate sales and such, allowing cocktails to transport patrons back through time. For some, that's priceless.
Logan Square
For mixologist Paul McGee, the hits seem to keep on coming, aside from finding success at the Whistler, Three Dots and a Dash, and Milk Room, McGee has sprinkled some of his buzz-baiting pixie dust on Lost Lake. The charming tiki bar provides plenty of colorful drinks, rum bottles, and shareable bowls. But what really stands out, besides the quality of the drinks, is just how much fun everyone is having.
River North
Surely two of the finest cocktail bars in Chicago cannot be located next door to each other? Alas, they are, and you should visit them en route to Truth, Meaning, and a great buzz. The Broken Shaker has some serious competition next door at the Berkshire Room. Yet, that has only elevated its game, as evidenced by wonderful cocktails such as the Trail Mix Old Fashioned, made with toasted whiskies, dried-fruit demerara, and chocolate-cherry bitters. Don't sleep on the excellent bar-snacks either, or you'll be waking up with backaches.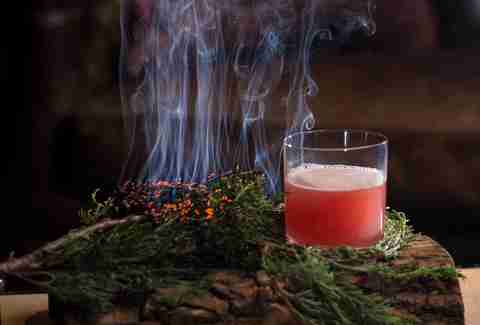 West Loop
The Aviary is the kind of spot where you'll always be worried whether you're underdressed, and the drinks cost about $5 more than you're used to. Regardless, the cocktails here verge on the fantastical, assaulting the senses with unfamiliar smells, shapes, flavors, and colors. Smoke, booze-filled ice spheres, ship bottles -- the Aviary serves them all with cocktails and does not give an eff. It's the cocktail equivalent of seeing Avatar in 3D: not everyone's cup of tea, but mind-blowing nonetheless.
Wicker Park
The Violet Hour is built on a foundation of confidence. It's dark, hushed, and does not care for cell phones. Its façade is a mural-covered wall, and the draped interior shrouds the space to such an extent that it's difficult to tell just how big the lounge is. Hell, the bar even made its own Malört. Yet, the seasonal cocktail menu is dependably impressive, and people still line up to grab a seat during peak times at this Chicago classic.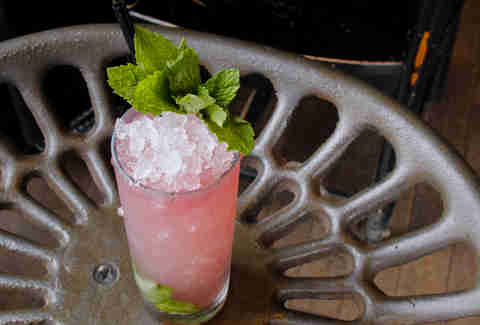 Logan Square
Scofflaw may be one of the best-loved bars in all of Chicago. It has plenty of critical accolades, and loyal patrons swear by this neighborhood spot and its excellent, reasonably priced cocktails. Sure, Scofflaw's classification as a gin-centric bar is a bit overblown, but that's because it carries tons of other spirits and prepares them equally as well. But, yes, you should order anything made with their handcrafted Old Tom gin, and stick around until midnight, when the kitchen hands out free fresh-baked cookies.
Sign up here for our daily Chicago email and be the first to get all the food/drink/fun in town.