It's important to have a limitless supply of potent coffee at home, but there's something special about curling up with a fancy cup of coffee at a meticulously decorated coffee shop. Luckily, Chicago boasts plenty of amazing cafes, so whether you're looking for a place to post up for six hours to work remotely, an escape from the din of the city, or just a quick cup of joe, these are the best coffee shops in Chicago.
For folks who are inspired by nature: Botanical Cafe
North Center
Botanical Cafe is new to the Chicago coffee scene, opening just this past winter, but it has quickly become a standout. As the name implies, Botanical Cafe is packed floor-to-ceiling with plants, which is a huge plus if you're planning on staying for a while to do some work, given the fact that plants are shown to help with focus and mood. Huge monstera leaves and palms provide the backdrop to your coffee experience, which in itself is notable because Botanical Cafe has partnered with Conscious Cup to feature some exclusive blends. As an added bonus, all the plants there are for sale, and they regularly host plant care classes for aspiring plant parents.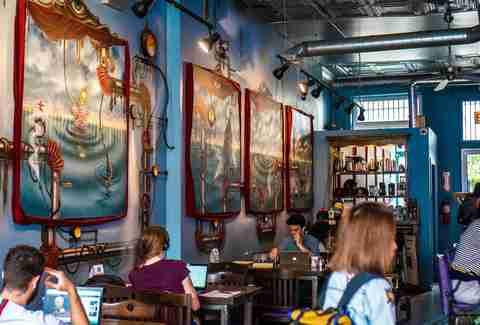 For folks who are looking for a date spot: Osmium Coffee Bar
Lakeview East
Dark Matter Coffee has opened many coffee bars around the city, but Osmium is a favorite not just because of its Spicy Mayan Mocha (though you should definitely order that) but also because of its eclectic decor. The low lighting and trippy art featuring drippy pipes and eyeballs create an oddly romantic vibe. 
For folks who like their coffee "black as night on a moonless night": Damn Fine Coffee Bar
Logan Square
Fans of Twin Peaks will love Damn Fine Coffee Bar's Black Lodge-inspired black-and-white decor and Twin Peaks fan art, but you don't have to love David Lynch to love the coffee, which does indeed live up to the billing. We personally recommend the espresso from Damn Fine's roasting partners over at Halfwit. Grab a coffee and a donut from Do-Rite (unfortunately, they don't offer pies at Damn Fine) and get to work solving the mystery of Laura Palmer's murder.
For folks who like their coffee with a side of coziness: Red Eyes
North Center
There's something special about this corner coffee shop. From the moment you step in, it's like entering a favorite aunt's living room. The interior of the cafe is peppered with plants, multicolored lights, and plush antique couches, making it an ideal place to hang out and get work done. They also serve the best latte we've ever had in Chicago.
For folks who never grew up: The Wormhole
Wicker Park
As good as the coffee at The Wormhole is, that's not the draw (though you should order the Peanut Butter Koopa Troopa). No, the reason you go to Wormhole is to kick back with a latte in a coffee shop modeled off of the living room you wish you had. The seating, although limited, is plush and comfy, and nestled underneath the shop's iconic DeLorean busting through the roof is an old TV featuring an original NES with a selection of games for when you need to take a break from working. It's a lively atmosphere, but one that's oddly conducive to actually getting stuff done.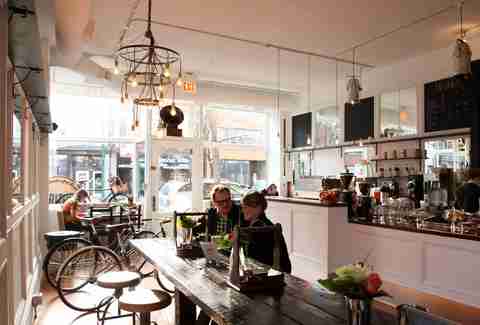 For when you pop a tube on your way home from work: Heritage Outpost
Multiple Locations
Heritage Outpost admits readily on their website that a combination bike-shop-slash-coffee-shop doesn't make as much sense as, say, a combination Pizza Hut and Taco Bell. But once you head in, everything starts to make sense. Relaxing with some coffee or tea while watching repair technicians expertly fix a bike is incredibly satisfying.
For when you really, really, really need to wake up: Pick Me Up Cafe
Wrigleyville
Though it's better known as a place to end a particularly rowdy Wrigleyville night, Pick Me Up Cafe is also a wonderfully unpretentious coffee bar in its own right. It's open 24 hours a day, so regardless of when you need your caffeine fix, they've got you covered. For those particularly brutal Chicago mornings, we recommend their Zombie, an eye-popping drink made with three shots of espresso, two cups of coffee, steamed milk, and a massive serving of whipped cream before being drizzled with chocolate and caramel sauce.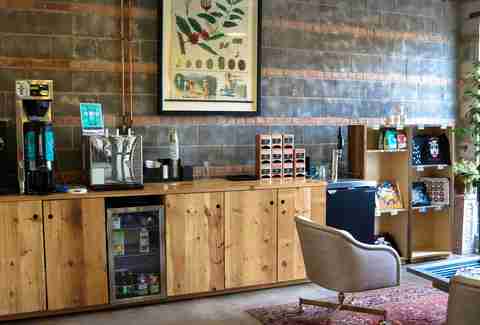 Avondale, Edgewater
Metropolis is a coffee mainstay across the country, known for exporting amazing coffee across the United States and Canada, but lucky for us, their headquarters is located right here in the Second City. Though their original cafe in Edgewater is worth visiting, coffee aficionados should head to their Avondale roasterie right alongside the Chicago River and take a tour to learn firsthand what makes their coffee so special.
For folks who concentrate best surrounded by art: Star Lounge Coffee Bar
Humboldt Park
Star Lounge might not be as well-known as some of Dark Matter's other coffee bars, but overlook it at your own peril. The first floor is a repurposed bar slinging a variety of inspired coffee creations (try the Dolor de Oro and their Unicorn Blood latte) while the second floor is a cozy oasis full of beautiful artwork by local artists. It invites you to settle in, crack open your laptop, and finally work on that screenplay.
For folks who like to curl up with a good book: Volumes Bookcafe
Wicker Park
While Wicker Park is loaded with both amazing coffee shops and wonderful bookstores, Volumes Bookcafe is the only spot in the area that combines both. Come for the espresso, stay because you've immersed yourself in a great book at the recommendation of the staff.
For folks who are in a rush: La Colombe
Multiple Locations
If you're looking for a decent cup of coffee, but you're also already 15 minutes late to work, skip Starbucks and find a La Colombe location close to you. The decor is straight out of a Pinterest board, with accents of black paint and wood. Try the draft lattes, served in a can.
For folks looking for a custom roast: The Mothership
Ukranian Village
The Dark Matter Mothership isn't geared towards folks coming in, sitting down, and hanging out for a few hours sipping a latte. But if you want a firsthand experience of how Dark Matter Coffee gets made, there's no better place to hang out. The Mothership is small, so there's not much room to kick back and tour the premises, but sampling the freshly roasted brew is worth some mild claustrophobia. Try any of the barrel-aged blends for a deep, whiskey-like experience.
Sign up here for our daily Chicago email and be the first to get all the food/drink/fun in town.