Chicago's Coziest Coffee Shops for Working Remotely
For the best beans in Chicago, look no further.
If you're one of the lucky few with a boss who has not cruelly forced a return to the office, you might be looking for a change of pace from working from your home office. Or couch. Or bed. Luckily, no matter where you live in Chicago, there are plenty of cafes and coffee shops that are tailor-made for Windy City remote workers, for those looking for a date spot, or those just looking for a boost. Read on for our recommendations.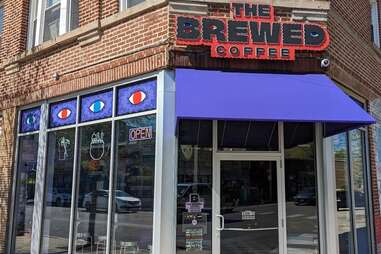 Avondale
If you like your coffee with a healthy splash of existential dread, the David Cronenberg-approved The Brewed has you covered. In addition to great coffee (try the Skull Island, a delightful banana mocha), Brewed also plays host to a variety of events perfect for fans of the macabre, from movie screenings to podcast recordings and beyond. Even better, they have their own free movie club that'll keep you up-to-date on all the goings-on there. It even comes with a personalized membership card.
West Loop
VietFive isn't just a comfy, trendy place to get some of the most delicious coffee, it's a cafe with a mission. Founded by the award-winning creative director and community organizer Tuan Huynh, the cafe truly is a family affair. Using natural processed robusta coffee beans grown in red volcanic soil on Huynh's family farm in Buon Ma Thuot, in Vietnam's Dak Lak Province, VietFive seeks to change the perception of Vietnamese coffee, and invest in resources for growers there. Trust us, once you've sampled their iced ube latte in between bites of a traditional banh mi sandwich, you'll understand how worthwhile their mission of rehabbing the image of Vietnamese coffee is.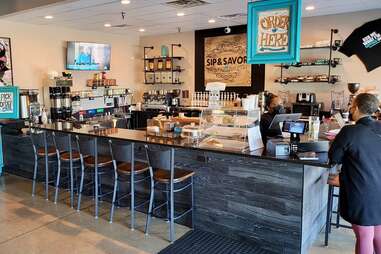 Bronzeville, Hyde Park, & Rosenwald
Though Sip & Savor maintains locations in Bronzeville, Hyde Park, and Rosenwald, a hyperlocal mindset shines through at each. The shop partners with area bakeries to stock a selection of mouth-watering pastries, and fosters a welcoming and comforting vibe. Grab a cuppa, log onto the complimentary WiFi, and stake out a coveted spot on the couch.
Hyde Park
Build Coffee is a dream come true for anyone literary-minded. The combination coffee shop and bookstore is located inside Experimental Station, and the walls are lined with a variety of reading material from hardcover tomes to independent zines published by college students. It's an ideal space to work, unwind with a good novel, organize a game night, or even host a gallery show. Better yet, they have partnered with Counter Culture Coffee and Publican Bread, offering coffee beans and delicious breads available for pickup—you can even reserve your order online in advance.
North Branch
Yes, it's witchy—but the hip punky vibes at Hexe Coffee go well beyond skin-deep. They roast and barrel-age their beans in-house, resulting in exquisite flavors, and offer a roster of cocktails, sandwiches (try the Cuban), pastries, teas, and kombuchas, as well. Either work inside surrounded by wonderfully dark decor and artwork, or enjoy the great outdoors at one of their many patio tables. Regardless, make sure to grab a bag of Hexe coffee to-go before you jet.
North Center
As the name implies, Botanical Cafe is packed floor-to-ceiling with all things flora—a huge plus for Chicago's working stiffs, given the fact that plants are shown to help with focus and mood. Huge monstera leaves and palms provide the backdrop for your coffee experience, notable in itself thanks to a rotating menu highlighting seasonal flavors and ingredients. As an added bonus, all the plants are for sale (with the exception of their plant-mascot, Fred), so you can keep the productivity party going long after closing time.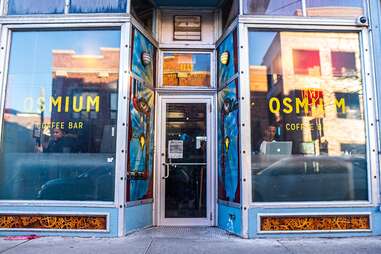 Lakeview East
Iconic roastery Dark Matter has opened many coffee bars around the city, but Osmium is a favorite not just because it has two different nitro coffee drafts on tap at any given time, but also because of its markedly eclectic design. The low lighting and trippy illustrations of drippy pipes and eyeballs create an oddly romantic vibe, perfect for fueling a few hours of creative practice. Pop in for work, and grab yourself a growler on the way out to prep for tomorrow.
Logan Square
Fans of Twin Peaks will love Damn Fine's Black Lodge-inspired black-and-white motif and tastefully subtle smatterings of fan art, but you don't have to love David Lynch to enjoy the coffee here, which indeed lives up to the billing. Sip on an exquisitely pulled espresso from Damn Fine's roasting partners over at Halfwit, sample a fine tea from SpiritTea, grab a vegan donut from Beacon, and get to work solving the mystery of Laura Palmer's murder.
Red Eyes
North Center
There's something special about this unassuming corner shop—from the moment you step in, it's like entering a favorite aunt's living room. The interior is peppered with plants, multicolored lights, and plush antique couches, making it an ideal daytime hangout. Red Eyes serves pastries, sandwiches, and ice cream, plus the Wi-Fi is free. The vibes are impeccable and cozy, and that's why the cafe has been a popular remote work spot in the neighborhood for years. The drinks are no slouch either—Red Eyes serves some of the best lattes in all of Chicago.
Wicker Park
As good as the coffee drinks are at Wormhole, they're not the main draw (though you should absolutely order the Peanut Butter Koopa Troopa). The real reason folks flock here is to kick back with a latte in a space modeled off of the rec room you've always wished you had. The seating, though limited, is plush and comfy, and nestled beneath the shop's iconic ceiling-suspended DeLorean is an old TV sporting an original NES plus a selection of games lest you need a quick work break. It's a lively atmosphere that is oddly conducive to getting things done.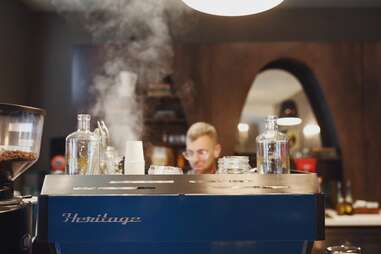 Multiple locations
Heritage Outpost readily admits that their bike-shop-slash-coffee-shop concept doesn't make as much sense as, say, a combination Pizza Hut-Taco Bell. But once you head in, everything starts to click into place. Relaxing with a mug of coffee or hot tea while watching repair technicians expertly tune up an old bike is incredibly satisfying.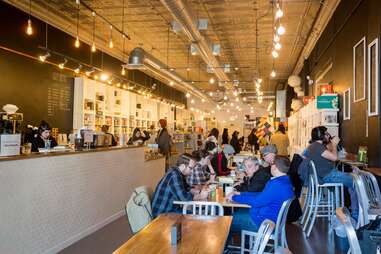 Wicker Park
While Wicker Park is loaded with both amazing coffee shops and wonderful bookstores, Volumes Bookcafe is the only spot in the area that effortlessly marries the two. Come for the espresso, baked goods, and local beer and wine, stay because you've immersed yourself in a great book at the recommendation of the kind and knowledgeable staff.