For your next date, let's excise the whole "Where do you wanna go?" "I dunno, you pick LOL" "No, you pick LOLOL!" and skip right to this list of 15 Chicago bars guaranteed to start your date night off right. (And boozy.)
Fulton Market
With high ceilings, bright colors, and top-notch cocktails, the funky pop art gallery concept and newly redesigned interior has ice breaker figuratively (and maybe literally??) written all over. Choose from one of three dining and drinking spaces and get down with new menu items like bay scallops & sweetbreads w/ crispy lemon, spiced tobiko, and truffled aioli. Pro tip: order the Beetlejuice, Beetlejuice cocktail -- it's delicious, but more importantly gives you the opportunity to see if your date says Beetlejuice a third time.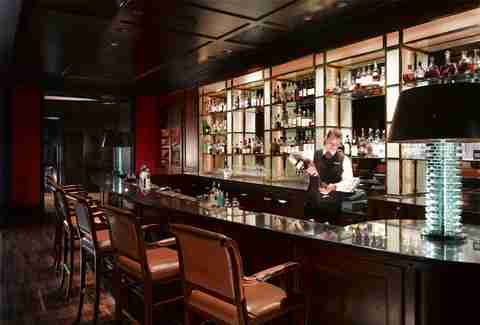 Gold Coast
You're tired. You planned a date. Now let the bar do the work at The Bar at the Peninsula, where you'll get the kind of renowned martini every date deserves. This secluded Gold Coast spot dons a fireplace (so go quick, before it gets warm, because you know... that's going to happen any minute!) and promises a good amount of privacy.
West Loop
Polished but still sweet and approachable, this new West Loop saloon is where you'll want to head for your next power date. Make sure you get the Age of Enlightenment (cocktail, not era from the 1650s to the 1780s in which cultural and intellectual forces in Western Europe emphasized reason, analysis, and individualism), and share the squid salad, tikka masala, and pistachio cupcake. We promise they're all worth the calories.
River North
Go "secret" on your next night out at JIMMY at the James, where you can sip on a saffron-infused bourbon Lucky Penny or classic Rusty Nail as you drop subtle (/not subtle, depending) hints that this place is also a hotel. Also: the dangling metal curtains make for really fun selfies after a couple of JIMMY's cocktails.
River North
One of Chicago's best new bars from last year, this sexy rooftop lounge sports views galore, plus pitchers of cocktails galore, including Chef Riley's Spicy Strawberry Daiquiri (Botran Reserva, spicy strawberry puree, grapefruit and St. Germain). IO almost always has danceable music, so maybe do some of that, too.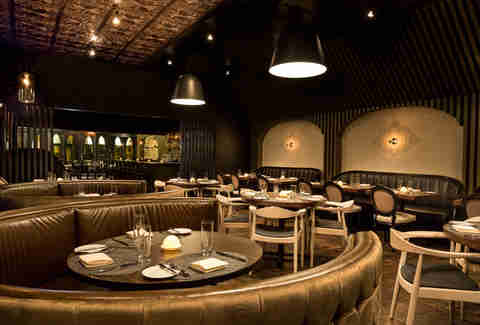 Lincoln Park
With a new chef (Lee Wolen from The Lobby), new pastry chef (Meg Galus from NoMi), an impressive new look, a MICHELIN STAR, and a full bar, Boka is a must. The cocktails are awesome, but if you wanna be adventurous, choose something from the "wines we are into right now" list.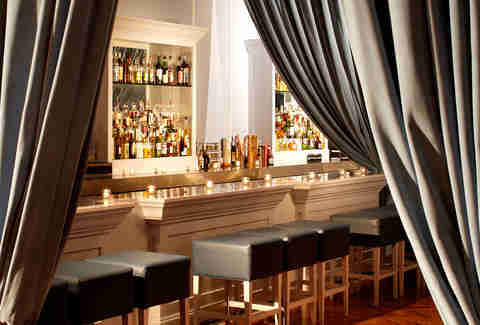 Wicker Park
As one of the best cocktail bars in THE ENTIRE COUNTRY, this Wicker Park speakeasy boasts a vast drink menu with a good amount of privacy. The crowd is yuppie but cool and prices are steep, but you get what you pay for. Two drinks and you've most likely reached a great place. Make sure you follow the house rules: Violet Hour requests you only bring those who would accompany you to your mother's house for Sunday brunch, so dress the part and note that no reservations can be made. Cocktails to try: Juliet and Romeo, Take Me Away, and the Grey Lady.
Wicker Park
Who wouldn't want to go on a date inside a bank vault? Sip bubbly and eat a shload of oysters on the half while counting the thousands of lockboxes that line the wall of this former real-life bank. On Thursdays, they'll hook up half-price Champagne bottles and dollar oysters -- or, go on a Tuesday for a $14 combo of beer and one of the best burgers in the area.
Bucktown
This cool little dessert bar has an easygoing, natural feel that'll help you leave those first date jitters at the doorstep. Oh, right, and it also has warm brioche doughnuts with chocolate frosting glaze, rainbow sprinkles, and cold coffee dip, plus Manhattans made with grapefruit bitters.
Gold Coast
Walking into the Public Chicago foyer is an experience in itself, where drinks by the fireplace are what date night dreams are made of. Veer right to the living room-style Library & Coffee bar for a 1950s night brimming with intimacy. Great for those seeking a bit more sophistication to their evening than this sort of thing.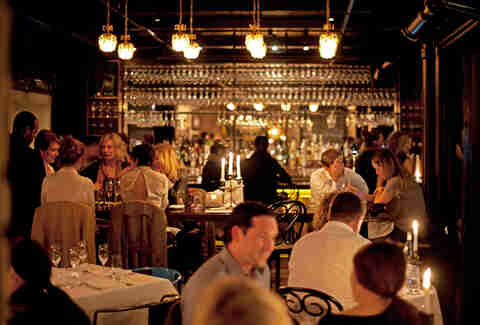 West Loop
We can't prove it, but we're pretty sure this secluded alleyway spot was created specifically for this list. Small and semi-secretive, with a wood-burning fireplace, this romantic French oyster and Champagne lounge is the perfect place to get lost in a fairytale night. The cheese and dessert boards are definitely a good idea and Champagne is definitely the way to go at RM, but try the Seven Strangers, too, if you like your cocktail with a kick. (Editor's Note: you do.)
West Loop
Laid back and leather draped, this chill little tavern is perhaps best for the more informal and carefree couple. Take your date here for a cool cocktail, boilermaker, or beer, or pop in after dark and hide away in one of the many booths that line the walls. Bonus: Lone Wolf is quiet, which allows for good conversations with minimal disruption.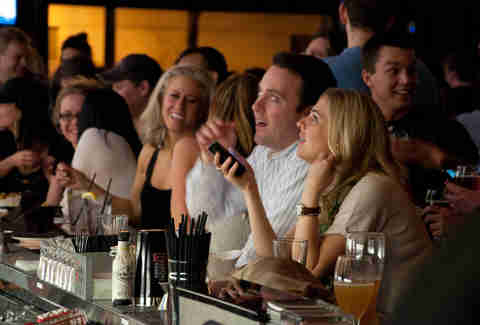 Old Town
Bond over your love of beer at this fun little spot, perfect for meeting friends and sharing comfort food. Pour House is loud, energetic, and can get crowded, which is why it's probably best for a game-day group outing rather than a solo mission. The large, two-level space is casual and jolly with good bar food, TVs everywhere (in case your date is a bore), and one of the city's most extensive draft beer lists. The cheese curds, Duck Confit Nachos, and Chicago Dogs? All things you should get.
River North
As one of Chicago's kind of-secret parlors, this hipster-ish underground lodge-style bar boasts a vast variety of whiskey and the best fries around River North. Hold your date's hand while you walk down the stairs from Pops for Champagne and watch their eyes pop when you lead them into this quaint and cozy spot. It's intimate enough to sneak some kisses in the corner booth while still maintaining a lively atmosphere. Pair your Moscow Mule with the frites and honey goat cheese. Trust.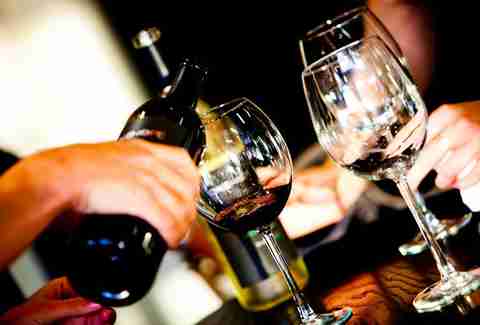 Lincoln Park
Fun, quaint, and comfortable would be three words to describe this cozy little vino spot. Wine lover or not, this is a good place to try a flight of alcoholic grape juice from international selections with zero intimidation factor. Pair the fine selection of Italian reds and French whites with crispy avocado fries, bruschetta, and, of course, cheese to soak everything up.

Sign up here for our daily Chicago email and be the first to get all the food/drink/fun in town.

Danya is contributing writer for Thrillist, who moved to Chicago to dabble in graphic design, fashion, and journalism. In short, to basically take the city by storm. Follow her at @directedbydanya.