A great dive bar means a mix of cheap beer, dedicated local clientele, and lots and lots of random crap on the walls. To make finding the best one in every neighborhood in Chicago way easier, we sought out Chicago bar historian Liz Garibay from History on Tap to help put together this list of... the best one in every neighborhood in Chicago. Hope you brought cash.
 
Albany Park
Grayland Pub (address and info)
Continue Northwest on Milwaukee past the crop of hip new Logan Square bars and you'll land in this quiet Metra station-adjacent watering hole. Without so much as a sign, it goes by both Grayland Pub and Kennedy's. Whatever you call it, there's no denying its dive credentials: a cash-only bar, a microwave for patrons to use, and Golden Tee in the back.
 
Andersonville
K's Dugout (address and info)
A few blocks West of Clark St, K's is still representative of Andersonville with its usual cast of characters: cops, blue collar workers, pool hustlers, lesbians, and old timers (and occasionally even folks that are all five of those). It's a great landing spot whether you're watching the Cubs and downing free popcorn or looking for a Friday pre/post-Turtle racing bar with Joe's next door.
 
Avondale
Alice's Lounge (address and info)
Karaoke 'til 4am. We repeat: karaoke 'til 4am. What else do you need to know?
 
Belmont Cragin
New Polonia Club (address and info)
At this Polish hole in the wall there's no shortage of Old Country vodka and beer (Krakus, Zywiec) and Monday-Thursday you find drink specials for $2 or less. Should you work up an appetite over some cutthroat foosball, there's a small menu of Polish street food available.
Recommended Video
'Last Week Tonight' Writer Josh Gondelman Takes Shots, Talks About Working For John Oliver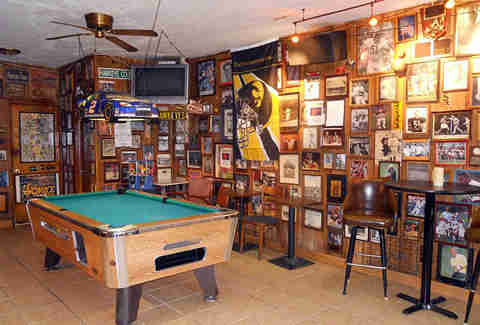 Beverly
The EndZone Tap (address and info)
The South Side sports shrine is covered wall-to-wall with autographed photos, press clippings, and memorabilia from all eras. Odds are there will be some old timers there spinning yarns (or just cursing out Marc Trestman) while playing pool or darts. There's live music on Saturdays and it's a go-to spot for Iowa Hawkeye fans and golf buffs.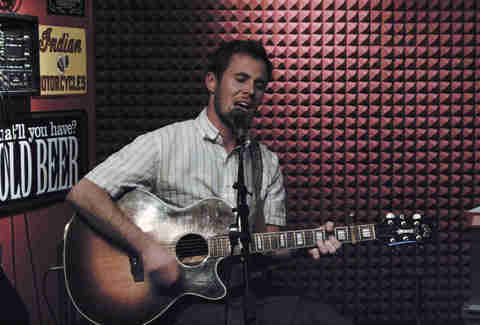 Bridgeport
Bernice's Tavern (address and info)
The only bar in the city where you need to be buzzed in to enter serves up beers from Lithuania -- the family owners having immigrated from there and bought the bar in 1965 -- as well as bingo, live tunes, and $5 specials of PBR and a shot of Evan Williams.
 
Bucktown
Ed & Jean's Tavern (address and info)
While it has a few practical modern touches (Wi-Fi, phone charging station, etc.), Ed & Jean's stays true to dive principles with free pool, linoleum floors, and a boozy wheel of destiny behind the bar. If you'd rather not have the hand of fate deal you a shot like Goldschläger or Cutty Sark, the apple pie shots are always a best bet for a buck.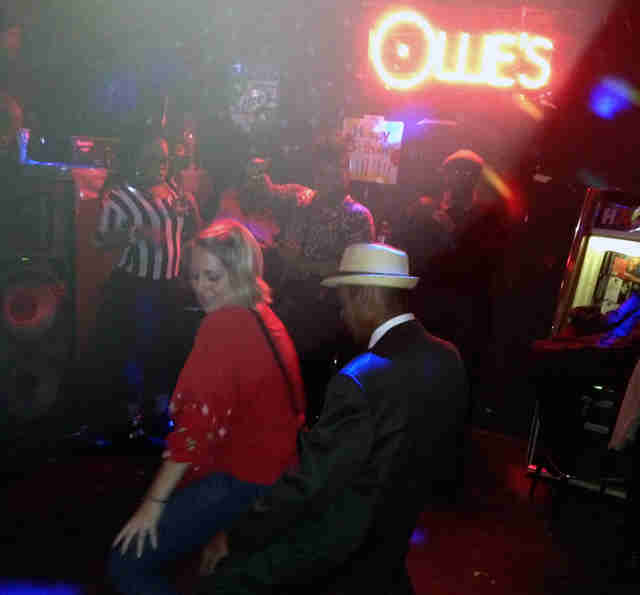 Edgewater
Ollie's (address and info)
You'd be hard pressed to find a more charming and welcoming barkeep than Miss Ollie, the little old lady slinging frosty mugs of Old Style. Book a party at the laid-back dive just off the Berwyn stop and you may have the privilege of having your name placed on the marquee inside, possibly misspelled, possibly for comic effect.
 
Gold Coast
The Lodge (address and info)
Peanut shells all over the floor, a fantastic juke box, and a wood-heavy (almost... lodge-like!) decor characterize this joint that's been taking care of Viagra triangle denizens for much longer than there's been Viagra (1957). Truth be told, no bar can really escape the s-storm that takes over this area on weekends, but if you're looking for a quality place for a weeknight brew or five, you'll feel right at home.
Grand Boulevard
Tac's Lounge (address and info)
You can tell there's definitely a cast of regulars at this friendly, dimly lit dive. Stop in here enough times and you'll meet them all. Then who knows? You might be one too.
 
Hermosa
The Levee (address and info)
Formerly a historic Depression-era burlesque venue, today you'll follow the blue collar tavern's serpentine bar into the back party room and game area with pool, bags. and an indoor basketball hoop for some tipsy free throw practice. Ask owner Warren Johnson about his days as a Marine or a 16" softball hall-of-famer. Yes, there's a light-up Spuds MacKenzie statue, in case you were wondering.
 
Humboldt Park
Archie's (address and info)
Is there ever a bad day for $5 Hamm's and Jim Beam shots? Not at this affable locals-friendly dive, where this daily special, along with free pool and cheeseballs, helps fuel a great rapport with nearby residents. You can even bring your dog, which is nice.
 
Hyde Park
Falcon Inn (address and info)
Off the beaten path from University of Chicago, dive seekers and Hyde Park locals will settle down for Falcon Inn's basic beer pitchers, cigarette machine, and hip hop soundtrack. There's also a window connected to Cholie's Pizza Restaurant next door for pizza and hot wing orders.
 
Irving Park
T & A Two (address and info)
First of all, awesome name. Second of all, awesome neighborhood dive in a residential 'hood as of yet untrammeled by PBR GPS-tracking hipsters. If the crowd is in good enough of a mood, you may even be welcomed with cheers when entering. Hey, weirder things have happened.
 
Lakeview
Friar Tuck (address and info)
Lakeview is ripe with dives (L&L, Town Hall Pub, Parrot's), so consider treading ground at a less traveled spot like Friar Tuck. Its barrel facade pays homage to beer brewing monks, its interior features a fireplace and circular bar where you're welcome to rip shots from the butt of a large inflatable sheep, despite it being wrong on so many levels.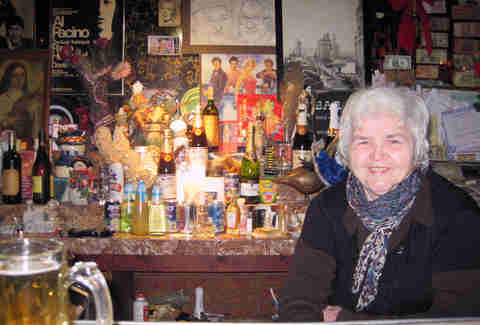 Lincoln Park
Rose's Lounge (address and info)
Rose, the Macedonian matriarch of this Grandmotherly basement bar, lives upstairs with her family and has seen the neighborhood grow through its crime-riddled days to its current button-down status. She keeps customers content with comfy lounge furniture, bar snacks. and a wide variety of tchotchkes to stare at.
Lincoln Square
Spyners Pub (address and info)
There's possibly no higher compliment then being given a goofy nickname by owner Maureen in her Irish brogue. The karaoke bar's name has been carried over from a previous owner who loved the '70s soul group, The Spinners, but had to tweak the name so as to avoid copyright infringement.
 
Logan Square
Whirlaway Lounge (address and info)
Refusing to gentrify with the surrounding neighborhood, Whirlaway has been a Logan Square staple since 1980, when reportedly a horse named Whirlaway came in big for the original owner. It's got a good selection of beer for a dive (Dogfish 90-Minute IPA, Left Hand Milk Stout) along with the obligatory Old Style/Schlitz and games of Connect Four. No credit cards, no food, no BS.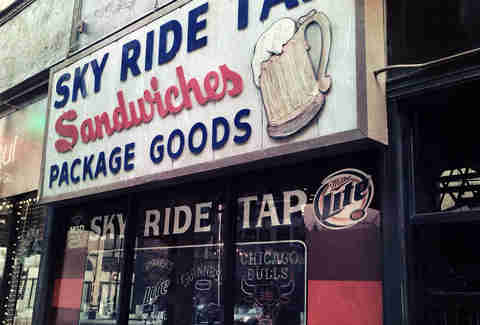 The Loop
Sky Ride Tap (address and info)
Pass under the "L" tracks and through a pair of swinging saloon doors to find this dimly lit spot serving up middle shelf liquor and a food menu of Polishes, chili dogs, and salami sandwiches.
 
North Center
Save More Lounge (address and info)
A bar that sounds more like discount furniture warehouse, Save More is your best bet in North Center to scratch your itch to sit in a wood-paneled room drinking Milwaukee's Best.
Norwood Park
Trinity Pub (address and info)
Here, the holy trinity is motorcycles, karaoke, and a Spider Box punching bag game.
Old Town
Old Town Ale House (address and info)
Order a pitcher and snag a corner table. Depending on the time of day (and year) you may end up mingling with an SNL alum channeling bygone Second City memories or... a colorful regular who's been there for six hours already and can't stop staring at the nude painting of Sarah Palin. No matter your experience, you'll be unable to shake the feeling you're imbibing somewhere that matters. Overstay your welcome and you may receive the honor of being unceremoniously played out of the bar by an opera CD.
 
Pilsen
Los Tres Diaz (address and info)
The classic Pilsen Latino bar is now a well placed pit stop next to the budding Thalia Hall. You may want to bone up on your Spanish to put in drink orders. JFYI: the name -- Los Tres Diaz -- is after three Diaz brothers and not the misnomer Los Tres Dias.
River North
Rossi's (address and info)
Even with foot traffic on State St, Rossi's still makes for an unassuming, tight-knit drinking experience. Get cozy around the large bar top for a few belts and then pick up a six pack from the beer cooler to-go. Occasionally you may even score free hot dogs or homemade chili.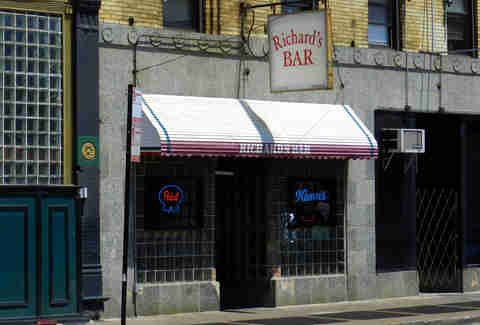 River West
Richard's Bar (address and info)
Some bars try to channel a throwback vibe, while others have clouds of cigarette smoke (still) and Sinatra playing on the jukebox because nothing has changed in there for as long as anyone can remember. Richard's is the latter. Plus: it serves as the cop bar rival to Emmit's fireman bar next door.
 
Roscoe Village
The Four Treys Bar (address and info)
The neighborhood bar offers pool (watch for low ceiling tiles), karaoke, and a spot to do some day drinking with your dog. Major style points for the giant hammerhead shark mounted about the bar.
 
South Loop
George's Cocktail Lounge (address and info)
It feels more like a liquor store that happens to have a bar in it, but that's a good thing -- it's about as "no-frills" this close to the Loop as you can get.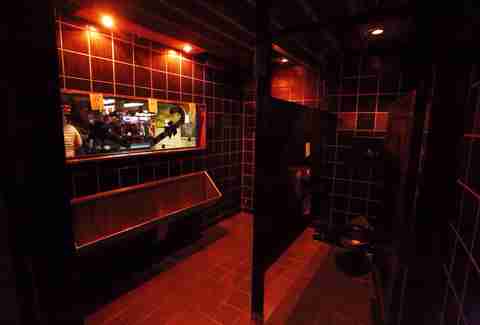 Streeterville
Streeter's Tavern (address and info)
Streeter's almost has too many "activities" to feel like a true dive bar, but it undoubtedly has the right ethos (even if the beer pong now has to be played with water, because, you know, "laws"). But whether it's foosball or giant Jenga or nudie photo hunt, you'll be drinking more economically than you have any right to this close to Michigan Ave, and after that you'll have the opportunity to relieve yourself in one of Chicago's most singular bathrooms.
Ukrainian Village
Happy Village (address and info)
Come for the competitive ping pong, stay for the "high school graduation party from 1994"-style beer garden. In a neighborhood flush with dives (though they're starting to tragically disappear), Happy Village remains the class of the bunch and one of finest you'll find.
 
Uptown
Max's (address and info)
The honky tonk environs at Carol's draw a bigger crowd, but Max's place (short for Maxine's) has strong dive credentials. Look for strong pours and underpriced beer and Knob Hill whiskey inside the small, family-owned operation.
Wicker Park
Zakopane (address and info)
On a section of Division St that was once known as Polish Broadway, Zakopane -- named after a mountain town in Southern Poland -- is a prime example of an immigrant-owned establishment that started out of necessity and stays open thanks to its character.
Sign up here for our daily Chicago email and be the first to get all the food/drink/fun in town.
For more info on all things Chicago bar-related visit History on Tap.