Public House
Public House
Sure, you could drink a cocktail mixed and served by a bartender. Or you could not be a total loser, and instead get in on what all the cool Chicago kids are ordering these days: draft cocktails. Here are the 10 places in Chicago doing 'em best:
Wicker Park
Grab a vinyl booth inside the former home of Empire Liquors, and sample through drink recipes compiled by Ronnie Higgins, formerly of Bar Deville and Bangers & Lace.
On tap: Currently unnamed daily specials by the glass or carafe -- like gin, lime, grapefruit, and honey; cachaça, lime, raspberry, and ginger; or gold rum, lime, pineapple, and Angostura
Also noteworthy: A crazy number of obscure canned beers (Evil Twin Hipster Ale, Surly Coffee Bender, Wexford Irish Cream Ale), plus draft ciders (oooOoOOOOOoooOOO)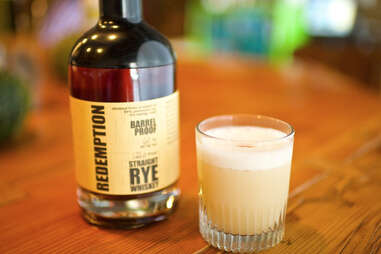 Logan Square
All of their draftiness goes well with Asian dishes, which you're gonna order a bunch of, since they offer stuff like crispy double-fried chicken with kanzuri dipping sauce.
On tap: Rotating specials like the calamansi daiquiri (rum daiquiri with calamansi citrus from the Philippines)
Also noteworthy: Sake by the glass, shochu, weird Japanese beers like Echigo Koshihikari Lager
Logan Square
Just a stone's throw from Matthias Merges' aforementioned Yusho, Billy Sunday keeps the Prohibition era vibe alive with old-fashioned china and old-time photos, without all the liquor-banning nonsense.
On tap: The Kent (gin and tonic), The Hart (rum and tonic), The Octli (tequila and tonic), The Aquinas (rye whiskey and tonic)
Also noteworthy: Booze sodas, house-made tonics, all sorts of head-scratching ingredients like those in the Harvey Wallbanger (genever, sac'resine, caramelized orange gomme, Galliano sachet)
River North
This cocktail lounge and wine bar from the crew behind Mercadito boasts six draft cocktails on its 24-page drink menu.
On tap: BBQ Daisy (tequila chipotle, Memphis BBQ bitters, Combier), Alice Fay (vodka, pecan-brown sugar syrup, Old Style lager), Big Nose Gets Lei'ed (melon tea-infused white rum, grapefruit, pineapple, grenadine), Deep Dish Manhattan (whiskey, vermouth, Averna, Malort), Misty in the Mountains (mescal, pineapple, beets, ginger, honey)
Also noteworthy: Rotating cocktails on tap like The Derek Smalls (bluegrass vodka, cucumber, mint, grapefruit bitters), slushies like The Fiery Balls (bourbon and raspberry), a Bloody Mary menu, and wine by the inch
River North
The Playboy-plastered pool dive from DMK provides a wide variety of sliders and boilermakers.
On tap: Cornbread Moon (bourbon, maple syrup, allspice dram), Lizard Boots (Pitu Cachaca, rhubarb, Fruta Bomba bitters), Pocket Watch (vodka, ginger, Campari), Burma Shave (jalapeño-infused tequila and strawberry), Swingin Doors (bourbon, ginger, grapefruit, raspberry)
Also noteworthy: Bottled cocktails like the Pisco Punch and Sarsaparilla Sling (buckets of four for $36), in addition to frozen Mescal Mules
Lakeview
A modern seafood shack serving up standards from oyster po' boys to Maine lobster rolls.
On tap: Burma Shave (jalapeño-infused tequila and strawberry)
Also noteworthy: Several mule variations (bourbon, rum, tequila, gin) in addition to the usual vodka or mescal, and a grape juice (aka wine) menu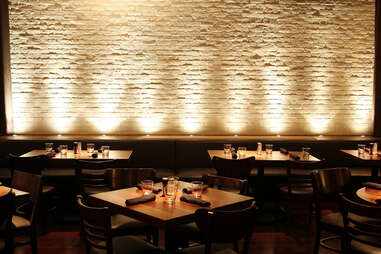 River North
Pair cocktails with the small but delicious selection of Mexican dishes, from their pulled chicken nachos and fish tacos to the chicken enchiladas.
On tap: Hub Punch (Grey Goose Le Citron, Licor 43, tequila, pomegranate)
Also noteworthy: $36 pitchers of the "Slushy of the Moment", and the non-tapped Hub Punch (aka a "regular" cocktail)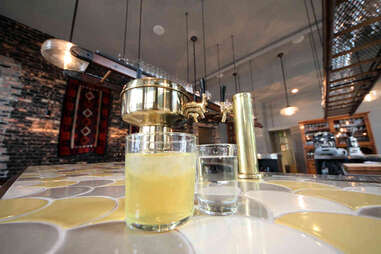 Hyde Park
The South Side cousin to Yusho and Billy Sunday also sports draft cocktails, as well as 112 seats around a U-shaped bar with a pair of library ladders hung overhead to house glassware.
On tap: Gin and tonic, rum daiquiri, Paloma (tequila, house-carbonated grapefruit soda)
Also noteworthy: Strange brews (Vander Mill Totally Roasted, Brewery Vivant Undertaker), house-made wine apertifs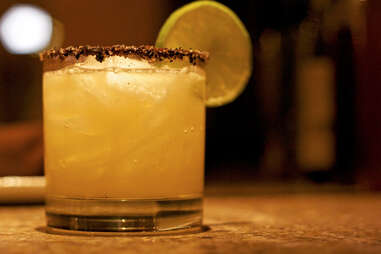 Bucktown
Ada features 40+ cocktails and a serious seared octopus entree.
On tap: Corner Store (tequila, Campari, grapefruit), Picnic Basket (rum, Lemon Hart 151, ginger syrup), Devil's Haircut (tequila, strawberry, Fruta Bomba bitters)
Also noteworthy: Rare beers (Off Color Apex Predator, Central Waters Mudpuppy)
River North
Come for the 84in HD video wall, stay for the liquor taps.
On tap: Whatever liquor you want to pour yourself from 12 table tap-equipped booths (Absolut, Jameson, Jack Daniels, or Avión) -- poured by the ounce along with carafes of mixers (cranberry, tonic, soda, pineapple, etc.) served on the side
Also noteworthy: Six wall taps!
Sign up here for our daily Chicago email and be the first to get all the food/drink/fun in town.
Jay Gentile is the publisher of Chicago INNERVIEW Magazine and a Thrillist contributor. Follow him on Twitter.