According to Dictionary.com, a pilgrimage is "a journey, especially a long one, made to some sacred place as an act of religious devotion." According to Thrilltionary.com (don't look that web address up), a drinking pilgrimage is "exactly the same thing, except with, like, more breweries and taprooms and stuff." Here are your eight best options for the latter, all within driving distance of Chicago.
Recommended Video
Go Camping in the Comfort of Your Own Home With S'mores Dip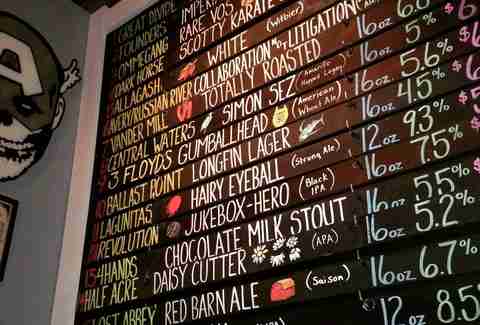 Blue Island, IL
Rock Island Public House (address and info)
Distance from Chicago: 19 miles, 30-minute drive South
Just South of the Morgan Park neighborhood, Blue Island is home to one of the few bars in the state worthy of a road trip in itself. Blue Island residents Jen and Dave Brown opened Rock Island Public House intent on bringing a supportive craft beer bar into an old rail town. And their draft list definitely doesn't disappoint, with 16 frequently rotated taps that range from local favorites like 3 Floyds Gumballhead to harder-to-find drafts like Ballast Point's IPA.
Side trip: If you're lucky, grab a patio spot on a food truck day. They tend to stop by every so often.
Munster, IN
3 Floyds Brewing Co. (address and info)
Distance from Chicago: 28 miles, 40-minute drive South
What started as a humble microbrewery in Hammond by two brothers and their father (otherwise known as the three Floyds) has grown into a top destination for beer geeks all over the nation. Now located in a larger facility with an adjoining brewpub in Munster, Indiana, 3 Floyds Brewery not only boasts some top-rated brews, but the pub chefs roll out seasonal menus with ingredients from leading local farms.
Side trip: You'll deserve all of the beer and pork belly even more by biking to the brewery. It's a 40mi lakefront ride from Downtown, and you can also make a pit stop at Calumet Fisheries around 95th St. If you're not too desperate for a nap and have the manpower to carry another growler, bike another 10 mi West to Flossmoor Station.
Warrenville, IL
Two Brothers Brewing Company (address and info)
Distance from Chicago: 30 miles, 45-minute drive West
The only problem with the bike ride to 3 Floyds is that the South Shore line doesn't allow bikes, so you either have to commit to making the ride back or send a DD to come pick you up. This isn't the case with the bike ride to and from Warrenville, home of essential Chicago brewery Two Brothers Brewing Company.
Side trip: The Illinois Prairie Path (which is also the name of Two Brothers' gluten-free ale) takes you almost directly from Oak Park to the brewery -- a ride that, if all runs smoothly, takes under four hours. After the generous post-tour tasting and the juicy burger you're likely to carnivorously down, you have the option of carrying your bike home on the Metra.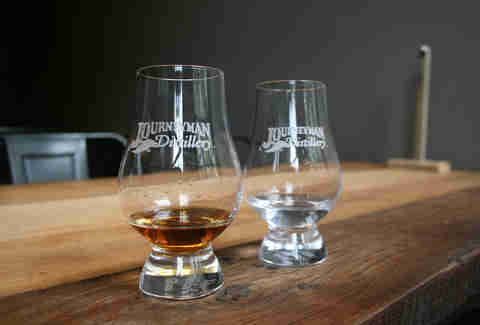 Sawyer/Three Oaks, MI
Greenbush Brewery/Journeyman Distillery
Distance from Chicago: 80 miles, 1.5-hour drive West
Michigan always seems far away, but a visit to the lakeside town of Sawyer (home of Greenbush Brewing) is actually one of the shorter trips on the list. Wash a Texas-style BBQ brisket down with one of the mainstays in the taproom (try the Anger Black IPA) and stop into the storefront to try some experimental "lab beers."
Side trip: Not done yet? Mosey six miles down the road to Journeyman Distillery for a cocktail at the bar and maybe try to snag a bottle of the hard-to-find, super-limited-edition Ravenswood Rye. Fun fact: its namesake comes from the North Side neighborhood where it was distilled (as Journeyman's makers trained at Chicago's KOVAL Distillery).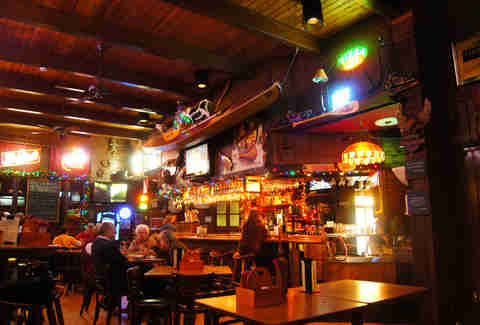 Utica​, IL
Bars around Starved Rock State Park
Distance From Chicago: 92 miles, 1.75-hour drive Southwest
A 90-mile drive Southwest from Downtown leads you to Starved Rock, one of Illinois' largest (and best) state parks. After hiking all the way up to the top of a sandstone butte through some of the canyons (there are 18!) and staring at the glacial melt-water and steam erosion in the background (you're not dreaming), you're going to deserve a few beers.
Side trip: The towns around the park are known for having some of the highest concentration of bars per capita in the country. Reward yourself at the park's Back Door Lounge or venture into town to Duffy's Tavern for corned beef sandwiches and traditional Irish music.
New Glarus, WI
New Glarus Brewery (address and info)
Distance from Chicago: 145 miles, 2.75-hour drive Northwest
If you've ever driven to Wisconsin just to pick up a case of Spotted Cow (it's fine, we've all been there), you might as well keep driving to the cool little village of New Glarus itself. The town, which looks like something out of small-town Switzerland, houses one of the beer community's greatest Midwest pilgrimage sites. The brewery and tasting room are open for free self-guided tours every day, but special three-hour (that's right, three-hour) "hard hat" tours are only offered on Friday afternoons.
Side trip: The brewery has a ton of land and outdoor space, perfect for a post-beer nap in the grass. It's okay, they're cool with it.
Galena, IL
Galena Cellars Vineyard & Winery (address and info)
Distance from Chicago: 164 miles, 3-hour drive West
For those who prefer grapes over hops and barley, Galena Cellars Vineyard & Winery is a 160-mile drive West and only 10 minutes from its tasting room and gift shop in road-trip worthy downtown Galena. The vineyard, which has spanned for three generations, hosts 22 different specialty grapes and produces over 60,000 gallons of wine per year. Even non-wine drinkers can appreciate a walk through the 25 acres of land (but it's better with wine).
Side trip: Have some time left before heading home? Stop by Blaum Brothers, one of Illinois' best new distilleries. Pro tip: if your birth name is Gus (and you can prove it with two forms of identification), your tour is free. Seriously.
Nauvoo, IL
Baxter's Vineyard & Winery (address and info)
Distance from Chicago: 270 miles, 4.5-hour drive Southwest
A town of less than 1,200 residents, Nauvoo boasts more grapevines than people. Baxter's Vineyard & Winery (established in 1857 and run by five generations of Baxters) remains the oldest of its kind in the state. Make sure to come hungry: the grounds are also home to Carol's Pies (though be sure to order them ahead of time) and the tasting room serves up Angelini's pizza, cooked to your 'za specs.
Side trip: Not up for the almost 5hr drive back in the same day? You've got a couple of solid options. For homebodies, Baxter's recommends a night at the historic Nauvoo Grand B&B. For those feeling more adventurous, Nauvoo State Park is just a few miles down the road and set up for camping.
Sign up here for our daily Chicago email and be the first to get all the food/drink/fun in town.
Becky Schultz spends her days working in the whiskey business and her nights on a never-ending quest to find Chicago's best cheese curds. Follow her @rebeccaschultz.