When it comes to Fall beers, you want something that's going to make you forget that it used to be Summer, which means downing the most pumpkin-y pumpkin beers imaginable, right? Wrong. This Fall, don't be that guy drinking liquid pie filling -- instead, be seen tipping back any of these non-dessert-y seasonal brews as recommended by our trusted lineup of beer experts.
Recommended Video
The Best (and the Rest): Best Easy Ramen Hacks and Winter Beers
Chris Quinn, Owner of The Beer Temple
Ayinger Oktober Fest-Märzen (Märzen/Oktoberfest, 5.8%)
Chris says: "Oktoberfest lagers are perhaps my single most anticipated seasonal beer of the year. Crisp and drinkable, with a hint of sweetness and an amazing depth of malt character, Oktoberfests are hearty enough for the cooler weather, but remain sessionable for a tailgates or bonfires. When it comes to these beers, I feel the Germans are still doing it the best, and Ayinger is consistently one of my favorites due to its rich, complex malty flavors which are reminiscent of dark bread crusts."
Pipeworks Last Kiss (Scotch Ale/Wee Heavy, 9.5%)
Chris says: "For Fall, I like my beers to still be refreshing, but have a little more oomph to them, so I tend to gravitate towards bigger beers. This larger-than-life Scotch ale (also called a wee heavy) might be my favorite beer made by Chicago brewery Pipeworks. Bursting with notes of dark brown sugar, vanilla, and spice, Last Kiss is a treat from the moment you open the bottle until the last drop hits your lips."
Michael Roper, Owner of Hopleaf
Anchor BigLeaf Maple (Red Ale, 6%)
Michael says: "My new favorite Fall beer is Anchor BigLeaf Maple. It is an Autumnal red ale with beautiful color, a hint of California maple syrup amply balanced by plenty of hops added in the kettle and dry-hopped at the finish. At 6% ABV, it is moderately warming, and I can't think of a better beer to watch the leaves blow off the trees with. Bonus points for the beautiful label art."
Bell's Best Brown (English Brown Ale, 5.8%)
Michael says: "I'd be remiss if I did not mention Bell's Best Brown Ale, a perennial favorite at Hopleaf. At 5.8%, it's an easy drinker with medium body, a frothy head, and a perfect balance of caramel maltiness and hoppy bitterness in the finish."
Cleetus Friedman, Executive Chef at Fountainhead
Dark Horse Scotty Karate (Scotch Ale/Wee Heavy, 9.75%)
Cleetus says: "One of my favorites has got to be Dark Horse Scotty Karate -- the beer is great on its own, but really lends itself to stews and braised meats. It has a nice malt backbone, as you would expect from a Scotch ale, and it's 9% ABV, as you would expect from Dark Horse. Just wish it came in six-packs!"
Two Brothers Atom Smasher (Märzen/Oktoberfest, 5.6%)
Cleetus says: "While I love pumpkin, I'm not a huge fan of pumpkin beers, so I tend to steer more toward Oktoberfest styles of beer. Since they launched it, I've been a big fan of Two Brothers' Atom Smasher. It's not over the top, but has just enough of a flavor profile that harkens back to a true Marzen style."
Ria Neri, Cicerone at Bangers and Lace
Victory Festbier (Märzen/Oktoberfest, 5.6%)
Ria says: "Aristotle once said, 'Patience is bitter, but its fruit is sweet.' Oktoberfests and Marzens are beers made in the Spring that undergo patient cold-lagering for months -- a perfect transition from the crisp, golden lagers of Summer to the toasty, coppery hues of Autumn."
John Laffler, Owner of Off Color Brewing
Three Floyds Alpha King (Pale Ale, 6.66%)
John says: "I drink more of this than most liquids. Who cares what the season is... I mean, her Autumnal, red hues are reminiscent of raking leaves, while the crispness of the liberal but elegant hop character echoes that first cold night when you know change is in the air and everything feels magical."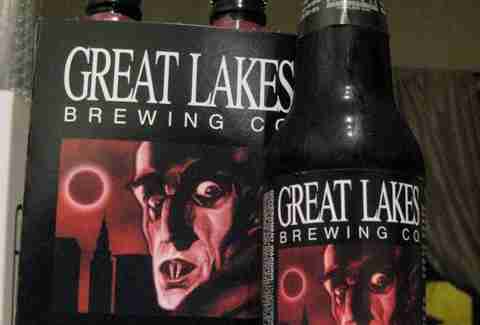 Josh Noel, Beer and Travel Writer at The Chicago Tribune
Great Lakes Nosferatu (American Strong Ale, 8%)
Josh says: "Fall seasonals are generally my least favorite, because Oktoberfests are boring and pumpkin beers just suck (I even dislike Pumking, which, I know, is heresy in some circles). What better way to cure those blues than with an ass-kicking hoppy red ale? Everything about this seasonal says Fall: the reddish color, the bold hops, its boozy-but-not-too-boozy 8% alcohol, and even its fangy namesake on the bottle. Plus, Nosferatu is just a masterfully bold and balanced beer."
Tyranena Brewing's Chief BlackHawk Porter (American Porter, 5.6%)
Josh says: "I'll drink porters all year long, but they work particularly well in the transitional seasons. Roasty and hearty, but lighter in body and alcohol than many stouts, a porter splits the difference perfectly between light and heavy -- just like Fall. There are plenty of well-made porters out there, but Chief BlackHawk is particularly fresh and reliable."