Winter in Chicago isn't just a great time to see the Bears' season go up in flames -- it's also a great time to see actual flames at one of these: the 10 best fireplace-equipped drinking spots in town, ranked from #10 to #1, so you're never caught drinking at #11. Gross.
Near North Side
A top-notch date spot, ENO wine bar boasts a cozy aquarium fireplace and a varied menu that will impress anyone who's into wine, cheese, or chocolate. And if your date isn't into wine, cheese, or chocolate, it might be time to find a date who... is?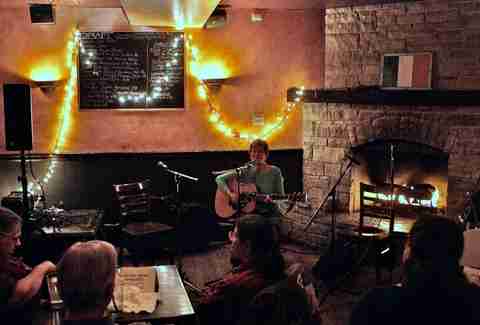 Lincoln Square
Besides the stone fireplace, Grafton is also equipped with hearty eats like shepherd's pie and fish & chips, a nice selection of whiskey, wine & beer, and live music throughout the week.
The Loop
Maybe skyline views, high-energy day parties, and leggy models voguing down a table-slash-runway aren't your idea of "cozy", but take one look at that stunning fireplace setup and yeah, that's exactly your idea of cozy. Score a seat and order up a Soaked in Cider, made with Glenmorangie 10 year, baked apple bitters, cinnamon syrup, apple cider, and fresh lemon juice.
Logan Square
Scofflaw: come for the excellent cocktails. Stay for the excellent kitchen offerings. Stay even longer for the free cookies that are passed out at midnight, and then beg the staff to spend the night beside the warm fireplace because you're convinced you'll never make it home in the soul-crushing cold. Hey, it's worth a shot.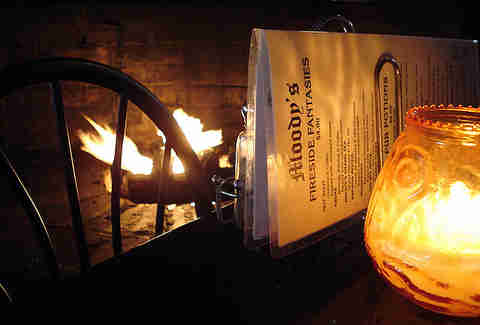 Edgewater
Moody's probably looks as medieval today as the day it opened in 1959 (or is it 1459?) -- and we mean that as a compliment. The Edgewater pub basically feels like a castle's basement, assuming you know of a castle basement that also does excellent burgers and pitchers of sangria alongside a sweet-ass fireplace.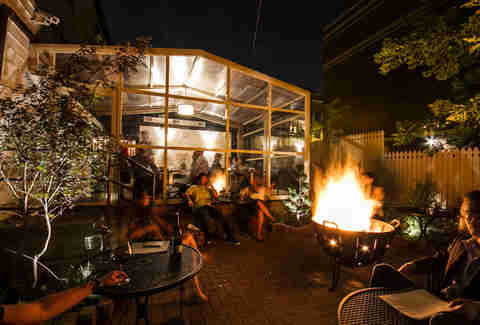 Logan Square
The "fireplace" at Table, Donkey and Stick is actually a fire pit, but it still makes a great spot to visit because one (and by one, we mean you) can step outside and warm up on a chilly winter's eve. It works with the overall theme of the joint, which prepares rustic mountain fare inspired by the hearty folk of the Alps. As a bonus, stop by on Mondays for 50-cent PBRs and $5 small plates. Yes, 50-cent PBRs is not a typo.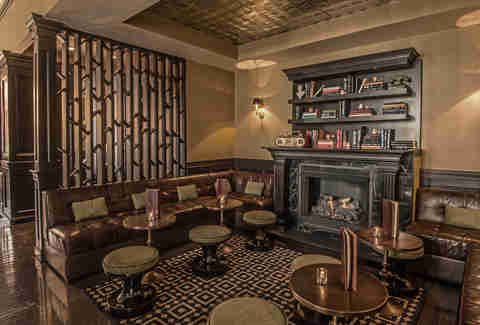 Streeterville
Stunning views. Elegant décor. Speakeasy vibe. Inventive drinks (such as the $2,000 Suit, made with Kappa Pisco, CH Amaro, crème de banane, chai tea, and lime... PS it doesn't cost $2,000). While Drumbar is a no-brainer destination in the summer, it also has plenty to offer in the winter, thanks to outdoor fire pits and a fireplace-equipped lounge area that's The Best.
River North
Hubbard Inn bills itself as a Hemingway-inspired restobar, and features classic dinner club décor complete with tufted sofas and stocked bookshelves. The establishment actually offers two separate fireplace lounges on two floors, both of which are great spots to enjoy alllllll the drinks, Hemingway-style.
Noble Square
For a restaurant that serves up entire wild boars, goats, and alligators, one fireplace simply will not do. Hence, Frontier offers spots to warm one's self upstairs in its Elixir Room, as well as on the year-round patio. The décor is heavy on the exposed brick and stained woods, making each visit feel like a trip to some mountain lodge. Specifically, a mountain lodge where alligators roam and it's cool to eat them.
Gold Coast
Scoring a seat at this spot takes a bit of know-how, but it'll all be worth it once you're kicking back and feeling like your boss' boss. Start off by ordering a drink at the Mercadito Fish Co. bar (get the Ginger Smash, with Maker's Mark, lemon, mint, and candied ginger), then head on over to the adjacent Talbott Hotel's lobby. Servers will deliver the drinks right to you, and afterwards you can confidently tell everyone within earshot that you're actually a railroad tycoon (because you totally are... right?).
Sign up here for our daily Chicago email and be the first to get all the food/drink/fun in town.
Raf is a long-tenured Baratheon loyalist and Point Break apologist. You can check out his weird-smelling blog Alley Connoisseur, and follow him at @RafFoSho.
Other Stuff You'll Like In Power Rank