Where to drink booze-filled slushies this weekend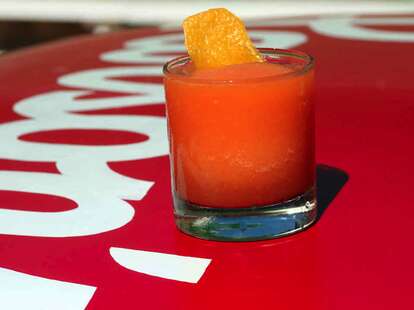 Chicago A great way to beat the Summer heat in Chicago? A nice cold beverage. A greater way to beat the Summer heat in Chicago? A nice cold beverage WITH BOOZE IN IT! Here are five of those, just in time for Summer (and more importantly, your weekend).
Bunny's Banana Daiquiri at Three Dots and a Dash: Chicago's favorite subterranean Tiki bar is home to a banana daiquiri that's a notch above the rest, packed with a rum triple play (Jamaican, spiced, and overproof), coconut liqueur, banana, lime, nutmeg, and a banana fashioned into a dolphin. Continue Reading
Frozen Mai Tai at The Dawson: Chill out (get it???) on The Dawson's patio with your favorite pair of sunnies on and a frozen Mai Tai in hand. The seasonally appropriate newcomer is made with Bacardi 8, Clement Premiére Canne, house orgeat, Cointreau, and lime, and is garnished with a sprig of fresh mint.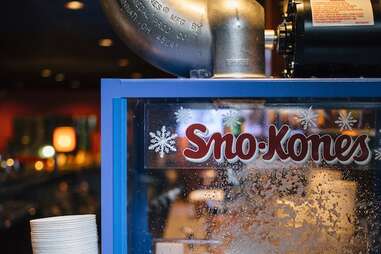 Sno Kones at Punch House: The downstairs watering hole at Dusek's is giving its delicious punch lineup the shaved-ice treatment with Sno Kones, wherein they take a cone of powdery shaved ice and fill it with any punch on tap, including the mezcal-filled Summer Melon and American Orange Punch w/ rye whiskey.
Fernet Slushies at Parson's Chicken and Fish: Parson's and Letherbee Distillers kicked off the recent launch of Letherbee Fernet with a refreshing slushie that even the Glee kids would enjoy, concocted by the man who brought us the Negroni Slushy, Charlie Schott. The celebratory Bitter Bourbon Buck is a mix of Fernet, bourbon, lime, and ginger beer.
Alcoholic Slushies at Red Door: Red Door's slushies come in three varieties -- the vibrant, Gimlet-esque green Last Word, Pink Lemonade, and Buffala Negra. They're like snow cones, just minus the cones and plus the alcohol.