Chicago has transformed into a true queer destination in recent years, no longer looked at as some podunk midwestern city cast in the shadow of coastal meccas like New York and Los Angeles. We have some of the most renowned drag performers, incredible queer nightlife artists of all kinds, and queer neighborhoods teeming with bars and clubs. While Boystown and Andersonville continue to flourish with queer and queer-friendly businesses on every corner, since last year's uprisings and calls for accountability in Chicago's gay nightlife scene, things have started to (slowly) change. Much of that is thanks to the hard work of folks like the Chicago Black Drag Council and countless other queer Black nightlife prose, all backed up by those of us happily partaking in the scene.
Several of Chicago's queer event collectives are set on partying with a purpose, especially those with Black queers at the helm. These organizations are going beyond designing safe spaces for queer Black folks to dance, make out, and meet—they're creating moments that decenter the white gaze (not to mention white gays), showcasing the artistic talents and sweet joy of Chicago's Black queer, trans, and gender non-conforming residents and curating welcoming opportunites for folks to get down free from inhibition and fear.
This list details Chicago's top venues, crews, and parties aimed at connecting with queer community, crushing a cocktail (or five), and twisting the night away.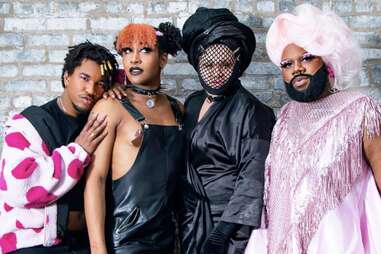 Multiple locations/Virtual
Led by Zola Makeda, Cae Monae, Lucy Stoole, and Bone Reader, Molasses is a Black, trans, and gender non-conforming collective of artists and organizers. They're dedicated to creating spaces and giving platforms exclusively to Black and Brown trans folks. Their parties, cookouts, balls, and more are not only incredibly lit moments brimming with Black expression and joy, but the proceeds benefit supporting TGNC folks in immediate financial need, putting together protection and self-care kits for the community, and setting up self-defense classes for Black trans folks in Chicago.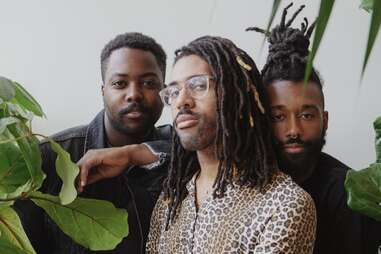 Multiple locations/Virtual
Mycall Akeem Riley, Felton Kizer, and Elijah McKinnon head up the blaq agenda, the social collective behind podcasts, video content, and "werqshops" featuring familiar faces in Chicago's Black LGBTQIA community. With high aesthetics and exclusive guest list-only kickbacks at some of the city's coolest and most beautiful spots, they throw sensual pop-up events that captivate the senses and will have you checking their Instagram stories constantly in fear of missing the next one.
Andersonville
Chicago's newest queer bar and the latest addition to the country's sadly waning lesbian bar population, Nobody's Darling has emerged as a go-to neighborhood hangout since its summer 2021 debut. This Black-owned bar perched on hidden tree-lined Balmoral Street is welcoming to everyone, and along with being the perfect place to bring a first date, it's also home to drag brunches, pop-ups from local chefs, and some of the tastiest (and cheekily named) drinks around.
South Shore
This historic mainstay dates back to the 1960s and is still popping to this day. One of the only queer spots that host nights for the grown and sexy 30-and-up crowd, they have themed nights like "Blame it on the Alcohol Saturdays" and "Forbidden Fridays." And with a rotating line-up of gorgeous and talented startenders, you're guaranteed yet another great night on the South Side.
Lakeview
Scarlet might be smaller than other Boystown haunts, but that doesn't mean it's reserved for quiet conversation. Peek through the billowing fog and laser light show and you'll find Queens and Kings mingling in the packed crowd of gyrating bodies. With $5 drink specials and $10 Champagne bottles on Sunday Fundays, this hideaway was tailor made for boozin' on a budget.
Lakeview
If you know, you know—the true Berlin experience doesn't start until after midnight. Bring cash for the cover on the weekends (once inside, the bar accepts credit cards), and prepare for a combination of dancing and performances from some of Chicago's top talent. A bonafide Boystown institution, they've kept their post-uprising reopening promise to stop catering predominantly to cis-white performers and clientelle, with recent lineups showcasing far more Black, brown, trans, and GNC folks than past rosters. One thing that hasn't changed? You'll still feel every single Berlin Bomb you pounded the next morning.
Lakeview
The queers come out to play at Sidetrack, a massive venue stocked with multiple lounge areas on different levels, dance floors, and outdoor spaces, including a roof deck that's open whenever the weather cooperates. There's never a cover, and you'll also find one of the more extensive drink menus here, complete with a decent wine and beer list and Sidetrack's famous frozen cocktails. Dance, belt out a few show tunes, or sit back and simply bask in the raucous scene.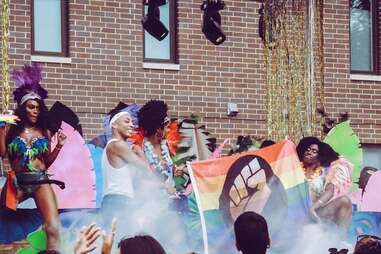 Multiple locations
Pride fest takeovers, seductive dinner parties, roller discos, and even screenings of The L Word—Peach literally does it all. Founded by Breana Auberry five years ago, the brand and event team throws packed parties all over the city, providing queer women a safe space to get down, cruise, and kickback with one another.
Multiple locations
Party Noire is back and my goodness have we missed them. The energy generated at their functions is palpable—bumpin' and grindin' during the day with beautiful Black queers while the city's dopest DJs spin a soundtrack of classics and currents. Every party is a true celebration of Blackness, and the collective has collaborated with Them, Red Bull, and Hennesey, just to name a few heavy-hitters, proving that their hard fought efforts to spread Black joy in the community has not only been recognized, but massively valued.
Multiple locations
This collective with a cause is all about getting lit, connecting with the community, and chatting about it afterward. Famous for their monthly ENERGY parties, smallWORLD also hosts monthly discussions on the topic of polyamory (the members themselves are a part of a gorgeous throuple). Polyam Chat educates Black and brown queer, trans, and GNCNB folks on the subject by sharing their experiences and providing space for others to explore their own. An event collective that's simultaneously sexy and informative—what's not to love?