Welcome to
We're Out Here
, your year-round hub for LGBTQ+ travel and experiences! Here, you'll find everything you need to plan your next great gaycation, including queer-centric travel stories, nightlife guides, profiles, pride event roundups, and ways to give back to local queer communities.
Chicago has transformed into a true queer destination in recent years, no longer looked at as some little Midwestern city cast in the shadow of coastal meccas like New York and Los Angeles. We have some of the most renowned drag performers, incredible queer nightlife artists of all kinds, and queer neighborhoods teeming with bars and clubs. While Boystown and Andersonville continue to flourish with queer and queer-friendly businesses on every corner, since 2020s uprisings and calls for accountability in Chicago's gay nightlife scene, things have started to (slowly) change. Much of that is thanks to the hard work of the Black and brown queer folks who are embedded in the city's nightlife, and have been backed up by those of us happily partaking in the scene.
Several of Chicago's queer event collectives are set on partying with a purpose, especially those with Black, POC, and trans queers at the helm. These organizations are going beyond designing safe spaces for queer Black folks to dance, make out, and meet—they're creating moments that showcase the artistic talents and sweet joy of Chicago's Black queer, trans, and gender non-conforming residents and curating welcoming spaces and places for folks to get down free from inhibition and fear.
This list details Chicago's top venues, crews, and parties aimed at connecting with queer community, crushing a slushie cocktail (or five), and twisting the night away.
Strapped
Berlin Nightclub/Multiple locations
Performers Siichele and Irregular Girl host "Strapped" , a monthly lesbian/adjacent party at Chicago's famed Berlin nightclub. On the first Friday of every month, these two queens and a crew of their favorite lesbian/adjacent friends put on themed nights complete with DJ sets and multiple performances throughout the night. Need another reason to go? How about seeing a slew of queer performers dressed up and knocking out performances themed to "A League of Their Own"? Yeah… get out your dollars.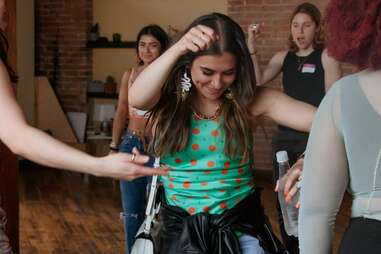 Multiple locations
For booze free queers who want to ride the waves of vibes and connection. Lez Get Together was started this year by Daniela Cabada who wanted to add to her sapphic circle outside of the often alcohol infused party scene. With events focused on actually connecting while having fun, Daniela has hosted popping parties at some of the city's most beautiful spaces. Mocktails and mingling are always on the menu and events happen a few times a month.
Boystown
A staple in boystown, everyone has a Roscoes story—and if you don't just give it a few months. All your favorite queens make a stop at the bar that has been around for over 35 years when they come into town. Saturday drag brunches, viewing parties of all the queer shows (I know you're watching The Ultimatum), themed music nights from Britany to Beyonce, AND a patio. It's the spot to start or end your night when you're sweating away in the summer Chicago heat.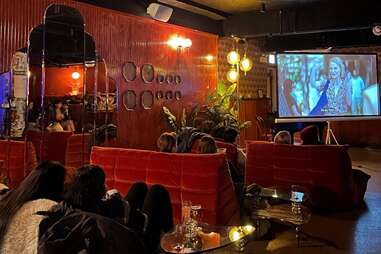 West Town
When you spot the red door on Chicago Avenue. by Split-Rail, just open it and go downstairs to Dorothy. It's a '70s themed cocktail bar and lounge. It's not just a place to get up close and personal on a date in the dim lighting, but they have events all year round. Book signings, album releases, burlesque, and even gay proms all happen at Dorothy Downstairs. The red door unlocks at 6 pm Thursday to Monday so make sure you're there and maybe a dream or two will come true.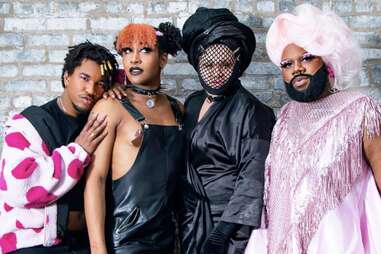 Multiple locations
Led by Zola Makeda, Cae Monae, Lucy Stoole, and Bone Reader, Molasses is a Black, trans, and gender non-conforming collective of artists and organizers. They're dedicated to creating spaces and giving platforms exclusively to Black and Brown trans folks. Their parties, cookouts, balls, and more are not only incredibly lit moments brimming with Black expression and joy, but the proceeds benefit supporting TGNC folks in immediate financial need, putting together protection and self-care kits for the community, and setting up self-defense classes for Black trans folks in Chicago.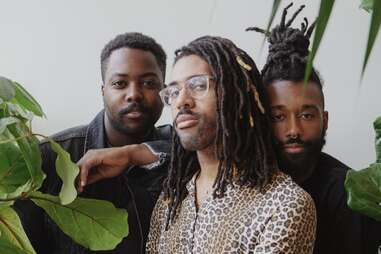 Multiple locations
Mycall Akeem Riley, Felton Kizer, Karla Huffman, and Elijah McKinnon head up the blaq agenda, the social collective behind podcasts, video content, and "werqshops" featuring familiar faces in Chicago's Black LGBTQIA community. With high aesthetics and exclusive guest list-only kickbacks at some of the city's coolest and most beautiful spots, they throw sensual pop-up events that captivate the senses and will have you checking their Instagram stories constantly in fear of missing the next one. They have also begun spreading Chicago joy overseas with parties and pop-ups in London.
Andersonville
Nobody's Darling has emerged as a go-to neighborhood hangout since its summer 2021 debut. This Black-owned bar perched on hidden tree-lined Balmoral Street is welcoming to everyone, and along with being the perfect place to bring a first date, it's also home to drag brunches, pop-ups from local chefs, and some of the tastiest (and cheekily named) drinks around.
Lakeview
If you know, you know—the true Berlin experience doesn't start until after midnight. Bring cash for the cover on the weekends (once inside, the bar accepts credit cards), and prepare for a combination of dancing and performances from some of Chicago's top talent. A bonafide Boystown institution, they've kept their post-uprising reopening promise to stop catering predominantly to cis-white performers and clientele, with recent lineups showcasing far more Black, brown, trans, and GNC folks than past rosters. One thing that hasn't changed? You'll still feel every single Berlin Bomb you pounded the next morning.
Lakeview
The queers come out to play at Sidetrack, a massive venue stocked with multiple lounge areas on different levels, dance floors, and outdoor spaces, including a roof deck that's open whenever the weather cooperates. There's never a cover, and you'll also find one of the more extensive drink menus here, complete with a decent wine and beer list and Sidetrack's famous frozen cocktails. Dance, belt out a few show tunes, or sit back and simply bask in the raucous scene.
Multiple locations
The energy generated at their functions is palpable—bumpin' and grindin' during the day with beautiful Black queers while the city's dopest DJs spin a soundtrack of classics and currents. Every party is a true celebration of Blackness, and the collective has collaborated with Them, Red Bull, and Hennesey, just to name a few heavy-hitters, proving that their hard fought efforts to spread Black joy in the community has not only been recognized, but massively valued.
Shelli Nicole is a Detroit-born culture writer, critic & editor based in Chicago. Her work has appeared in Bustle, Vogue, Architectural Digest, and many others. Follow her at @HiShelli.