The Second City's LGBTQ scene is rich and varied, with everything from dive bars to supper clubs to humongous dance parties, plus one of the most famous Pride parades and celebrations in the nation. Yes, Boystown is one of the largest and best-known gay neighborhoods in the country, but Chicago's queer community doesn't start or end there.
In fact, more and more LGBTQ collectives and event series have emerged over the years to provide more inclusive spaces for those with intersecting identities, including trans and non-binary people, women, and people of color. With this evolving scene in mind, this list includes some of the best LGBTQ bars in Chicago, along with recurring parties and events from some of our favorite queer collectives who party with intention.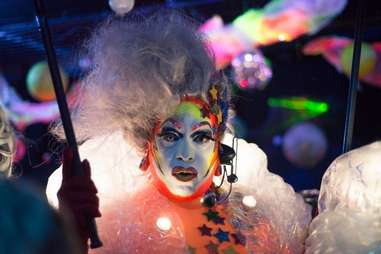 Lakeview
The "you're gonna need a disco nap" nightclub
The true Berlin party doesn't start until after midnight, so go early only if you want a VIP solo experience. Bring cash for a cover on the weekends (once inside, the bar accepts credit cards) and prepare for a combination of dancing and drag performances from some of Chicago's most popular talent -- think Lucy Stoole and Aunty Chan -- or enter a drag competition yourself. With a prime location right off the Belmont Red, Brown, and Purple Line and a variety of themed parties, there's truly something for everyone at Berlin.
Lakeview
Fog, laser lights, and boozin' on a budget
Scarlet might be smaller than some of the other Boystown bars, but that doesn't make it a spot for quiet conversation. Peek through the fog and laser lights show and you'll find Queens and Kings mingling in the packed crowd of dancers. There's always a line for the bathroom and a $5 cover on weekends, but the assortment of daily drink specials and happy hour deals were made for boozin' on a budget.
South Shore
Longstanding South Side institution
This historic South Side bar has been open since the '60s and is the only black-owned gay bar in Chicago. There's a theme for pretty much every night -- tequila Tuesdays and Whiskey Wednesdays, anyone? -- and Jeffery Pub is also one of the few bars that still hosts grown and sexy nights for the 25-and-up set.
Lakeview
Everything in excess: the one-stop shop
The boys come out to play at the massive Sidetrack, which has multiple lounge areas on different levels, dance floors, and outdoor spaces, including a rooftop deck that's open whenever the weather cooperates. There's no cover, and you'll find one of the more extensive drink menus here, too, complete with a decent wine and beer list and Sidetrack's famous frozen cocktails. Dance, belt out a few show tunes, or sit back and simply bask in the scene.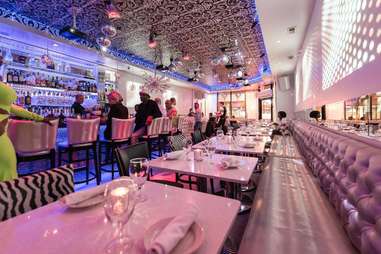 Lakeview
Dinner with a side of drag
The nearly 20-year-old supper club is a prime destination for bachelorette partygoers and we understand why. Drag performers get up close and personal with tableside performances running every 20 minutes, plus there's an extensive dinner and brunch menu, along with hundreds of martini options. This is the place to be when you want to be entertained in comfort.
Andersonville
Karaoke and cabaret for drama club kids
Fuel up with burgers and beer from Hamburger Mary's before you head upstairs to Mary's Attic for a night of cabaret, karaoke, theater performances, and even comedy shows in what used to be known as "Girlstown." If a day party sounds more appealing than dancing the night away until the sun rises, you'll love Mary's tea dance, held the first Sunday of every month.
Parties & queer collectives
Logan Square, citywide
"Chicago's party for lovers"
If your idea of a good time is a night in with a glass of wine, candlelight, and Sade spinning on vinyl, you've found a home with Slo 'Mo. Providing "slow jams for queer fam," the party series is all about sexy, intentional vibes. With a monthly residency at the Whistler and frequent events in other areas of the city, it won't be hard to find time to slow down and feed your soul on the dance floor.
Citywide
Where Black joy reigns supreme
The energy generated at a Party Noire function is palpable -- stepping into an event is like stepping into the embrace of your favorite auntie. The collective centers black femmes, queer women of color, trans and genderqueer folx, so it provides a safe space for the most vulnerable of the LGBTQ community. Serve your most elaborate look or arrive in sneakers and joggers -- just be ready for the inevitable Soul Train Line, Stevie Wonder sprinkled in with Solange, and Electric Slide to Cameo's "Candy" a la The Best Man.
Citywide
Party pop-ups that empower women
This pop-up series also celebrates people of color, femmes and queer women and often collaborates with other queer party collectives like Party Noire. From a roller skating party at the Chicago Athletic Association to a cocktail hour meets film screening, Peach offers an inclusive space to expand your queer network and have a damn good time in the process.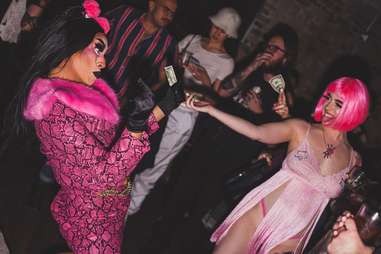 Lakeview, Logan Square
Pride isn't just for June
This collective was formed by LGBTQ nightlife pros looking for a way to celebrate Pride all year long through collaborations with local artists. Last year's Junipero Disco with Emporium PopUps had
Black Mirror
and sci-fi fans geeking out, and you'll often be treated to live music from performers both local and from afar. Hit up the Chicago is a Drag Festival for more showstoppers than you can handle, or check out A Queer Pride's weekly Thursday night residency at Berlin or its monthly pop-up at East Room.
South Loop, Bronzeville
The world may be small, but it doesn't have to be boring
For a major city, Chicago can feel pretty small, especially when you run in queer circles. Recognizing these seemingly random connections to apparent strangers is part of Small World's mission to unite various communities through spotlighting and providing space for black and brown women. Sunday night ENERGY parties at Tantrum feature hip-hop, R&B, and soul sounds from DJ Dapper, where you can also get to know The Plug of the Week, a local artist or entrepreneur.
Lakeview
Drag shows and dancing and poetry, oh my
Every second and fourth Wednesday at Berlin, Duro curates a party for queer Latinx Chicagoans "and our friends." The night's a steal, with covers typically ranging from $5 - $10, and entertainment ranging from DJ sets with Latin music to drag, dance, and poetry performances. Get cute, comfy, and be ready to go hard.
Logan Square
Music festival vibes for the anti-Lolla crowd
Only the youngest among us have the stamina to attend -- and actually enjoy -- days-long music fests, but Pachanga offers that same fest atmosphere within the walls of East Room. The party starts early in the evening and runs into the wee hours of the morning, with a mix of live music and DJs playing reggaeton, cumbia, and merengue. You won't need to make up an excuse to leave the dance floor, either -- check out wares from local artisans as you give your feet a break.
Sign up here for our daily Chicago email and be the first to get all the food/drink/fun in town.
Liv Lawson is a Chicago-based writer.