Somewhere along the way, being cheap somehow became a bad quality. Sure, it's one thing if you're buying fake Prada purses and trying to pass them off as the real thing for your sister's birthday. But when it comes to eating and drinking, discounts mean you're just getting the same product at a lesser price—so why not save a little cash in the process? In the end, it will enable you to drink more, and who could fault you for that? Here's everywhere to save a buck during happy hour in Chicago.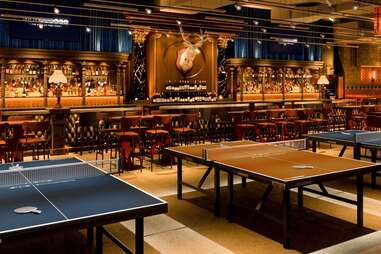 River North
When: Monday - Friday, 4 - 7 pm
This "ping-pong bar" (yes, there is such a thing) keeps your mid-week stress levels to a minimum with $5 Ketel One cocktails and $5 Lagunitas brews every weekday afternoon.
University Village
When: Monday - Friday, 4 - 7 pm
The University Village location of this low-key neighborhood pub chain offers a pretty tantalizing happy hour with half-priced select bar bites paired with $3.50 select domestic drafts, $5.50 signature martinis, and other rotating specials.
River North
When: Monday - Friday, 4:30 - 6:30 pm
From $6 Reprise IPA drafts and $10 sangrias to $7 fries and $14 tenderloin sliders, Bernie's provides a diverse smattering of happy hour enticements.
Loop
When: Monday - Friday, 4 - 6 pm
$4 draft Krombacher, $4 Goose Island 312 Shandy, and $6 glasses of rose help put this stylish downtown American tavern on the happy hour map.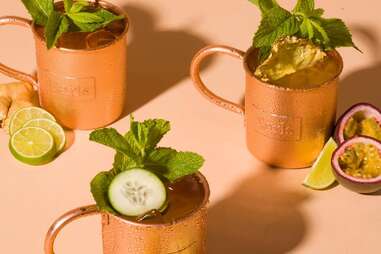 Lincoln Park
When: Monday - Friday, 2 - 5 pm; Monday - Friday, 9 pm - close (food only)
This Canadian export believes that happy hour is so nice, they're giving it to you twice. A three-hour drinks and eats bonanza kicks off at 2 pm with beer, cocktails, and wine specials followed by a second evening happy hour of food-only specials like $7 Street Chicken Tacos and $11 Crab Rolls (also available during the afternoon happy hour).
River North
When: Friday, 4 - 7 pm
Taco Tuesday might as well be rebranded as Taco Friday with El Jefe's end-of-week happy hour featuring $3 Ground Beef Tacos, $4 Cheese Quesadillas, $3 Coronas, $5 tequila shots, and $6 house margaritas.
River North
When: Tuesday - Friday, 5 - 7 pm
This mainstay Irish pub gets you hankering for the Emerald Isle with $7 Harp-battered Fish Tacos and Bavarian Pretzels, $8 Irish coffees and whiskey sours, and $6 beer and wine by the glass.
Lincoln Park
When: Monday - Thursday, 4 - 5:30 pm; Friday, 3:30 - 5:30 pm
This Lettuce Entertain You joint from the team behind Shaw's Crab House features everyone's favorite happy hour item: oysters. Grab a half dozen on the half shell for $15 paired with $3 Boardwalk Fries, $8 Sizzling Garlic Shrimp, $7 select signature cocktails and white wine by the glass, and $4 Founders Solid Gold.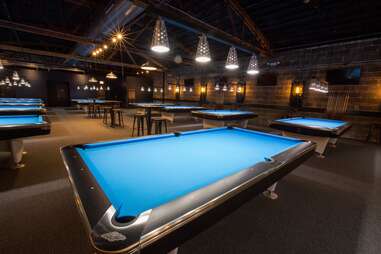 Albany Park & Logan Square
When: Monday - Friday, 4 - 7 pm
For a slightly different happy hour experience that leans less Office Space and more Color of Money, hit up this hip coffee and billiards bar for $4 bottles, $5 drafts, and $8 featured cocktails on weekday afternoons.
Loop
When: Monday - Friday, 3 - 6 pm
This swanky yet unpretentious downtown wine bar keeps things simple with a "lucky six" happy hour collection of $6 draft beers, $6 house spirits, and $6 house wines. Why complicate life?
Old Town
When: Monday - Friday, 4 - 6 pm
If your happy hour excursion calls for sports on flatscreens and over 90 beers on draft, point your GPS toward this sprawling booze emporium for $2 off local drafts, well drinks, and wine by the glass, plus half-priced bar bites including Cheese Curds and Popcorn Chicken.
South Loop
When: Daily, 5 - 7 pm
This dimly lit karaoke lounge provides the perfect escape from another interchangeable work week with $5 Old Fashioneds, Revolution brews, White Claws, Moscow Mules, and more.
Wrigleyville
When: Monday - Friday, 3 - 6 pm
One of the few actually not-terrible bars in Wrigleyville offers this not-terrible happy hour special: $1 off draft beer, well drinks, and freezer shots, plus $3 shots of the polarizing local gasoline-styled charmer that is Malort.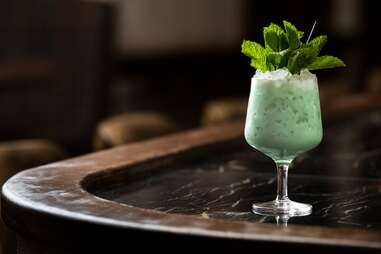 Lincoln Park
When: Wednesday - Friday, 4 - 7 pm
This cool little spot from the crew behind Bangers & Lace and Spilt Milk offers $5 select drafts and $10 wines by the glass to spice up your post-hump day work week.
Andersonville
When: Daily, 4 - 6 pm
Kickstart your after-work routine at this affable neighborhood hang with $3 Champagne followed by $4 well drinks, $5 wine by the glass, and $6 drafts plus half-off select starters.
Logan Square
When: Monday - Friday, 5 - 8 pm
If you're looking to end your day with a fancy craft cocktail that won't break the bank, hit up this loungey spot connected to Red Star Liquor store via a walk-in cooler door for expertly mixed $6 creations including Old Fashioneds, Gimlets, and more.
Loop
When: Monday - Friday, 3:30 - 6:30 pm
This popular downtown happy hour go-to offers a large menu of selections in its bar and patio areas (we highly recommend the patio area) including $4 Truffle Fries and $8 Burgers in addition to $7 select drafts and wine by the glass—all available with a minimum beverage purchase of a very random $3.40.
Noble Square
When: Monday, Wednesday, and Friday, 5 - 6 pm; Saturday - Sunday, 3 - 5 pm
Who doesn't like $1 oysters? No one, and Frontier has them, along with $3 High Life drafts, $3 dealer's choice whiskey shots, $5 house wine by the glass, and $6 draft cocktails.
Ukrainian Village
When: Monday - Saturday, 5 - 7 pm; Sunday, 3 - 6 pm
For a more unique happy hour, this one-of-a-kind German-inspired spot offers $2 to $3 off select dishes like Pretzels and Shrimp plus $6 Belton Pilsners and Rib Tips.
Uptown
When: Monday, 4 - 7 pm; Wednesday - Friday, 4 - 7 pm
Four days a week, this happy hour has your basics covered with $7 burger nights on Mondays, $7 whiskey cocktails on Wednesdays, and a $16 Friday night Fish Fry featuring beer-battered cod.
Various locations
When: Daily specials
Pound for pound, these four neighborhood classics from 4 Entertainment Group offer some of the easiest-drinking happy hours in Chicago. Nice and simple, enjoy half of ALL DRINKS for two hours each day, seven nights a week at Easy Bar and AliveOne, or for three hours every weekday at Estelle's and Remedy. You're welcome.