The Windy City. The Second City. The City of Broad Shoulders. Chicago covers a lot of ground. But did you know there are also parts of Illinois outside of Chicago? Well, you probably did if you read our list of the 12 best Illinois restaurants outside of Chicago. But in case you're still not a believer, here are the 12 best Illinois bars beyond city limits, too.

Alton, IL
First built by Anheuser-Busch in 1921, this local institution is all about cheap food -- 99-cent bratwurst and 29-cent shrimp, anyone? -- and watching live bands on an outdoor patio that resembles something you might find in Wrigleyville… only way less douchey. The Big Elwood on a Stick (marinated tenderloin) is a must. As is the people watching.
Blue Island, IL
Though it's yet to reach it's second birthday, RIPH feels like it's been around a while (maybe something to do with the fact that its historic digs predate the Lincoln Administration). The 16-strong tap list rotates at a feverish pace (including one-offs and rarities you'd be hard-pressed to find in Chicago, or just about anywhere), the old-school juke box is impossible not to spend a few bucks on (ditto for the arcade games), and the picnic-tabled patio just feels like home. The occasional food trucks that hang out in front? Totally a bonus, as is the fact that it's super easy to get here on the Metra.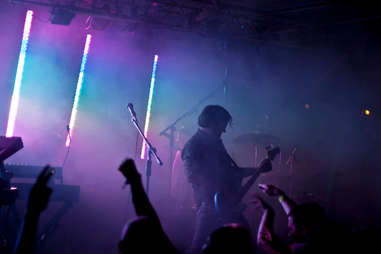 Carbondale, IL
The old Hangar burned down, so they built this one resembling -- you know -- an airplane hangar, but with more modern touches and garage doors that open up to let the breeze in. This bi-level bar is known for top-flight local rock and bluegrass bands, but if you're not up for that, there's nothing wrong with sipping craft brews in the beer garden. Oh right, they have a beer garden!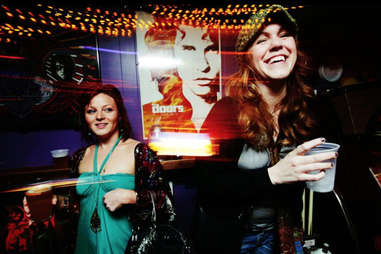 Woodstock, IL
The town made famous by Groundhog Day should be as famous for this psychedelic dive, but it isn't. Sure, offbeat touches like lava lamps and beaded curtains are nice and kitschy, but what makes this place stand out is just how much fun it is. Throw in energetic live bands and a must-have Friday fish fry, and we dare you (double-dog, son) not to have a good time here.
Aurora, IL
If your local sports bar had a torrid affair with a Vegas sports book, the results might come out looking something like The Foundry and its 22 movie-sized projection screens oriented along the main wall in a way that'll feel familiar to anyone who's squandered money on the Bears in Vegas. While you can't bet on the human-based sports here, there is an OTB. Oh, and a tobacco shop. So yeah, cigars, drinking, gambling... it's pretty close to Vegas. There's also pool, shuffleboard, and volleyball... so basically, if you're ADD, you'll fit in just fine here.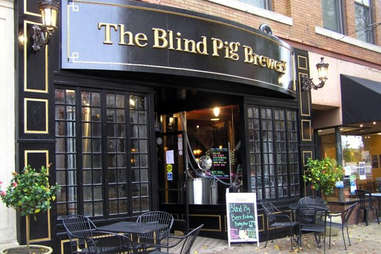 Champaign, IL
You may've spent some fine nights in Champaign drinking whiskey Cokes for free because your friend was in Sigma Chi with one of the bartenders, but you no longer know any (present day) Sigma Chi's, and your tastes have progressed beyond well liquor. Enter The Blind Pig Co., which does some fine brewing in its own right, and also has a draft list stocked with the kind of stuff you never would've appreciated in college: Founders Rubaeus, Deschutes Hop In The Dark, and Stone Cali-Belgique. Just bear in mind that your recovery ability has also changed since college.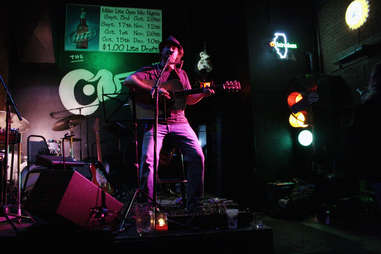 Macomb, IL
They've got bands upstairs, a (surprise!) café downstairs, and friendly locals everywhere. There's not much to note as to the décor, with typical bar touches like a pool table and dartboard, but the colorful cast of local characters is more than enough entertainment. Drink a Jamaican Quaalude, forget the whole night, and do it all again tomorrow.
Libertyville, IL
With a thoughtfully curated, 30-strong tap list deep with up-and-comers like Destihl, Against The Grain, and Tighthead, Firkin has cemented its spot as the beer geek go-to on the North Shore, and a worthy destination from just about anywhere. Throw in sustenance like grass-fed burgers, lobster tacos, and duck nachos, and you'll likely find yourself planning a return trip before you've paid the check.
Peoria, IL
Head down a subway-style staircase to discover a brick basement locals' paradise with cheap PBR and a breathalyzer on the wall -- which will need to be pretty high for you to attempt The Clydesdale Challenge: a half-pound each of burger, ham, turkey, and chicken on a bed of Texas Toast covered in cheese fries.
Glenview, IL
A farmhouse-turned-speakeasy-turned-legit tavern when the Meier family purchased it at the tail-end of Prohibition, Meier's is the kind of timeless dive every town should have, and that far too many have lost. Cheap booze, greasy burgers, no credit cards, and no frills, whatsoever.
Palatine, IL
In addition to local bands like Hairbanger's Ball and Mr. Blotto, this suburban oasis is also increasingly becoming known for nabbing high-quality touring acts like Heartless Bastards and Against Me!, as a reminder that being stuck in the suburbs doesn't have to suck. The beer-steamed mussels and Three Floyd's Gumballhead on tap don't hurt, either.
LaGrange, IL
Palmer Place (Palmer's, to locals) has been a beer bar since the days when a good beer selection meant having a bunch of imports. As the beer scene's evolved, so have they, with 39 taps and 300-plus bottles now just as stacked with fine American crafts as they are with German and Belgian brews. The real star of the show here, though, is the three-tiered back patio that operates at a constant buzz when the weather cooperates.
This list -- and all the rest -- look even sexier in our iPhone app. Get it now!
Matt Lynch is a Senior Editor at Thrillist who will have to change his Twitter handle if he ever moves to another city, because it's @MLynchChi.
Jay Gentile is the publisher of Chicago INNERVIEW Magazine and a Chicago-based freelance writer who has plenty of room in his 1997 Nissan for you on his next road trip. Follow him @innerviewmag.