The Best IPAs in Chicago, Ranked by Local Beer Experts
Lynn Millspaugh/Thrillist
Chicago is home to some heavy-hitting brew culture. We're even home to the prestigious Cicerone Certification Program (they're like sommeliers, but paunchiness is more acceptable). So it seems only natural to have three Chicago cicerones converge at The Beer Temple to blindly taste-test the city's best IPAs and crown an overall winner, which is what we did. Here's how it went down.
The judges:
Christopher Quinn: Owner of The Beer Temple and host of The Beer Temple Podcast
Elliott Beier: Beer buyer, manager, and bartender at Owen & Engine
William Moore: GM at Riverview Tavern; craft beer consultant

The method:
Twenty IPA-style beers were blind-tasted in batches based on appearance, aroma, and taste and given scores of 1-5, which were then added up for the final tally. Not all of the beers were American IPAs approved by the Beer Judge Certification Program, and the list only included styles available in bottles and cans, so sorry, no growlers. Take into account that beers were also not aged equally, which may also have influenced final scores (hop-centric beers should be enjoyed in the first 15-30 days, so stop hoarding your hoppy beer).
20. Marz Brewing Lumpen IPA
Malty IPA that includes unique hop varieties like Citra, Simcoe, and Sorachi Ace (ABV 6.5%)
Chris: "Definitely get some red apple and dried fruits on the nose, but it's odd, almost cocoa and tobacco. I'm trying to figure out what is going on."
Elliott: "Tastes a bit like over-steeped black tea and cocoa. Nose is great but not really getting that IPA style."
Will: "The color is way darker than many, and it has a bit of a tar and hot bitter taste."
19. Lagunitas IPA
American IPA made with 43 different hops and 65 various malts (ABV 6.2%)
Chris: "Has a slight cornflake and orange marmalade aroma. Did get some oxidation and an interesting peppery thing."
Elliott: "You get a lot of that orange and papaya, but I didn't get oxidation. I enjoyed the balance but wanted more bitter on the finish."
Will: "Has a nice golden color; prominent malt. I wasn't not impressed, but it feels flat on most fronts. Might not be super fresh, though."
17. (Tie) 5 Rabbit Lulo Galáctico Telefantástico
Double IPA made with lulo -- tropical fruit in the tomato family that's popular in Colombia -- and Galaxy hops (ABV 8%)
Chris: "I'm getting huge peach and peach nectar, fruit peel for sure, sage, and an herbal thing, too. Also exotic hops."
Elliott: "What hit me right away was the fresh-squeezed juice -- kind of breakfast-y. Parm cheesiness cuts through what is going to be a refreshing beer. It's savory."
Will: "I get overripe banana, cheesiness, Parm, and tangy on the palate. It's a little bit astringent."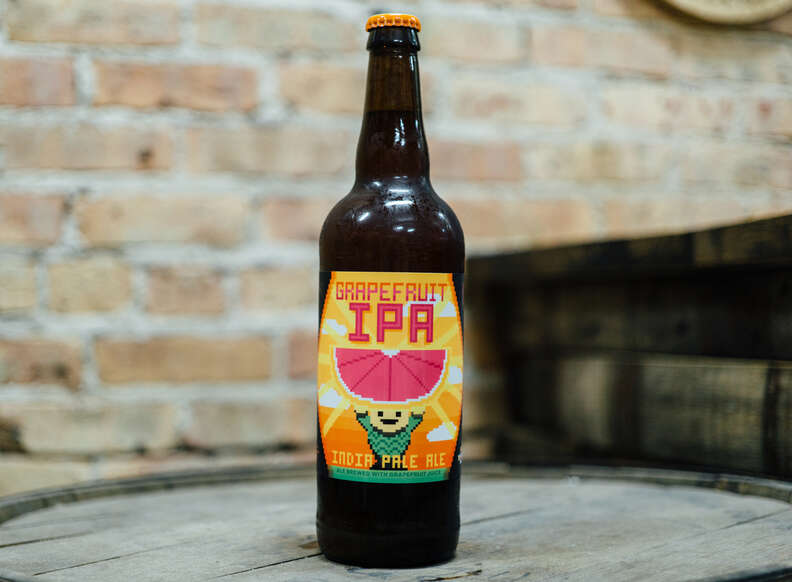 17. (Tie) Arcade Brewery Grapefruit IPA
IPA featuring citrus hop aroma and the addition of grapefruit (ABV 6.3%)
Chris: "Hazy -- smells like yuzu. Very citrusy and lemon-limey. This one was sort of wacko. If it's not fruited, it's infected."
Elliott: "Despite all its weirdness, it's refreshing because of its acidity."
Will: "Ton of yogurt and cherries. Definitely sticks around for a while. As far as an IPA, it doesn't have the virtues. It's very unusual."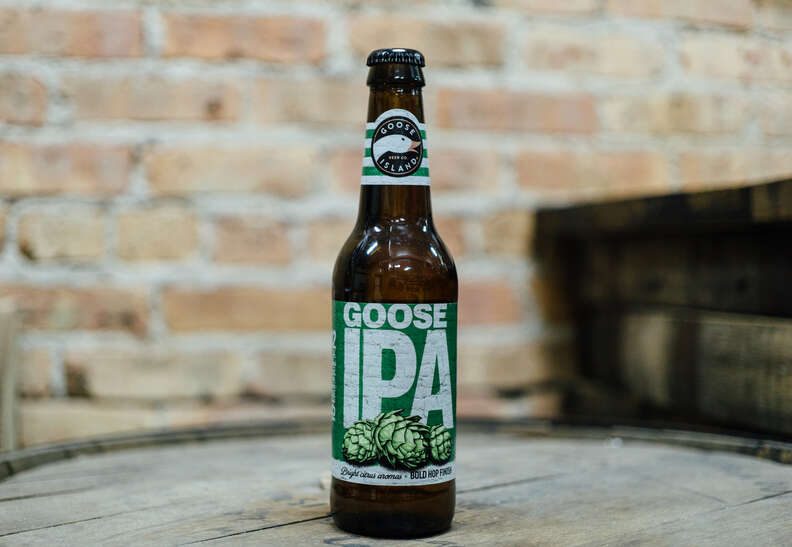 16. Goose Island Goose IPA
Goose Island flagship IPA featuring Pilgrim, Styrian Golding Celeia, Cascade, and Centennial hops (ABV 5.9%)
Chris: "I'm getting circus peanuts and marmalade. It was light and mild."
Elliott: "It's got a eucalyptus thing in the background. Very floral and oddly dusty; distinct minerality on the finish."
Will: "Candied lime on the nose. Less going on there than others. It's a lighter style."
14. (Tie) Wild Onion Misfit
American IPA with Centennial and Citra hops (ABV 6.5%)
Chris: "Getting a lot of floral and soapy and underripe fruit. The finish ended quick."
Elliott: "It had a nice splash on the nose and fruit on the palate. Starts beautifully but not a lot of finish. Might not be as fresh, but it's drinkable."
Will: "Onion and pine notes, white pepper on the palate. Finishes pretty clean. Not bad."
14. (Tie) Atlas Brewing Co. Rookery Rye
American IPA with citrus and floral hops and rye malt (ABV 6.7%)
Chris: "Olive, briny, floral, vegetal... I'm not so sure about it."
Elliott: "It smells and tastes like if you're standing outside the brewhouse while they are making the beer. A little fruity cream, like Grape-Nuts. It's so weird, yet interesting. It stands out."
Will: "It taste like wort. Has a nice mouthfeel, but a weird backing spice note. It's very interesting. It's got some bitterness at the end."
13. Revolution Anti-Hero
American IPA brewed with Warrior, Chinook, Centennial, and Amarillo hops (ABV 6.5%)
Chris: "Clean lemony aroma, great color. It's a bit reedy like a piece of lemongrass might feel. It's too bitter for me."
Elliott: "Started off mild in aroma, might be suffering from age. The aroma is much more mild. Headed in the right direction, but aroma was so mild."
Will: "Lemon/lime nose, maybe some Pine-Sol in that. A little sharp and inelegant on finish, but not bad."
12. Two Brothers Wobble IPA
American IPA bordering between hoppy and sessionable made with citrus hops (ABV 6.3%)
Chris: "Old and oxidized; woody."
Elliott: "A little old. I like the initial balance and am looking past the oxidation and what I interpreted what the brewer was going for. Might not have been a fresh sample."
Will: "Smells like honey biscuits, jam, and cheese. Funky and sweeter. Moderately satisfying. Definitely a little old."
11. Pollyanna Lexical Gap
American IPA brewed with Citra, Centennial, Simcoe, and Columbus hops (ABV 7.6%)
Chris: "Grapefruit, ruby red, green onion, a bit of hops on the taste. Almost tannic and astringent. A bit reedy. Liked the aroma, but flavor didn't follow through."
Elliott: "Great balance, kind of dry. Hoppy in the back end, but you could drink it all day."
Will: "Stone fruit, citrus undercurrents, brown sugar on the palate. I didn't think it was an IPA, but it's a solid beer."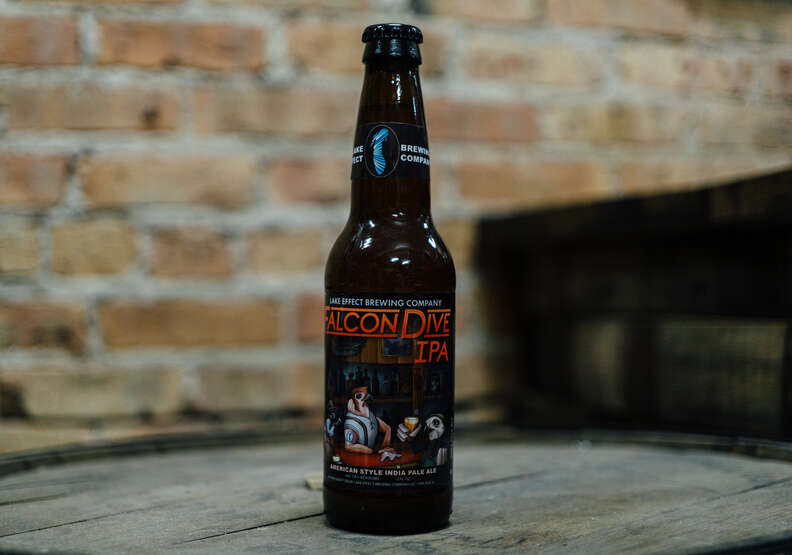 10. Lake Effect Falcon Dive
American IPA dry hopped with Falconer and Citra hops (ABV 7%)
Chris: "Super juicy and fruity, very hazy. I was getting a lot of bubblegum. Pretty good. Tastes like the flesh of a tropical fruit."
Elliott: "I get banana right away... I can see papaya, very much papaya. A bit of a sulphur-y back end. Sugar cookie malt. That banana keeps hitting me."
Will: "Rustic grapefruit and pine and almost a slight rubbery bite. It's got appropriate bitterness and body."
9. 3 Floyds Gumballhead
American wheat pale ale brewed with Amarillo hops (ABV 5.6%)
Chris: "Bright fruit, lemon and lime for days. Super hoppy."
Elliott: "It's got a waxy round edge and a candy citrus sweetness. Oniony on the nose. I'd drink it, but probably not going to go back for a six-pack."
Will: "I'm getting strawberry and lime. Clean body, light bitterness, but there's something about it I just can't get over."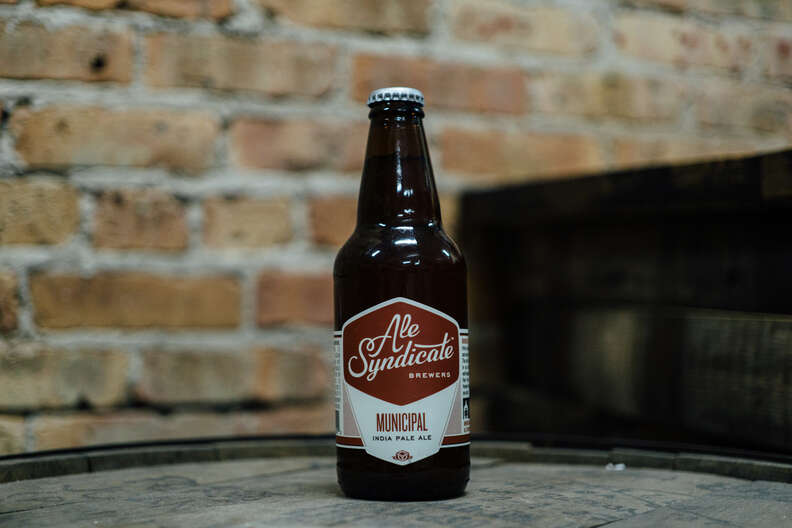 8. Ale Syndicate Municipal IPA
American IPA made with all-Cascade hops (ABV 6.2%)
Chris: "Little bit of stewed malts and tons of lavender. Light bodied, oxidized grain. Just so floral and lavender. Kind of smells like bar soap."
Elliott: "Really perfumey; that first sip is all perfume. It's really weird. Reminded me of ripe cherries... I like it but I don't, but I keep coming back to it."
Will: "It's definitely got some serious complexity to it, floral notes and a citrusy undertone. I thought English for sure."
7. BuckleDown Belt & Suspenders
American IPA with Nugget, Crystal, and Sterling hops (ABV 7%)
Chris: "Peach and very fruity. A bit of toasted cereal. Solid beer."
Elliott: "A little vegetable, well rounded and bright. Pretty nice beer."
Will: "Almost had a saline quality. Pretty clean. Good beer."
6. Spiteful Brewing Spiteful IPA
American IPA brewed with Amarillo hops (ABV 6.2%)
Chris: "A little yeasty and musty. It's having some... yeast issues."
Elliott: "This one was cool. So juicy -- really juicy and mellow. It's wonderfully dry. I like it a lot."
Will: "Finishes sharp and clean, very mellow."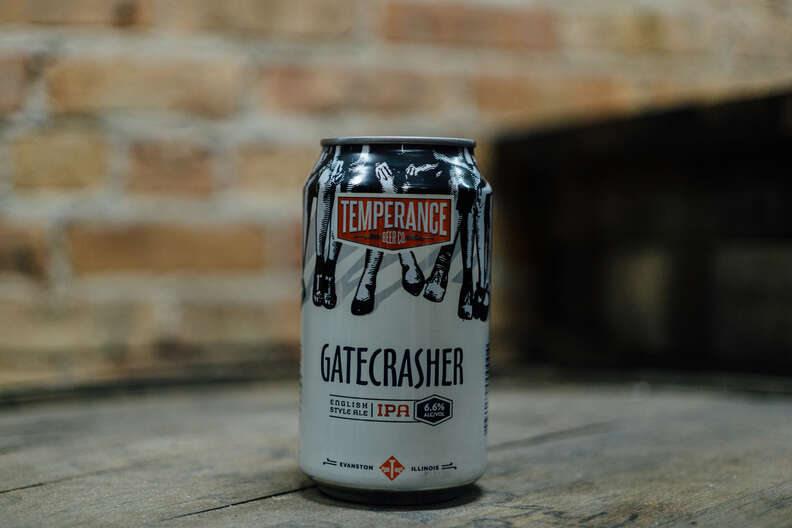 5. Temperance Gatecrasher
English IPA from Evanston's premiere craft brewery (ABV 6.6%)
Chris: "Lots of peach and peach blossom and tea. Toast and floral flavors on the palate. A little bit of sweetness, but I liked it. Like an old-school APA."
Elliott: "It was rich in the body, which was interesting. I can see where you are going with the tea, but I get a kind of yogurt-y twang."
Will: "Lots of apricot and stone fruits -- sweet on the palate."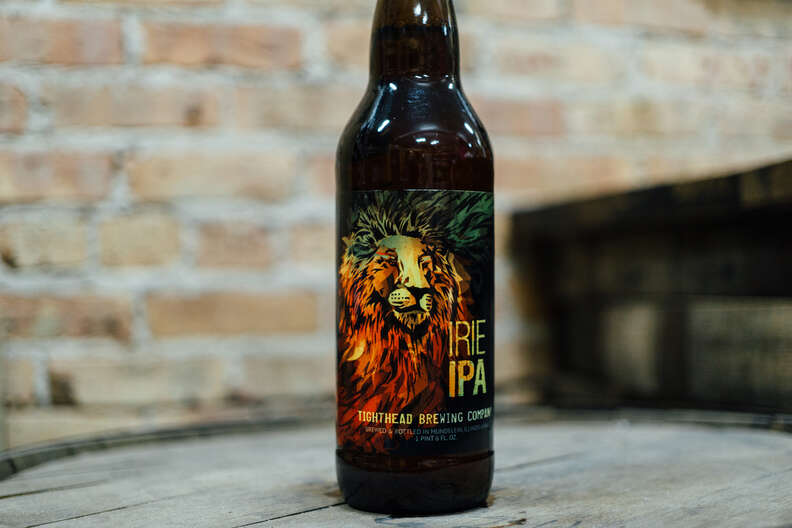 4. Tighthead Irie IPA
American IPA brewed with Simcoe, Centennial, and Columbus hops (ABV 7.8%)
Chris: "Very woody. I couldn't make up my mind if it was a fresh English beer or an old American IPA."
Elliott: "Really fruit forward... the malt character is much richer. It's got that stone fruit, orchard fruit thing going on. It's really tasty."
Will: "Strawberries, spice, wood. It doesn't seem as fresh, but it does have some interesting notes going on."
3. Pipeworks Lizard King
American pale ale brewed with Mosaic and Amarillo hops (ABV 6.5%)
Chris: "Little bit of pine citrus, weed. Very nice and drinkable. Very solid. I liked it."
Elliott: "Kind of catty. There's something deep in the nose, like a fresh open box of latex gloves. Long lingering bitterness. Lean and light bodied. It's interesting."
Will: "It's not as aggressive, but very nice. Limey notes. Very clean and refreshing."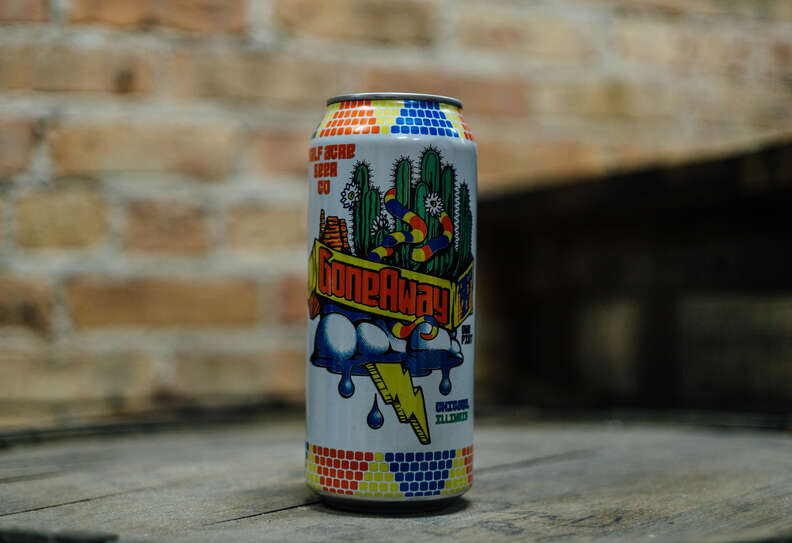 2. Half Acre GoneAway IPA
Seasonal American IPA brewed with Simcoe and Galaxy hops (ABV 7%)
Chris: "This one had a nice combination of tropical and slightly woody flavors. Little bit of malt and body, was just slightly thin but clean."
Elliott: "Kind of hazy, or it's unfiltered -- a little more protein in a glass. Bright pine, apricot skin, tangerine. Astringent on the back end but still nice, crisp, and dry."
Will: "Strong notes, herbaceous action going on. Dank and hoppy character."
1. Une Année Hopsurd
West Coast-style American double IPA that uses 5lbs of hops per barrel (ABV 8.5%)
Chris: "Really complex. A limey-citrus thing going on, hint of chive, toasted malt, and green onion. Very well made."
Elliott: "Instinctively has a woody bitterness that is so Chicago. Grapefruit and juicy kumquat. Long finish, but good balance. I can drink a lot of that."
Will: "Bursting with citrus, clear minerality on the nose. Smells like a wet rock. Really bright citrus notes in it. Slightly sweeter. Well balanced. Really solid beer."
Sign up here for our daily Chicago email and be the first to get all the food/drink/fun in town.
Brandy Gonsoulin is a food and beverage writer and co-founder of Daily Urbanista. Her work has also appeared in Gapers Block and the Chicago Tribune.