When you get down to it there is no wrong time for a margarita. It may be a favorite of beaches and summer patios, but it warms the heart just as well in January as July. Thankfully Chicago's Mexican restaurants and the cocktail revolution have blessed us with a bounty of bars, restaurants, and taco joints that serve up five-star margs from the classic lime to more imaginative creations. Take the edge off with one of the 13 best margaritas our city has to offer.
Pilsen
"Pilsen" and "tequila bar" is a word combo that is going to raise expectations. Well you can keep them raised because Del Toro may just have the best selection of margaritas in the city. There are 19 (!) flavors to choose from, including four rotating seasonal selections, ranging from simple variations that add a splash of coconut cream or pineapple, to more intense mixes including hibiscus syrup and grapefruit juice or chocolate cream and RumChata. Those people who say too many choices make us unhappy are damn liars.
Lincoln Park
Simple, classic, and moderately priced Mexican dishes have kept Lincoln Park locals frequenting this this casual spot for years, but true fans know the margaritas are the star of the show. Just like the rest of the joint they are no frills, just delicious and strong, delivering the goods in a variety of flavors like mango, banana, and tamarind (although you won't regret the go-to lime). If that isn't good enough for you, drinks and pitchers are half-off Tuesday and Thursday.
Wicker Park
Wicker Park's most charming counter spot for Mexican munchies and inventive margaritas is worth a layover for any tequila lover. They have a rotating menu of seasonal specialty margs like blackberry lemon or papaya cayenne that always delight. And while those alone would be enough to recommend it, the house specialty rosemary margarita seals the deal, adding a bit of sweet orange juice and herbal goodness to the classic drink.
Andersonville
The first thing you notice when gearing up for a drink at Cescas is that large is the smallest option, and let us assure you they are not kidding. The massive margs deliver great bang-for-the-buck with enough tequila to knock out a linebacker, so you better bring your A-game. All this would be for nought if they weren't damn good too, but they are, with the frozen coconut being the best of the bunch. Don't forget to try and snag a spot on one of Andersonville's nicest patios while you're there.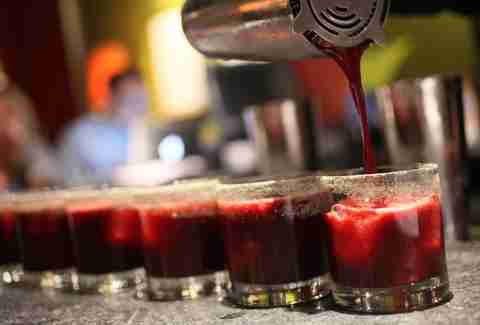 River North
Would you expect anything less from Chicago's reigning three-decade king of Mexican cuisine? The margaritas at this Chicago staple are perfectly balanced between sweet and sour, strong and drinkable. It's tough to pick just one of their great concoctions to recommend including the ($35!) splurge margarita, but go with the XOCO which is elevated by the sleek and subtle additions of orange liquor and cucumber.
Bridgeport
The front windows of Maria's wood-paneled storefront are filled to the brim with bottles of liquor and beer, a not-so-subtle hint as to where your priorities should lie on a hot summer day in Chicago. They deliver that first impression in spades with expertly tuned classic cocktails of all varieties, but reserved special care for their margarita, which mixes smoky mezcal with spicy simple syrup and the essential tequila and lime to form one of the cities best hybrid margs.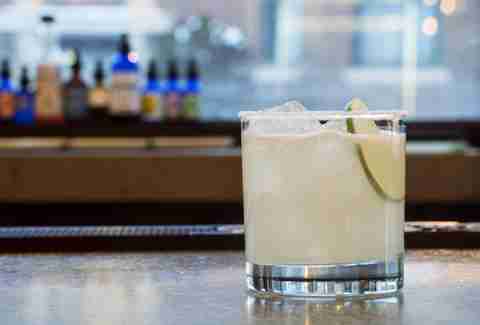 Logan Square
The good people at Masa Azul are doing a great service for our city, taking tequila and mezcal as seriously as most bartenders take a great bourbon. They stock over 90 varieties of tequila alone and sink that knowledge into some of the best agave cocktails around. Of course they have a bunch of great margaritas to choose from, from spicy to clean and citrusy. Start with the Gypsy and its dash of maraschino and move on from there.
West Loop
If superhero cartoons and sitcom crossovers have taught us anything it's that few things are more pleasing than when two old favorites join forces. This goes double at más where the refreshing power of margaritas and watermelon in summertime come together. While other places might throw out a too-sweet watermelon marg drowning in artificial flavor all you get here is the crisp goodness of the fresh stuff. Balanced it with the slightly bitter orange of Aperol and you end up with a new favorite for a humid July evening.
Wicker Park
It's easy to get righteous and bemoan the corruption of classic drinks by these pretentious too-fancy-for-their-own-good bartenders, with their weird ingredients and non-sensical combinations. Easy, but wrong. For vindication of our current obsession with not leaving well enough alone head to Takito Kitchen on Division. It features six different variations on the margarita, all more than worthwhile. The cucumber is exactly what you would want and expect from that combination, and the pineapple serrano simply knocks you out with a left hook of tropical flavors.
Lincoln Square
While we will extoll the virtues of innovative, upscale margarita flavors all day sometimes you just want to sit next to a brick wall with a Mexican mural on it, eat a huge plate of enchiladas, and pound some classic margs. Well this local Lincoln Square spot may not have the street cred of either a true dive or a hot new joint but it has those three things done right. At Garcia's the drinks are big, cheap, and strong and taste like best margarita you had in 2003 (this is a compliment). Sometimes you do have to go back to basics.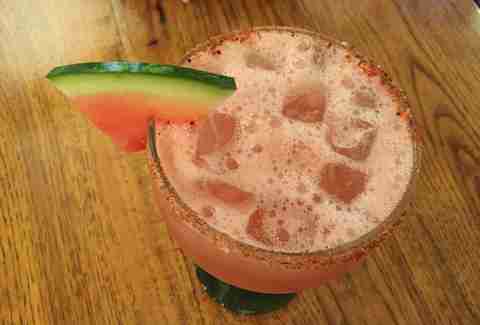 Edgewater
Mas Alla del Sol has quickly become an Edgewater favorite since opening a few years ago and it is not hard to see why. Straddling the line behind trendy higher-end restaurants and more traditional fare, everything on the menu is a testament to the simple philosophy of cooking with high-quality ingredients and soul. Of course we are here to talk about margaritas, but that philosophy flows through them as well, nothing crazy or daring, just really damn good in a variety of great flavors including the fan-favorite blood orange.
Logan Square
An upscale Mexican experience from the people who brought you Cafe Con Leche, De Noche mixes flavors from all over Latin America and let's you wash them down with margaritas that keep Logan Squarites (Squarians?) coming back over and over. They have a great classic with their own citrus mix as well as variations like blackberry and guava. For something more out the ordinary the the Oaxaquita which adds a chili spice kick and is a favorite of regulars.
Pilsen
Perez is the kind of place that draws people to Pilsen, an unassuming local joint with a long affordable menu of tasty Mexican-American staples. It feels like the kind of place you are supposed to be drinking a margarita, even if you're downing eggs and chorizo at 10am. There isn't a huge selection -- lime, strawberry, and mango pretty much round it out -- but they are made with fresh ingredients. Enough of the sweet stuff to make it refreshing without skimping on the tequila, the way a marg was meant to be.
Sign up here for our daily Chicago email and be the first to get all the food/drink/fun in town.