The 11 best patios for working remotely in Chicago
The "from home" part of "working from home" is really more of a suggestion than a mandate. A mandate would be saying something like, "If you're gonna work from home, you have to do it on one of the 11 best patios for working remotely in Chi, which we're about to list out for you now. Don't let us down".
East Village
This all-day restaurant doubles as a coffee shop during the day, when its light, airy interior (and quaint exterior) offers a sweet alternative to the standard coffee house mish-mash of questionably interesting art on the walls. Best of all? Because it's a little off the beaten/loud path, you can finally organize your neglected Gmail inbox without any excess distractions.
Humboldt Park
Ditch the Wi-Fi and take a late afternoon business meeting in the new back patio of Sportsman's Club. The space doesn't fill up until later in the evening anyway, giving you time to mix one of the signature house cocktails with plans to take over the business world with a new investor.
 
Wicker Park
There are patios, and then there's Caffe Streets' patio. Large and spacious, the front-facer offers some of the most pristine views of Division Street. And like its weirdly captivating interior, the patios' long communal tables and sturdy benches are equal parts striking and comfortable. 
Lakeview, Edgewater
Uncommon Ground both started and perfected the "alternative to coffee shop" trend, and it's got multiple locations to prove it. The barstaurants open at 9am during the week, and feature a variety of drink specials (Whiskey Wednesdays, $7 martinis), so you can turn your "long afternoon lunch" into an all-day drinking and working lunch.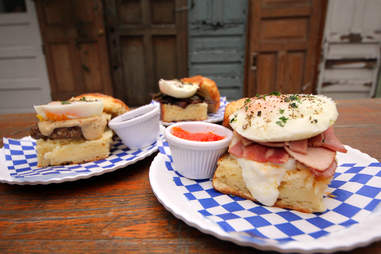 Sean Cooley
Logan Square
Is there anything better than pie for breakfast, or lunch, or dinner? Maybe... pie and biscuits for breakfast, or lunch, or dinner? Thought so. Enter Bang Bang, where you can both 1) get your fill on a big back patio, and 2) make all your co-workers supremely jealous that the majority of your Gchat is focused on your eating candied bacon outside.
West Loop
This mecca of meat and Italian groceries has been a mainstay for West Loop residents and workers for years. Now, with a small, shaded side patio and free Wi-Fi, the space has become a hub for work-from-homers. Grab a delicious Italian sub and get to work… that is, if you're not in a food coma.
 
West Loop
The loft-like layout of this open cafe is the perfect complement to the industrious landscape of the West Loop. Settle in during the late afternoon on the small patio seats for Wi-Fi and quick, early-evening access to the area's always-intriguing nightlife.
Museum of Contemporary Art<br /> &nbsp;
Streeterville
If you're not a member of the MCA, you should be. But if you're looking for a little culture without dropping too many bucks, head to the museum on Free Tuesdays. The cuisine at Puck's Cafe is your standard fare, and the Wi-Fi is solid, but the view of the sculpture garden is the real sell.
West Loop
It's nearly impossible to get a seat at Little Goat in the evenings, but this refined diner is an easy-to-navigate jewel during the day time. Try to get a spot on the rooftop patio, where you can conduct an hours-long Hangout with your fellow telecommuting coworkers, all while dissecting a scallion pancake and taking long glimpses of the best skyline in the world.
 
The Loop
The Chicago Cultural Center is one of those buildings that you regularly walk by, admire from afar, but never enter. Thing is, you probably should: The Randolph Square and the outdoor steps section is a lively area of the center that's close enough to wherever the router is to get connected, plus sports some of the city's best people-watching.
The Loop
Once you've gotten your fill of the Harold Washington Library's exterior (Gothic gargoyles! Imposing red brick!), step inside of this majestic and massive structure and find a cozy corner to get to work. Though not technically outside, we're especially in favor of checking out the ninth floor, home of the Winter Garden -- a little mini-oasis in the middle of the Loop.
This list -- and all the rest -- look even sexier in our iPhone app. Get it now! 
Britt Julious is a born and bred Chicagoan with a love of dance floors and cider. Follow her witticisms and criticisms @britticisms.