Face it, you're gonna be mailing it in at work during the first two rounds of March Madness, anyway; might as well call in sick with a very real-sounding disease that's untraceable on WebMD (like plumeria or super diarrhea) and duck into one of Chicago's five best sports bars (with AM hours!) for the tourney (oh, and if you're looking for where to root for Michigan, Michigan State, Wisconsin, Ohio State, Iowa, or Nebraska specifically, you might want to check out our Big Ten Chicago bar guide over here).
Recommended Video
Stay Classy This Winter With a Spiced Pear Tom Collins
Joe's Bar (click here for address and deets)
Near North Side 
You'll be surrounded by 120 plasma TVs and five HD projection screens inside two main rooms that fit up to 1,000 fans. They'll have March Madness swag, a bracket challenge (last year's prize was a full-sized Pop-A-Shot), a guest panel of sportswriters breaking down the bracket on Tuesday, beer specials, and smoked chicken wings. For AM tournament start times, grab a Bloody Mary garnished with fried pickles -- we know how much you love ridiculous Bloody Marys.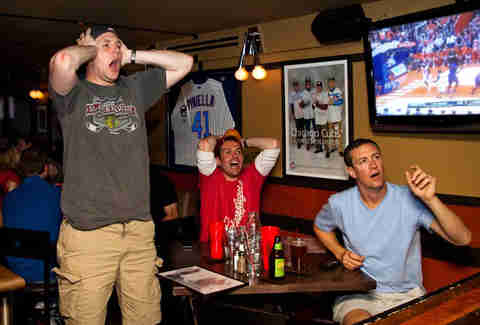 The Fifty/50 (click here for address and deets)
Wicker Park
With 25 TVs playing games in three bars on three different floors, you'll have plenty of room to sneak away and call your bookie/offshore betting agency in Antigua. Even when your bracket is blown to hell in the first hour (damn you, Dayton!!!!!), The Fifty/50 can comfort you with $2 domestic bottles, $5 Templeton Rye shots and maple-cinnamon brined & smoked chicken wings.
American Junkie (click here for address and deets)
River North
Hello, BIGGEST TV IN THE MIDWEST. No joke, this bar has a 16x8ft 1080i LED screen on the second floor sunroof loft that'll be showing parts of the tourney, so you can root for NC Central (Go North Carolina Eagles! Yes, that's really their mascot!) in style, while downing any of the 26 beers on draft along with the requisite chicken nachos and BBQ wings.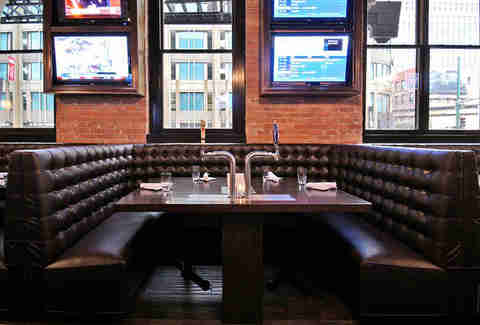 Bull & Bear (click here for address and deets)
River North
With table beer taps, you won't have to worry about flagging down a waitress amongst the throngs of people rooting for an Eastern Kentucky upset. Pour your own Goose Island, Bud, Guinness, Hoegaarden, or Stella drafts (there are 110oz pilsner glasses available!?!), watch alllll the games on their 25 plasma screens, and put down salami sliders & DIY chili, like the salami-slider-and-DIY-chili-eating boss that you are.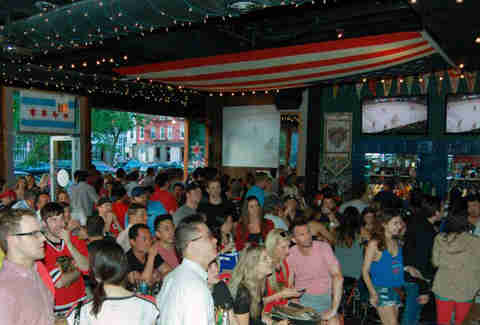 The Anthem (click here for address and deets)
Ukrainian Village
This throwback sports bar is decked out with vintage lockers, a trophy shelf, two giant projectors, and four 50in TVs. Look for open-air seating later into the tournament, 11am openings on weekends, and a well-rounded beer list to complement their stuffed Juicy Lucy burger and Cholula Buffalo drumettes.
Sean Cooley is Thrillist's Chicago Editor, and he lives his life by Anthony Kiedis lyrics. Follow him @SeanCooley.