Chicago's 5 weirdest beer flavors, from popcorn to pizza
Finally taking beer ingredients to the next-est of all next levels, these five local Chicago brewers save you the trouble of having to decide what beer goes best with your pizza/popcorn/habanero peppers by simply jamming all those ingredients into their beers. Here, for your drinking pleasure, are five super-weird, locally brewed beers: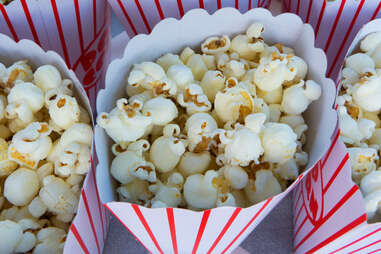 Keep It Copacetic
Middle Brow Beer Co. (address and info)
What it tastes like: popcorn
Inspired by the Mexican corn-on-the-cob-style street food known as elote, this collaboration with ManBQue is a creamy ale (brewed with popcorn, lime juice, and peppers) that made a big splash at Beer Hoptacular. And with half of its profits going to charity, you can do good while drinking well.
Mamma Mia! Pizza Beer
Mamma Mia! Pizza Beer (address and info)
What it tastes like: pizza
Developed in a home brewery by a Kane County couple, this beer uses tomatoes, oregano, basil, and garlic to create a beer that tastes (and smells) like -- you guessed it -- pizza! Having brewed in collaboration with Wisconsin-based Sprecher thus far, the couple is currently looking into building their own facility. God bless them.
Girl & The Goatee VIII
Haymarket Brewery (address and info)
What it tastes like: grape juice
What happens when Stephanie Izard and Haymarket owner Pete Crowley get together to talk beers? All sorts of weird stuff, including their most recent collaboration, which features the mixing (and crushing) of 500lbs of tart grapes from Klug Farm with Biere de Garde yeast.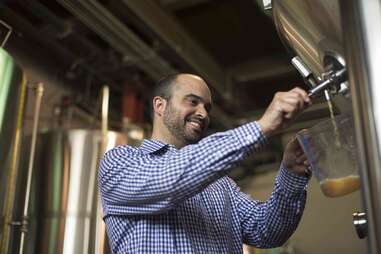 Moody Tongue brews
Moody Tongue Brewing Company (address and info)
What it tastes like: various flavors
Former Goose Island brewmaster/Culinary Institute of America graduate Jared Rouben is reinventing brewing in Pilsen's Glass Factory with one-of-a-kind "liquid dishes". His culinary approach to brewing blends everything from bubblegum plums to habanero peppers for a full meal of beer.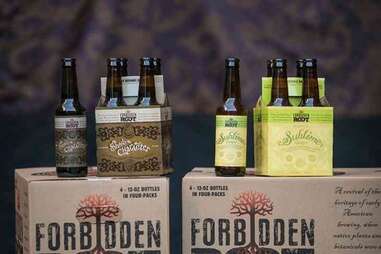 Forbidden Root
Forbidden Root (address and info)
What it tastes like: root beer
The country's first "botanic brewery" takes an all-natural approach to brewing, using ingredients like stems, seeds, and beans to create the original root beer -- which's also infused with 20 native plants and botanicals including wintergreen, sandalwood, and patchouli. A local brewpub is planned for 2015.
Sign up here for our daily Chicago email and be the first to get all the food/drink/fun in town.
Jay Gentile is the publisher of Chicago INNERVIEW Magazine and a Thrillist contributor. Follow him on Twitter.