You can do a lot of stuff when you turn 30 that you couldn't do in your 20s, like buy furniture not from IKEA, or look at pictures of all your friends' babies/dogs/weddings on Facebook, or have hangovers that last two days. One thing you can't do when you turn 30, though? You can't go to any of these 10 Chicago bars. No dude, no exceptions.

Lincoln Park
There's a reason bars like this attract almost exclusively kids right out of college, and that reason is that they enjoy... a-hole doormen, terrible music, and 20min waits for watered-down vodka tonics. Unless you're still in college at 30 (wait, you aren't, are you???), you shouldn't be here. No, not even if you have your sweet vintage Indiana tee on.

Lincoln Park
Beaumont might cease to exist without The Store. They're sort of like the bad decision version of yin and yang. The difference is the fact that at The Store you can 100% guarantee there will be drama. It'll come. Just give it a minute. Annnnnd there it is. As Roger Murtaugh would say, "You're getting too old for this shit."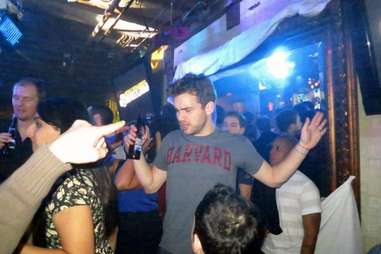 Lincoln Park
Just like our apartment, The Apartment is filled with random furniture of questionable degrees of cleanliness. Unlike our apartment, you'll actually find women here, since they turn out in droves to dance to cranium-penetrating club hits. Also, there's a Saturday night show where washboard-abbed men gyrate all over the place. If you wanted to feel like the oldest dude at a party, you'd come here. (Editor's Note: you don't want to feel like the oldest dude at a party, don't come here.)

Loyola
The Hamilton's days of 10-cent wings and back-room bashes where girls would grind finer than coffee are gone, having given way to a more refined atmosphere at Bar 63. Yet, no matter how many tufted leather sofas you pack into this place, you can't change the fact that it's a stone's throw from campus. Weekends still draw crowds of oh-my-god-they're-so-thirsty college students and the infamous, offensively tagged condom machine continues to elicit giggles in the men's bathroom. You're too old to giggle, aren't you?
Lincoln Park
There are plenty of Lincoln Park bars where kids push their livers to the brink, but, unlike the typical sports bar/Irish bar boozefest, Maxbar is a "nightclub" that's open until 4am. If you did go here (even though, again, you're completely not allowed to anymore) you'd spend your night yell-talking to people who will definitely not get any of your pre-'90s references because THEY WEREN'T ALIVE YET.

Lincoln Park
Late nights here have a way of devolving into messy-haired girls frustracrying about their cracked cell phone screens. Read that again, and then tell us you still want to go there. Yeah, didn't think so.
River North/Wrigleyville
While the most notorious of Barleycorn's three locations (the Lincoln Park, naturally) shut down last year, that still leaves two Barleycorn locations for you to shout-talk at frat dudes in Abercrombie while pretending to read texts on your phone as you wait for the ever-so-merciful last call to emancipate you from this post-collegiate hellscape. See, there are good things about turning 30. Like not having to do that.

Lincoln Park
Much as Beaumont and The Store are nearly indistinguishable in both proximity and clientele, same goes for Kelly's and McGee's. There's also Marquee, State, Kincade's, Kelsey's, Halligan, and any number of cookie-cutter DePaul bars, all within stumbling distance. But if you find yourself anywhere near the Kelly's/McGee's vortex of idiocy on St. Patrick's Day (or feel the urge to go down this route any other night of the year), don't. Your over-30 liver will thank you tomorrow morning.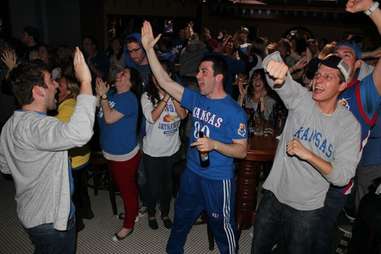 Lincoln Park
From the 60oz fishbowls, to the boozy slushies, to the cheap daily specials like 40-cent wings and dollar burgers, it's a wonder you're allowed in this bar after 25 even.

Loyola
Okay, so you technically ARE allowed in this place when you turn 30: you can actually stop in early for some solid wings and other bar food. You're just not allowed in after that. Make sure to hightail it before the college crowd drops in to drink too much beer too fast.
Sign up here for our daily Chicago email and be the first to get all the food/drink/fun in town.
Raf is a long-tenured Baratheon loyalist and Point Break apologist. You can check out his weird-smelling blog Alley Connoisseur, and follow him at @RafFoSho.
Jay Gentile is Thrillist's Chicago Editor and is missing college right about now. Follow him @ThrillistChi.