No matter how much liquid courage you've downed, it's never a great idea to hit on your bartender. The best case scenario is that the barkeep manages to keep his or her dignity while also accepting your generous "will you date me?" tip money. You should be kind to your cocktail-makers, they're caged up for a full shift after all. But don't veer into creep territory and especially don't turn into one of these 10 pickup-line horror stories from local bartenders.
"Are you ovulating?"
Brittani Van Dyck
The Fifty/50 (address and info)
"There was this one older gentleman that came in one day. He looked like he was in his 50s, and he was all blinged out. He was feelin' himself.
"'Come talk to me,' he said. He pulled me over and grabbed my hand and said, 'Are you ovulating? I can sense it. I am going to mentally impregnate you.'

"I felt mind molested."

Have a seat
Piers Smyth
Virgin Hotels (address and info)
"Our bar back began removing bar stools to prepare for the after-brunch service. A woman approaches me at the bar: 'Well it looks like the only place left for me to sit is on your face.' The woman's daughter spits her drink and says 'MOM! We were literally just at church.'"

Next-level punniness
Joey Belgio
Citizen (address and info)
"I have had a girl hand me a screw and ask, 'Do you want a screw?' I did not."
"Do I need to call 911?"
Tommy Lansaw
Wood (address and info)
"You always get those typical ones, 'Did you fall from the sky?' Or the occasional corny/creative one like, 'I don't know why your name isn't on that bottle because you're the finest reserve.' But a couple years ago I had someone come up to the bar with a cup of melted ice and said, 'Hey, we have an issue here? You need to step away from the bar?' Thinking there was something wrong, I immediately thought I needed to call 911. Then they told me, 'You're melting all the ice.' Yikes."

You can't catfish a catfish (or can you?)
Zachary Ryan Lindner
Bar 63 (address and info)
"The creepiest or most bizarre time I got hit on was when I was working a Saturday morning, and these two guys were in. Super chill. We were watching Catfish and just talking about if we got catfished.

"One of the guys left me his number saying, 'You don't know which one left you this number so now YOU are being catfished.'"

This bar is NOT a swingers club
Ashly Dalene
Jerry's (address and info)
"I had just started working at my current bar job, and one of the first weeks I waited on a normal middle-aged couple. I didn't talk to them a whole lot, but when they left they had left their hotel room key in the checkbook along with a substantial tip.
"When I told the next bartender, he told me that only a few days before, another, different couple had also left a hotel room key, and seemed to be lingering around to see if he would take it from them before they left. He saw them put the key in the book with the check and decided not to pick it up until they left to avoid the awkward conversation that would follow.
"I was under the impression I may have been hired on at someplace that also catered to swinging couples there for a second. Almost a year later, another co-worker received a hotel room key as well, only it was from a table of about four different girls and he couldn't tell which one it was from. None of us took them up on it, for the record."
At least he's crafty
Sarah VonderHaar
Old Town Social (address and info)
"I had one guy try talking to me, and he gave me an origami bird made out of a dollar bill. Also, someone drew a dinosaur on a checkout receipt and left their number."

The artist
Jess Keene
Barrelhouse Flat (address and info)
"One night I closed a tab for this guy who, while signing his credit card receipt, kept glancing up at me. He had this 'I want to touch you' look in his beady eyes. After he left, I looked at his receipt and there scrawled across the top was his phone number, a crudely drawn illustration of a cartoon penis, and the words 'Call me if you want this!' Needless to say, I didn't want 'it.'"

Old men = creeps
Kamila Lakoma
John Barleycorn (address and info)
"This one old man always came in for one of the servers. He never drank, but would just come in and sit in her section. One day her section was full so he sat at the bar. He started asking me what I am doing with my life, and I told him I am going to nursing school. He said, 'You have really nice legs, I'm sure you will be just fine with your professors.'

"He kept coming in and asking the managers when I was working next and asked for my whole schedule. He happened to catch me on a Friday and said, 'I looked up where you go to school and drove by there, and it's a really nice campus.'

"He asked for my e-mail so I gave him my fake account that I give stores for coupons. He sends me a message right when he gets home that said, 'I will keep driving by DePaul wishing you luck and hoping I see you.' He recently sent another e-mail that said, 'Just thinking about you. Haven't seen your beautiful legs.'"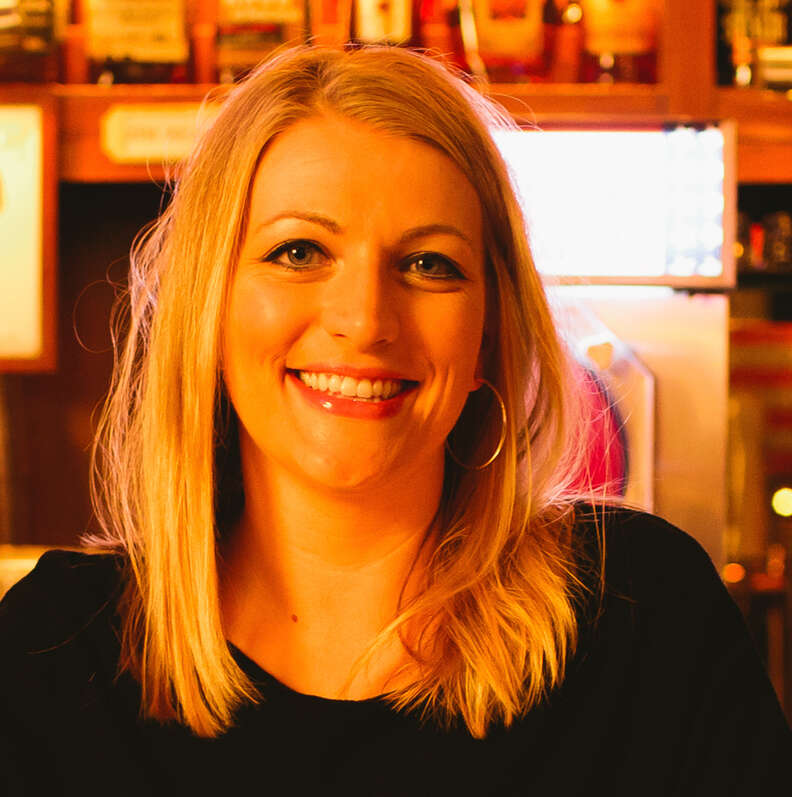 True (Oedipal) love
Diane Corcoran
Three Dots and a Dash (address and info)/Paris Club Bistro & Bar (address and info)
"Older man (to me): 'You remind me so much of my daughter... (in the same breath) want to go out some time?'"
Sign up here for our daily Chicago email and be the first to get all the food/drink/fun in town.
Brandy is a food and beverage writer and co-founder of Daily Urbanista. Her work has also appeared in Gapers Block and the Chicago Tribune.
Amanda Cohen is the marketing manager for Homescout Realty and is a huge fan of peanut butter, caramel apple suckers, thunderstorms, comfortable silence, and horoscope analyzing (she's a Capricorn). Follow her on Instagram at @apandakiss or check out her blog.