The best cocktails in town may seem difficult to prepare, but they don't have to be. Sure, you may enjoy an ice cube the size of your face in your drink from time to time, but what if you could craft well-balanced cocktails with a few ingredients at home? We challenged Chicago's top mixologists to develop inventive cocktails using only three components (aside from garnishes). The resulting drinks include a variety of spirits from bourbon and gin, to rum and mezcal, allowing you to get creative whether you're relaxing at home, or looking to impress guests.
Dionysus' Choice
"Dionysus' Choice features ingredients that are made from wine -- vermouth, sherry, and pisco. It is a simple, equal parts cocktail that allows each ingredient to shine. It is delicious when it is first poured over the ice and slowly develops in the glass as the ice melts." - Julia Momose, GreenRiver
INGREDIENTS:
0.75oz Carpano Bianco vermouth
0.75oz Lustau Amontillado sherry
0.75oz Pisco Porton La Caravedo
DIRECTIONS:
Build ingredients over cracked ice and stir.
Finish by expressing the oils from a grapefruit peel over the top of the drink.
Sometimes, It Takes Three to Tango
"My favorite 3 ingredient cocktail is a Manhattan. This is a play on the classic, with a warm spice flavor leading the path for the full-bodied rye." - Melissa Pinkerton, Beverage Director at The Betty
INGREDIENTS:
2oz Rittenhouse rye
.75oz Sorel liqueur
3 dashes Fee Brothers Molasses bitters
DIRECTIONS:
In an empty mixing glass, build the cocktail adding the bitters, Sorel and Rittenhouse.
Add fresh ice and stir. Usually 30 rotations will chill and dilute the cocktail to the optimal level.
Strain the cocktail into a coupe and garnish with an orange ribbon.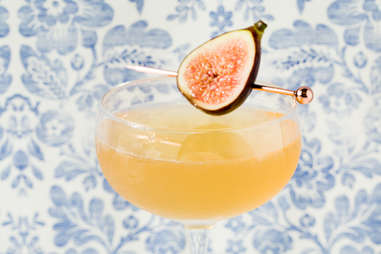 Fig Daiquiri
"Seedling Farms in South Haven Michigan had a really nice crop of Hardy Figs, so we thought it would be fun to incorporate some delicious local autumnal fruit." - Ben Fasman and Michael Rubel, Estereo
INGREDIENTS:
2oz El Dorado 5yr
3/4 Lime
3/4 Fig syrup
DIRECTIONS:
Shake well, strain, and serve up.
Roman Holiday
"The CH Amaro is one of the more complex and interesting spirits we create. The addition of honey, pineapple and a bit of soda mutes some of the intense bitterness of the spirit while still bringing attention to the flavors that most stand out: rich cocoa, grapefruit and anise. It turns this slow sipping Italian aperitif into an approachable, bright and refreshing cocktail." - Jack Galobich, CH Distillery
INGREDIENTS:
.25oz Honey syrup
1oz Pineapple juice
1.5oz CH amaro
DIRECTIONS:
Measure and pour each ingredient into a shaker tin, fill the other tin with ice.
Shake for 10-12 seconds then strain into Collins glass with ice.
Top with soda water, peel orange swath, express and garnish.
The Hanky Panky
"Quite possibly my favorite three-ingredient cocktail to make and drink. So simple to build, yet shockingly bitter and complex for a gin cocktail. One of the best things about it, is it's sure to satisfy your guests that are more often partial to bourbon or Scotch." - Eric Trousdale, Head Bartender at Arbella
INGREDIENTS:
1 1/2oz London dry gin
1 1/2oz Vermouth di Torino (or any sweet vermouth)
1/8oz CH Fernet-Dogma (Fernet-Branca works if not available)
DIRECTIONS:
Build over ice and stir.
Strain into coupe or martini glass.
Garnish with expressed orange peel (ideally flamed).
The Bitter Optimist
"This is a style of a cocktail that my first beverage director introduced me to. It's called a bitter sour. I love this drink because it takes all of the bitter, rich, and herbaceous qualities of Italian fernet and marries them with bright fruit and tart citrus to create a flavor bomb that continuously changes." - Scott LoBianco, Broken Shaker at The Freehand Hotel
INGREDIENTS:
2oz Fernet-Branca
1oz lemon juice
.75oz strawberry cordial
DIRECTIONS:
Combine all ingredients into a shaker tin and add ice. Shake well.
Fine strain into a chilled coupe. Enjoy. Repeat. Enjoy. Repeat. Enjoy.
Strawberry cordial:
In a sauce pot combine 2 cups water, 2 cups white sugar, and 1.5 cups diced strawberries. Bring to a boil and let simmer for 5 minutes. Blend everything and fine strain. Chill for later use.
Life Itself
"The name of this cocktail was inspired by the quote from the well known book, A Mariner's Miscellany by Peter H. Spectre, 'Bread is the staff of life; rum is life itself.'" - Jess Lambert, Head Bartender at Boleo
INGREDIENTS:
2oz Plantation Pineapple rum
.75oz Mate syrup
.75oz lime juice
DIRECTIONS:
Combine rum, mate syrup, and lime.
Shake over ice, strain, serve up.
Yerba Mate Syrup
2.5tbsp terba mate tea
2 cups granulated sugar
3 cups HOT Water
1 small lemon peel (optional)  
Combine loose tea with hot water to brew a strong tea. Let steep for 10 min.  Be careful to not over steep, as the tea will become tannic and very bitter.
Strain tea through fine mesh tea strainer, being careful to not press to hard or pass loose tea through the strainer.
Combine tea water, lemon peel, and granulated sugar in a sauce pan on medium heat, until sugar is dissolved.
Let cool, and refrigerate
Fresh Juiced Apples
"The Fresh Juiced Apples is inspired by a recipe gleaned from the Southern hemisphere's famously hot continent, Australia. The drink takes the most seasonal fall fruit to create a deceptively simple cocktail." - Billy Helmkamp, Co-Owner at The Whistler
INGREDIENTS:
One entire Granny Smith apple
1.5oz of bourbon or mezcal
Ice
DIRECTIONS:
Pour your choice of either bourbon or mezcal into a pint glass.
Juice 1 entire quartered Granny Smith apple (seeds and all) with a Breville or Robot Coupe-style juicer into the pint glass.
Mix in a mound of ice and enjoy!
Coffee and Cigarettes
"As an ex-smoker, I still crave the flavor combination of smoke and coffee. This drink nearly satisfies that craving and is reminiscent of my grandparent's house." - Alex Berns, Bar Manager at MONEYGUN
INGREDIENTS:
2oz Mezcal
1oz fresh espresso
.25 - .5oz house syrup (Demerara works)
DIRECTIONS:
Shake all ingredients.
Double strain into martini/cocktail coupe.
The Traveler
"Adding an herbal note to a Black Manhattan (using amaro instead of vermouth) has been one of my go-to's for Dealer's Choices for awhile. Lately I've been subbing French amer for Italian amaro. It's higher proof so it doesn't drink quite as heavy and has a really nice bright orange flavor to contrast against its bitterness. The gentian flavor from the Suzé adds a nice herbal note that I find continues to get better as the drink mellows." - Christian Hetter, The Berkshire Room
INGREDIENTS:
2oz bourbon
.75oz Amer (Bigallet China-China or Wolfberger Wolfamer are what I like to use)
.25 Suzé
DIRECTIONS:
Combine all ingredients in a mixing glass and stir over cracked ice.
Strain into chilled coupe and enjoy.
Poor Man's Caipirinha
"My love for caipirinhas runs deep. I was in Cartagena, Colombia walking home passing a cocktail bar called El Baron. My new Colombian buddy Oscar was closing the bar. I banged on the door just to say hola. Knowing they were closing, I started to walk away, but Oscar insisted I have a drink. He probably just meant a shot (my Spanish is terrible). So I came in and asked for a caipirinha. He already stowed the fruit and was burning ice. The only things he had available were lime juice and a really thick, rich house sugar and of course a bottle of Cachaca was on the back bar. So we made a poor man's caipirinha. He laughed at me for suggesting to botch the classic, but my stupor was so persuasive he shook and I drank the offspring of what those two tins created. Oscar was so pleased with my inebriated concoction that he made two more." - Bob Begandy, Beverage Director, Dusek's Board & Beer/Punch House/Tack Room
INGREDIENTS:
2oz Cachaca
.75oz lime juice
.5oz Demerara
DIRECTIONS:
Combine all ingredients into a shaker with ice.
Shake until chilled, pour into the coup glass, and garnish with a cinnamon stick.
Sign up here for our daily Chicago email and be the first to get all the food/drink/fun in town.
Amanda Topper is a contributing writer for Thrillist Chicago, foodservice industry analyst, and food blogger for TheGhostGuest.com. Champagne is her cocktail of choice. Follow her at @AmandaTopper.