Chicago's beer scene is growing up fast, which is great news for beer drinkers in the city. In recent years, the number of Chicago taprooms has increased at seemingly exponential rates, the city's well-known breweries have progressively expanded distribution, the marketplace has continued to grow, and existing concepts have continued to evolve. All these signs point to the welcome maturation of Chicago's craft-brewing culture. We've also seen a number of those existing breweries and newcomers increasingly adding or expanding food offerings and entertainment, which is a welcome improvement to the overall brewery-going experience.
From established breweries expanding their offerings and reach, to an influx of new, smaller breweries, the "Drink Local" mantra of our beer community has only grown stronger and wiser with age, celebrated by a multitude of fests and creative collaborations. We've put together this helpful guide to help you navigate Chicago's rapidly growing craft beer scene and answer that age old question, "Where should we grab our next beer?"
Recommended Video
Stay Classy This Winter With a Spiced Pear Tom Collins
Expanding breweries and waistlines
When the Brewers Association, the national authority on all things craft beer, unveiled its list of largest craft breweries in April 2016, Revolution Brewing found itself on the list at No. 50. That may not seem like much, but Revolution is Chicago's first brewery to crack the top 50 (discounting Goose Island's "craft" credentials). Later that year, Revolution expanded its production and also announced it would begin distributing its beer to New York.
Meanwhile, Aurora's Two Brothers Brewing, which already distributes to more than a dozen states, opened in Naperville, its third Chicago-area location and fourth overall (including Scottsdale, AZ). And before any of that transpired, in 2014, Half Acre Brewing began the slow process of moving most of its operations from its Lincoln Ave location to 2050 W. Balmoral Ave. Half Acre's new space is a building spanning 60,000sqft of interior space plus an additional outdoor area and a restaurant to come.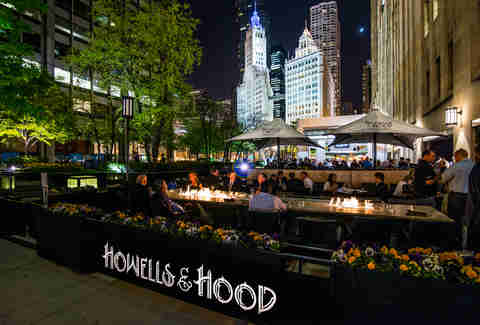 Pub grub gets a welcome upgrade
Half Acre's inclusion of food as part of its new business plan has become increasingly commonplace at many breweries -- not just in Chicago, but across the country -- but it's not just a gimmick to get you to stick around for more drinks. Indeed, Chicago's very own Band of Bohemia recently became the nation's first brewpub to obtain the coveted Michelin Star. Additionally, a former chef owns Tribes Alehouse, and Corridor Brewery & Provisions includes food as a fundamental part of its enterprise (duck and winter squash toast, anyone?). But, it's not just breweries adding food to the menu -- restaurants often consider craft-beer integral to success. Chris Bisaillon, co-owner of Bottleneck Management, who operate such Downtown establishments as Sweetwater and Howells & Hood explain, "Craft beer is an elevated choice that many prefer when dining out, just like wine or cocktails. We have 90 draft handles, 12 for seasonals and special releases, as well as a tap exclusively for a local, possibly self-distributed breweries like Alter Brewing in Downers Grove."
For breweries without a chef on staff, food trucks are as common as an IPA these days. Some trucks, such as Toasty Cheese, Pizza Boss, and Roaming Hog have developed a strong following all their own. And those food trucks are just one of many ancillary businesses helped by the by the flourishing Chicago craft-beer industry.  
More breweries, more bars
In the midst of all this expansion and repurposing of existing outfits, new breweries continue to pop-up in droves. Dovetail and Skeleton Key are two of the most recent openings. Other breweries, meanwhile, have undergone name changes, such as Burnt City (formerly Atlas) and Myths and Legends (formerly Urban Legend), and they continue to thrive.  In fact, since January of 2013, more than 100 breweries -- that's right, 100 -- have opened in the Chicago metro region, and the pace is increasing -- an average of three breweries every two months have opened up since 2015. Granted, a few breweries have closed -- Arcade, Slapshot, Ale Syndicate (temporarily), and a few others -- because no industry is infallible, but compared to successful breweries, it's basically a drop in the bucket of beer.
In addition to brewery openings, there's also been a rise in craft-beer bars and bottle shops, including The Barrel in the Pilsen neighborhood -- a self-described dive bar that specializes in serving only Chicago craft beer -- and numerous bottle shops such as Bitter Pops in Chicago, Oak Park's Beer Shop, and the Open Bottle in Tinley Park. The market within the city and suburbs is growing ever more crowded, but it doesn't appear to be slowing down anyone's success much.
Connecting with the community
In 2014, Illinois craft beer contributed more than 2.2 million dollars to the economy, the majority of which is in the Chicago region -- and politicians know it. When Motor Row Brewery opened in the once fledgling Motor Row District of Chicago, Rahm Emanuel showed up for its opening. But, not only is there an an economic impact, there is a cultural impact, too. Motor Row regularly hosts blues performances, which keeps alive a Chicago Southside institution. Meanwhile, Argus Brewing works with the Friends of Pullman to help the Pullman neighborhood, and Goose Island is working to clean up areas near Lake Michigan and keep the water clean. When fire ravaged portions of Gatlinburg, Tennessee, Werk Force Brewing in Plainfield held a drive and sent supplies to people in need. Additionally, places like Temperance and Vice District host yoga classes and running clubs. To wit: Chicago's craft beer scene is intertwined with its community socially, politically, and economically.
Has expansion changed the culture of Chicago's craft beer scene?
One only needs to look at places like the aforementioned Chicago Brew Werks/Werk Force Brewing to understand the camaraderie between brewers that binds the industry in Chicago. It's there that one can find home brewing supplies and take brewing classes, taste many brewing collaborations, and notice the multitude of stickers and posters provided by almost every other Chicago brewer (and national ones, too). Indeed, collaborations are still a mainstay within the community -- Half Acre has a link on its website for beers "brewed with friends," and almost every Chicago brewery engages in something similar. Not to mention, festivals are a mainstay within the Chicago craft-beer community: Oak Park Micro Review, Festival of Barrel Aged Beer (FoBAB), Beer Hoptacular, and Chicago Ale Fest, to name a few. In fact, 350 Brewing's Summer Fest randomly pairs breweries together to formulate collaborative brews just for the festival, known as Collab Roulette. And each May, the entire brewing community comes together for 10 days as part of Chicago's Craft Beer Week -- an entire industry forging together to celebrate Chicago craft beer.
Even if one looks to Chicago's biggest brewery, Goose Island, one can find a strong sense of community. Despite the consternation associated with the Anheuser-Busch (AB InBev) purchase of Goose Island, the brewery continues to grow domestically and internationally just as the numbers of independent brewers increase in Chicago. Goose still demonstrates a strong commitment to its home city of Chicago with pub-only beers, special Chicago-only events, and routinely hosting festivals that include its "competitors" such as the Goose Island Stout Fest in February and the Belgian Beer Fest in the fall.  
Simply put, no matter the size of the brewer, collaboration and community is a must, and growth seems inevitable (at least so far).
Growing up gracefully
Chicago craft beer is alive and, more importantly, well. Those on the inside can speak of growing pains, and those certainly exist. However, to the average beer drinker, it is almost impossible to miss the growing influence and success of Chicago's craft beer culture. Even local cultural institutions such Morton Arboretum, Field Museum, and Lincoln Park Zoo have all worked with brewers to create a beer just for them. For that matter, a visit to All Aboard Diner -- a train-themed kids restaurant in Downers Grove -- offers Revolution Anti-Hero IPA (for the grown-ups, of course). Almost no matter where one goes in the Chicago area, craft beer is there. And, with good reason -- Chicago breweries took home four gold medals and ten medals, overall, at this year's Great American Beer Festival in Denver. And several Chicago-area breweries own World Cup awards, too.
So, If you find yourself at the Goose Pub in Clybourn or Lagunitas' massive taproom; Gordon Biersch or Rock Bottom; Noon Whistle or Sketchbook; or tasting Around the Bend, Spiteful, Light the Lamp, or Metropolitan at home, you are enjoying the fruits of Chicago's craft beer's success. It's a success that continues because it relies on one basic premise -- dedicated, geeky brewers who love to turn water into wine-barrel-aged beer -- or pilsner... or IPA... or... saison... or anything else that makes you beer lovers happy to be alive.
Sign up here for our daily Chicago email and be the first to get all the food/drink/fun in town.