Perspiring from the hot stage lights and the constraint of his gray sport coat, Joseph Cranford addressed the crowd at the Chicago Magic Lounge in a blustery manner, more like a soapbox orator than a seasoned illusionist wielding a polysyllabic patter. The gusto helped warm up the tepid audience, which seemed unsure of what to expect. Before diving into a history lesson, Mr. Cranford asked the out-of-towners where they were visiting from. "Milwaukee." "Kansas City." A handful had responded. Next, he asked the locals what neighborhoods they lived in. "North Center!" "Ravenswood!" It was a deluge. "See, that's how you know you're in Chicago," he quipped.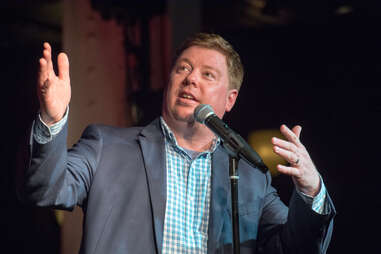 As the producer and host of the Chicago Magic Lounge, Cranford aims to transport guests to the heyday of Chicago bar magic, which birthed the popular Chicago style. Unbeknownst to many, it's a style that has since spread all over the world; its adherents usually break the fourth wall, eschew smoke and mirrors, and perform up-close tricks in a conversational manner. Basically, it's the opposite of whatever mindfuckery Criss Angel has summoned from the eighth circle of hell. The Chicago style is more closely related to the work of the incomparable Ricky Jay: prestidigitator extraordinaire, scholar of the arcane, Hollywood actor, and world-record card thrower. Or, perhaps more famously, the street-prowling levitator David Blaine. But before Hollywood caught a whiff, it was pioneered right here by local bar magicians such as Matt Schulien, Heba Haba Al, and Don Alan.
"In the '60s and '70s in Chicago, you could see this style of magic at any number of bars, such as Little Bit O' Magic on the South Side, Schulien's in North Center, and the New York Lounge in Lincoln Square. But they vanished by the turn of the millennium," says Justin Purcell, a local magician who has headlined at the lounge. Indeed, from the '20s to the '90s, there were at least 16 different magic bars operating around the city. Ricky Jay claims that when he was starting out, Chicago had the greatest magical bar scene in the country. Yet, it was rare to hear people discuss Chicago's storied magic history for many years, perhaps due to the extra attention given to the city's improv comedy, its blues and jazz clubs, and its theater. Now that the Chicago Magic Lounge is on the scene, chatter about a magic resurgence is spreading. Cranford suggests it's long overdue: "I think it's just awareness. David Parr and Joe Diamond have been running The Magic Cabaret for 9 years. Magic Chicago has been going on for 10 years. Dennis Watkins has a standing show at the Palmer House, and that's been going on for years. We're actually the only new player to pop up."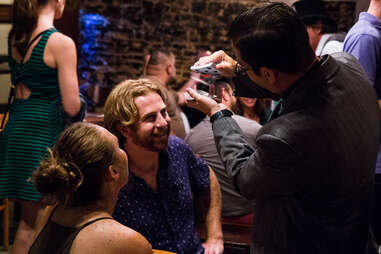 Setting up shop in the Uptown Underground space every Thursday and Saturday night, the Chicago Magic Lounge is located a stone's throw from the historic Green Mill jazz lounge, which Charlie Chaplin, Al Capone, and Frank Sinatra all used to frequent. It feels right at home in the neighborhood. The lounge itself looks normal enough: a bar, a few rows of chairs, and 20 or so tables surround a small stage adorned with a red velvet curtain and piano. Each night before the stage show begins, magicians walk around from table to table performing logic-zapping tricks in the Chicago style. There's an additional close-up gallery show after the stage performance, and on Thursdays, an opening close-up performance at the bar. The stage show is what most ticket buyers come for, but it's the close-up magic that tends to leave an impression. This is all part of a plan. "By breaking that fourth wall completely, what Chicago is known for, you interact with the audience on a personal level," Cranford explains. "We just can't sell that until they see it, so we tack close-up magic onto the stage show, just to give people an opportunity to see it and be won over."
The stage show features the kind of magic most people are familiar with, the kind they're likely to see in Vegas or on America's Got Talent. Performers make cards appear inside pieces of fruit, mend torn-up dollar bills, rip off their shirts to reveal impossibly shredded midsections before deadlifting a Cadillac and mind-freaking onlookers. (OK, maybe not that last one.) Headlining talent has also been improving, since the lounge has invested in attracting bigger names. The goal is that these better-known performers will help spread the word about the Chicago Magic Lounge in other communities, and it's the same strategy that comedy clubs such as Zanies employ. Meanwhile, the local community has grown to more than 50 club members and about 35 active performers. The lounge not only offers unique entertainment, it also provides a space where magicians can work on and showcase their skills. This is important, because even though beginners can find plenty of instructional material on YouTube and Amazon, coveted secrets aren't so easy to come across. They're often buried in dusty, expensive collectors' books, which sit on the shelves of places like Magic, Inc., a Ravenswood magic shop. The rest are locked away inside the minds of veteran magicians. They are the keepers of secret knowledge.
Inevitably, I became curious about how deep the rabbit hole went. "Some effects, magicians only create for other magicians," says Cranford. "Those are rarely shown to the public, because they're almost too good. They're intended to fool the closest of eyes, which are other magicians." That's partially because magic tends to short-circuit the evolution-stamped programming buried deep within our brains, and magicians have put in the necessary time to discern when the brain is fooled. This happens in a variety of ways. One way is that visual neurons don't stop firing immediately after we see an effect. This betrays our vision, lagging our perception of reality and making us see something that isn't there. Another way is change blindness, which makes our brains unable to detect variations in visual stimuli. Some tricks can fool even the most discerning of eyes. For example, Purcell told me a story of when he witnessed the respected magician Juan Tamariz perform at a convention to several hundred colleagues. Tamariz presented a version of the famous "Oil and Water" trick, in which black and red playing cards are mixed in an exacting manner, only to become unmixed a moment later. However, he performed the trick without a single false move (a technique that makes it appear like an action has been performed when it hasn't), dumbfounding even his accomplished peers. An auditorium's worth of jaws hit the floor. "It was like the moments after a car crash. That was real. I saw it." (On a related note, do magicians do a wand drop after a show-stopping trick?)
Herein lies the not-so-secret recipe for great magic: It should feel real. At the Chicago Magic Lounge, this is just as true for the magicians as it is for the audience. To better understand the phenomenon, consider the work of LA-based artist Samara Golden, who constructs over-stimulating environments that recreate her version of a sixth dimension. (Think M.C. Escher doing a cover for Dwell magazine.) She's an appreciator of magic, and a fascination with the practice has guided her work. In her art, staircases lead to nowhere. Mirrors amplify depth. Gravity is but a horizon. "I have to believe in the realities I'm trying to create and only after that can it start to mean something to anybody else," she explains for The New York Times.
Similarly, the Chicago Magic Lounge isn't so much a physical structure as it is a reality that magicians have invited the audience into. "The show begins when you walk in," reveals Cranford. "The show is the theatrical presentation of a magic bar." The whole evening is essentially one big performance, and during it, magicians must believe in what they're doing for it to feel real for the spectator. And when the spectator gets lost in the moment completely, even for a second -- that's it. That's the real magic.
Sign up here for our daily Chicago email and be the first to get all the food/drink/fun in town.