The 16 Chicago Beers Perfect for Spring Drinking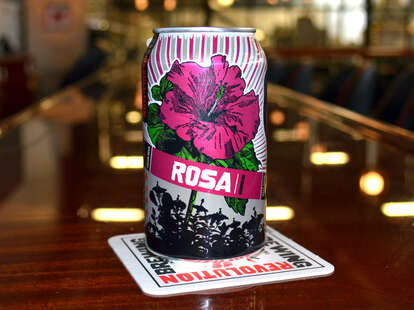 Courtesy of Revolution Brewing
After a few teaser days of 60-degree weather, what other gifts will El Niño bring us this spring? More outdoor beer-drinking weather!... eventually! As we transition from beer that's as dark as a long winter's night to something lighter, fresher, and crisp, it's no surprise that Chicago brewers offer a variety of seasonals assured to compliment all of the city's changing weather patterns. We propose drinking the following 16 brews, which include a variety of beers that are either released during spring or are selections that work particularly well during the warmer months.

Rosa Hibiscus
Spiced beer; 5.8% ABV
April showers bring May flowers. What better way to honor that idea than with Revolution's Rosa Hibiscus, which is steeped with hibiscus flowers. It pours pinkish-red and the prominent hibiscus flavor is impossible to miss. There's a good balance of sweet, tart, earthy hops, and malt. Much like a gose, it may not be a beer for everyone. If you like something a little different and unique, this well-crafted hibiscus ale is worth a try.
Witbier, 6.5% ABV
Middle Brow addressed Chicago's Jekyll and Hyde spring by brewing two versions of its witbier, White Light and White Heat. White Light includes apricot and cardamom while White Heat helps keep you warm with its inclusion of chili peppers and tangy orange peel. Regardless of which one you choose, buying a Middle Brow beer also means supporting local charities; half of their profits support local causes.

White stout; 6.66% ABV
Sometimes it snows during springtime in Chicago, and sometimes stouts are white. Set to be released in mid-April, Madmen is a pale ale that tastes like a stout -- tame in appearance, but bold in flavor. It's brewed with lactose, orange peel, cold press coffee, and Madagascar vanilla bean. The beer's release coincides with longtime Chicago-radio personality Wendy Schneider's documentary on the legendary rock 'n' roll studio, Smart Studios.

Belgian-style IPA; 6.2% ABV
Pipeworks never disappoints when it comes to taking care of Chicago's hopheads. With a nod to the forthcoming warmer months, Pipeworks has again canned their Glaucus Belgian IPA, which combines American Citric hops with bold, spicy Belgian yeast. Previous versions of Glaucus have enjoyed ABVs as high as 8%, but at 6.2% ABV, this one is almost sessionable, at least by Pipeworks standards. What hasn't decreased is Pipeworks propensity to provide aggressive flavors and Glaucus is no different.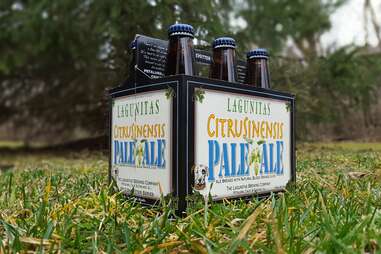 Pale Ale, 8.0% ABV
Like a badass guitar player that constantly shredding riffs, searching for a new sound, Lagunitas' OneHitter series brews are the result of brewers messing around until they concoct something unique and really good. CitruSenesis starts with a wheatier version of their New Dogtown pale ale, and then they add concentrated Sanguinello blood orange juice. The result is a juicy pale ale with some serious citrus zing. The OneHitter series is always brewed in limited batches, so CitruSinesis is only available through April, but plenty of bars have it on draft, and most liquor stores are carrying six-packs, so it's pretty easy to find.

American IPA; 6.3% ABV
Grapefruit seems to be all the rage this year, but Arcade was brewing with Grapefruit before it was cool, and now they sell it in six packs. Arcade uses Columbus and Cascade hops, sweet and biscuity malts, and grapefruit juice in this IPA. It will satisfy the palates of those who like German malty beers, hoppy ales, or fruit-forward brews. If you like Ballast Point Grapefruit Sculpin, you should try this.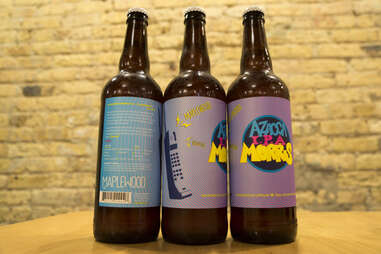 American IPA; 7.3% ABV
Who says a spring beer needs to be a pilsner, Belgian, or saison? Azacca Morris IPA is comprised of five hops: Azacca, Warrior, Columbus, Centennial, and Apollo, which compliments the 2-Row, Vienna Dextrine, White Wheat, and Caramalt grains nicely. One will notice an intense tropical aroma that's accompanied by notes of pine, pear, and apple. The fruit and hops work harmoniously; it's neither too sweet nor too bitter, yet it's fiercely flavorful.

Saison; 7.7% ABV
Rate Beer's Best New Brewery of 2015 is sure to cure your winter blues and put a little "spring" in your step (sorry), especially if you love listening to tunes while drinking great beer. Mikerphone's G Funk Era is a golden ale that's complex, but light, fresh, and provides a tropical feel. It's fermented with two saison yeast strains, three Brettanomyces cultures, and Lactobacillus, which aged in a wine puncheons on grapefruit.
Belgian Saison; 5.8% ABV
Named after Vice District's GM Sarah Melon, Meloncholy includes Kaffir lime leaf, sweet and bitter orange peel, lemon zest, grains of paradise, as well as white, green, and black peppercorn. The complexity is off the charts, yet like a great chef that transforms random ingredients into a perfect meal, Meloncholy's ingredients come together seamlessly. The gentle, yet spicy finish makes a beer drinker yearn for the next sip.

American IPA; 6.7% ABV
Vallejo's 99 rating on Ratebeer speaks to the beer's spectacular taste (and aroma!). Vallejo pours as golden as the spring's increasingly bright sunshine. The medium-bodied beer provides plenty of hoppy bitterness along with notes of pine and citrus as well as a healthy dose of carbonation. It's offered in cans, from March through September, so it's perfectly portable for all your upcoming outdoor excursions, and fitting for any type of warm-season weather.

India Pale Lager; 7.2%
Two of Chicago's original, modern craft breweries have produced this hybrid India pale lager, which combines lager yeast from Metropolitan Brewing with German Huell and Melon hops. With an incorporation of four hops and five types of grains, the result is an earthy, spicy, hoppy, and light-bodied IPL. It's a great way for hop heads and lovers of easy-drinking lagers to celebrate spring.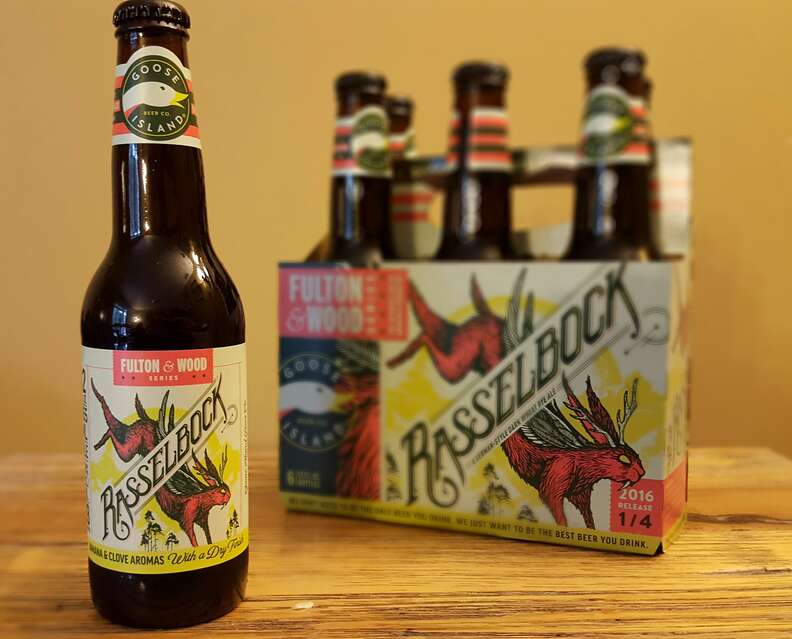 Dunkelroggenweizenbock; 6.8% ABV
Arguments regarding their place in the craft-brewing world aside, Goose has been brewing multi-award winning beer for Chicago since the late '80s. Their newest creation, part of their Fulton and Wood series, is the mysterious Dunkelroggenweizenbock, which enjoys a deep malty taste with notes of banana. Fulton and Wood has traditionally been limited to draft, but they recently bottled it for Chicago and a few select markets. And don't forget their annual spring release of their highly regarded Halia, a farmhouse ale aged in wine barrels with whole peaches.

American pale wheat ale; 7% ABV
Darker than your average wheat, the bitter-hops character associated with the pale ale aspect of this beer shines. In fact, the prevalent hop-bitterness rivals some IPAs. Alongside the bitterness exists hints of citrus and floral notes accompanied by sweet malt, and the gentle kiss of wheat. Crash landed is lighter than a winter beer and can stand up to any chilly Lake Michigan breeze.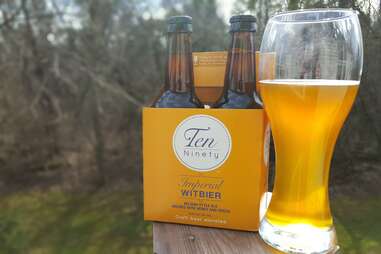 Witbier; 10.1% ABV
Make your first Wit of the spring an imperial one. Ten-Ninety's Belgian not only packs a punch, but offers robust flavor -- malty, sweet, and a bit acidic. The flavor and ABV remind one of a Belgian Tripel, but it's brewed as a traditional Belgian Wit, with pilsner malt, flaked wheat and barley, and accented by coriander, orange peel, and local honey. Its a high ABV brew that taste great and goes down easy -- a dangerous combo, but a good one.

Pale ale with rye; 5.8% ABV
Rye's popularity within the realm of craft brewing (and craft whiskey) has increased steadily. Rye flavor can be gained from aging beer in rye whiskey barrels or used as a substitute for barley. The added dimension of rye provides depth to this classic, well-crafted American Pale Ale. In addition, the dry-hopped Green Bullet and Chinook offers a refreshing tropical aroma.

Wheat ale; 5.7% ABV
Available in cans, this remarkably fresh-tasting wheat ale is perfect for the first time you scrape the last vestiges of snow and ice off the grill. The Belgian yeast offers a bit of bubble gum and spice, as well as a classic wheat taste. It's about as easy-drinking as a beer can be -- perfect for warmer spring and summer days.
Sign up here for our daily Thrillist email, and get your fix of the best in food/drink/fun.
Mathew Powers is a Freelance Writer who mostly writes about beer and spirits, which is probably just an excuse to drink more beer. Follow him @sportschipsndip