Where to Watch the FIFA World Cup in Chicago
One of the finest tournaments in all of sports is back: The World Cup goes down from June 14 to July 15, when perennial powerhouses like Germany and Brazil will square off against upstart squads from Saudi Arabia to Panama. And while the US men's national team may not be playing this year, that doesn't mean you should sleep in on the action. Literally, don't sleep in -- the games are in Russia, so matches will run in the morning and early afternoon hours here, but plenty of bars in Chicago will be open and catering to diehard soccer fans and noobs alike. Here are the most fun spots to watch the World Cup, and check back later for updates on drink specials and watch parties as the games heat up. Just leave the vuvuzelas at home.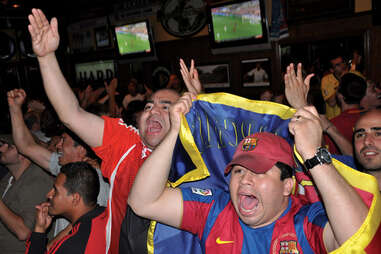 North Center
Local soccer institution set to reopen with new menu and TV system
You can't talk about soccer in Chicago without talking about The Globe Pub, the city's most iconic spot for international sports like footy. Despite currently being closed for renovations, pub owners assure Thrillist they will be open for the World Cup... with a June 8 soft launch date and grand reopening planned for after the World Cup. In the meantime, stop in for all World Cup games as well as a new food menu designed specifically for the World Cup which includes their famous traditional breakfast to pair with Krombacher pilsner specials throughout the tourney. The World Cup will also give The Globe a chance to unveil its brand new TV system with 21 HD 4K TVs of 55 inches or larger, plus an additional 20 beer lines to handle to increased demand.
Ukrainian Village
The coolest soccer bar in the city, plus brick-oven pizza
Calling itself "Chicago's #1 Location for International Soccer," this cool neighborhood favorite has been rising in the ranks amongst local football fanatics in recent years thanks to 16 HDTVs and a bevy of DirecTV sports packages. Get there early to watch the World Cup from a coveted barstool in front or wander out back to take in some fresh air on the delightful 1,200-square-foot patio. The Cleos menu features more than 50 beers and bar favorites like country fried chicken sandwiches and a "carnivore" pizza made in a brick oven and topped with bacon, Canadian bacon, chorizo, meatballs, pepperoni, and sausage.
River North
Popular international hangout looks to be buzzing for the Cup
One of the most famously international bars in Chicago is billing itself as a "headquarters" for this year's World Cup, and it plans to screen each and every game live as well as the offer the option to book group events for private watch parties. They promise to serve plenty of Irish coffee, shepherd's pie, fish & chips, and Irish ales on tap (Guinness, Harp, Smithwicks, etc). They also have food and drink specials on sale during every game and have helpfully posted a schedule of all the matches online in PDF form.
Lincoln Square
Soccer-loving traditional Irish bar for BLTs and bangers and mash
One of Chicago's premier soccer bars will be screening all of the World Cup games on five flat-screen TVs in front, plus three in the back, and a large projector screen. Fans of major teams like England and Germany are expected to come out in force for the action, aided in no small part by a bar menu of Irish pub classics like bangers and mash and Irish nachos topped with shepherd's pie filling, plus more traditional fare like burgers and BLTs. Ireland may not be in this year's tourney, but you can still expect the crowd to be amped. You should swing by or check the website if you want to know about their daily and weekly specials, but they run the gamut from all-you-can-eat fish and chips to $6 Tullamore Dew + PBR deals and the like.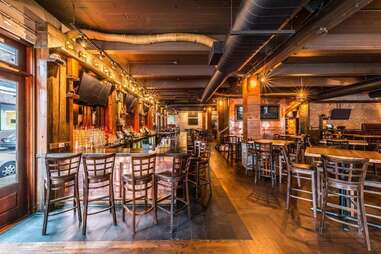 South Loop
The spot to order a foot-long grilled cheese with short rib
One of Chicago's leading sports bars may not be a "soccer bar" per se, but it will keep all eyes on World Cup action by screening all games via approximately 25 TVs which line the walls in between exposed-brick columns. The bar is famous for its foot-long grilled cheese (which comes in short rib and Cuban varieties), but that doesn't mean you should overlook additional items like 12-hour pot roast and cedar plank salmon. Show your team colors by downing an array of international ales from Kronenbourg to Peroni. Try something off their game-day brunch menu too, perhaps the pulled chicken breakfast burrito, made with cheddar and pepper jack cheese, scrambled eggs, black beans, and corn.
Lincoln Park
A relaxed patio atmosphere for your World Cup fun
This friendly neighborhood hang will be screening most World Cup games, including all of the major matches. It may not be the most raucous soccer bar in the city, but it more than makes up for it with one of the most in-demand outdoor day-drinking patios in the city (which, yes, will have TVs showing World Cup action). Dive into some Guinness beef stew or a platter of baby back ribs paired with Irish whiskeys and a range of ales from the Irish big boys to more small-scale locals like Alarmist and Two Brothers.
Lincoln Square
Where fans of Germany have a home
Fans of reigning World Cup champion Germany can watch the perennial powerhouse go for a repeat of its 2014 triumph at the German-American cultural center in Lincoln Square. It's showing all Germany matches on multiple screens on the second floor of the Brandenburg Room. They'll be serving beer and pretzels, and the suggested door donation is $5. So far, watch events are scheduled for Germany's first three games on June 17, 23, and 27, but no one thinks the party is going to stop there.
Lakeview
Neighborhood British pub with a serious soccer obsession
This neighborhood corner bar isn't kidding around when it comes to soccer, and will be screening all World Cup games with 110 beers to choose from, including Carlsberg specials during the World Cup. The bar will open early for the games, which should allow you plenty of time to explore the beer list alongside more traditional British pub offerings like British BLTs and fish and chips. Grab a Hudson burger with a side of garlic mashed potatoes and watch the games alongside fans of major teams like England and Spain.
River North
An upscale take on the Cup with craft beer and avocado toast
This Downtown sports bar with an upscale twist will be screening all World Cup games on more than 35 TVs, with VIP option for 25 people to watch on a 133-inch screen if you're too sophisticated to mingle with the general population. Grab buckets of domestic brew or craft offerings from the likes of Cigar City and 5 Rabbit to pair with menu entrees including avocado toast and beef sandwiches. This is a fancier spot than some of the other bars on this list, and hooliganism is discouraged, but they also helpfully post all their daily specials for the week ahead of time on their website to help folks plan ahead.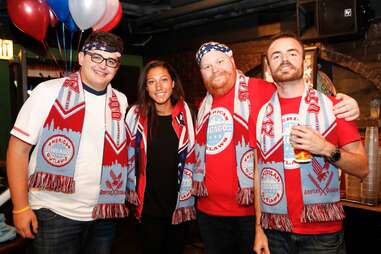 Streeterville
The best wings in the city, wild boar meatloaf, and a "Big Timmy"
With 72 TVs and 48 beers on tap, plus billiards and some of the finest wings in the city, Timothy O'Toole's has everything you need to settle in for the World Cup long haul, including DirecTV and screenings of all the World Cup games. There's also wild boar meatloaf and tater tot poutine and, for those who want to get in on some sporting action themselves, try to finish the "Big Timmy Challenge" (two half-pound burger patties with four types of cheese, bacon, and BBQ sauce plus Irish nachos and onion straws) for a free T-shirt. Plan ahead by taking a look at all their specials on the website a week in advance.
Sign up here for our daily Chicago email and be the first to get all the food/drink/fun in town.
Jay Gentile is a Thrillist contributor and he is banking on Tunisia going all the way this year. Follow him at @thejaygentile.