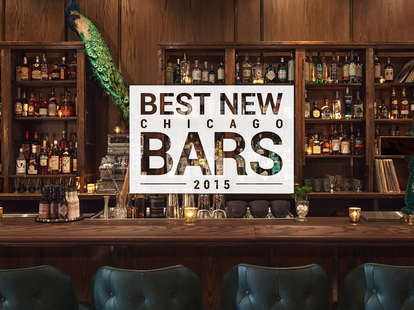 Courtesy of Eric Kleinberg/The Betty
More important than any awards in acting or singing, this list celebrates the true greatest achievements of 2015 -- killer new bars. And instead of overwrought speeches and over-the-top outfits, we had a few beers, glasses of wine, and crafty cocktails across Chicago to find out which new spots are worth your vital stool-sitting hours. The envelope please…
West Loop
2015 kicked off with a string of solid nominations, including this sultry spot that's casual enough to lay claim as one of Chicago's finest date spots, yet upscale enough to showcase your classy side. Surround yourself with bookcases stacked with vinyl in this dimly lit, rustic space as you order up fancy cocktails like the rye- and sweet vermouth-packed Coffee & Cigarettes or The Stormbringer made with Scotch and pear brandy. Grab a seat on the long red tufted leather sofa to nosh on caviar and pierogies and, if you feel like getting really fancy, uncork some 23-Year Pappy Van Winkle. For a cheaper option, stop by during daily happy hour from 4-6:30pm for half-price beers (Lagunitas Pils on draft, Islander IPA) and $1 chicken and ham confit croquettes. This would be a nice departure from raging to EDM till dawn at The Mid.
River North
Plenty of bars these days are made to look like speakeasies, but this historic space beneath The Green Door Tavern (one of Chicago's oldest bars, coincidentally) ACTUALLY IS a former speakeasy, with all the trappings that entails. There's dusty vintage décor, a small performance stage, and a secretive entrance down the stairs in the back.

The Drifter sets itself apart from cookie-cutter speakeasy contemporaries with touches like drinks printed on tarot cards, burlesque dancers, and all manner of offbeat entertainment including Hollywood-themed parties and something called a "séance cabaret" (for partying with ghosts, apparently?). Of course no ghost party is complete without absinthe-based drinks like the Susie Abyss or the tequila and jalapeño soda-infused Dingo Stole My Baby. For extra credit, pair rotating beers like the bourbon barrel-aged Allagash Curieux tripel with sausage-stuffed peppers and salt & vinegar chickpea bar snacks.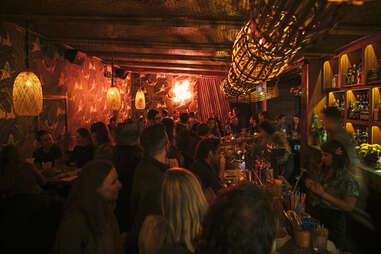 Logan Square
Among the ranks of this year's best bartenders in America, Paul McGee has earned many accolades for this laid-back neighborhood Tiki hut that doesn't hit you over the head like a Tommy Bahama store selling booze. Feel free to explore the cozy surroundings of banana-leaf wallpaper, cabana-style thatched seating, and blowfish chandeliers while sipping drinks with ridiculously long names such as A Lonely Island Lost in the Middle of a Foggy Sea (rum, coffee, pineapple). The banana daiquiri (with dolphin-fashioned-out-of-a-banana garnish) is a must, as is sharing a massive punch bowl like the gin, rum, and cognac-packed Fogcutter. Don't feel like boat drinks? You'll be just as content grabbing the house Exotica Ale from Marz Brewing paired with some chicken and kimchi dumplings from adjoining American-Chinese takeout counter Thank You.
River North
OK, we admit it. At first glance, the term "hostel bar" does not sound all that appealing. But when the hostel is the new upscale "poshtel" The Freehand, and the bar is The Broken Shaker -- the second outpost of the fabled Miami hotspot -- the outlook starts to change rather quickly.

Offering a laid-back house party vibe with octopus art and decor that feels like your buddy's parents' basement, the bar is the ideal spot to pound out-there drinks like the Cocoa Puff-infused Cocoa Puff Old Fashioned, an al pastor margarita, or the popular Chicago Politics, served in a massive copper pineapple with a metal straw. Out in the spacious lounge area, envelop yourself in something of a LA hipster atmosphere with the aid of DJs spinning old-school soul vinyl, couches, and icebreaker games like Jenga -- not to mention solid Polynesian eats like red prawns and pork shoulder with pineapple.
Streeterville
GR is tucked away in a nondescript building on Northwestern's medical complex, and you'll be glad you took the walk through the bright, sterile lobby as soon as the elevator hits the 18th floor to reveal an upscale playpen with one of the most spectacular nightscape views in the city.

While there are Irish accents, the airy, modern interior is devoid of shamrocks or Celtic fonts, there's no need for bomb shots when you have the creative breadth of the 32 cocktails on GreenRiver's menu. The drinks are organized by root ingredient, so take your choice of the more traditional -- The Alderman (whiskey, coffee, black walnut), Governor of Illinois (rum, Irish whiskey, port wine) -- or off-beat offerings like the Hinky Dink with rye vodka, beet juice, pistachio, and horseradish. The lineup of highballs is perfect for the outdoor terrace and a Moody Tongue Caramelized Chocolate Churro Baltic Porter will keep you toasty inside while accompanying a meal of smoked whitefish tartare, chicken oysters, and saffron spaghetti with clam.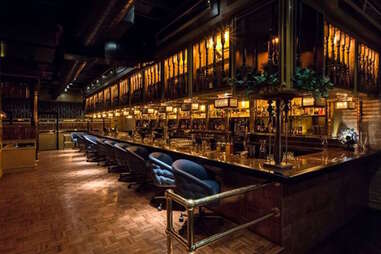 Logan Square
Should you tire of the maniacal red-lit dance party that is Slippery Slope, it's time to head upstairs to Chicago's coolest newest fern bar, The Heavy Feather. What the hell is a fern bar, you ask? Best as we can tell, it's a bar from the '70s with lots of ferns. Which is, weirdly, cooler than it sounds.

The drink menu is printed on paper that looks like a vintage arcade game. Gold mirrors and brass accents are everywhere. And yes, there's plenty of flora. Sit on a vintage leather swivel chair (or in a booth, between two ferns) and order an amaretto sour with egg white or The Casino with vodka and sparkling wine. The popular Freddy Fuddpucker tequila/mezcal concoction is now defunct, but you can still order cans of Stroh's and boozy shakes like the Grasshopper with cognac, ice cream, and crème de cacao. And then, sufficiently rested and refueled, it's back downstairs for a crucial playoff game of Skee-Ball.
Loop
One of Chicago's most beautiful bars has a lot going for it: an open-air skylit restaurant with picnic tables, a jaw-dropping rooftop deck overlooking Millennium Park and Pritzker Pavilion, and what might be the best vodka tonic in the city. Not to be overlooked is the menu packed with big shareable entrees like Portuguese fish stew, fried pheasant, and grilled halibut steak. Stop by after 10:30pm for Midwest poutine with cheese curds and bacon, or during brunch for cast-iron chilaquiles and Hair of the Wolf cocktails (High Life with a shot of mezcal and OJ with salted chocolate dust). Drinks served on the 13th floor during regular business hours are equally entertaining, such as the rum/rye/coffee/porter creation The Hesitant Elephant -- named after an elephant that reportedly refused to leave a raging CAA party in the 1900s. We know the feeling.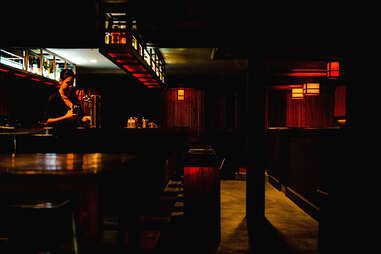 West Loop
Head to the alley just south of Sushi Dokku, find the door with the Booze Box sticker near its handle, and enter one of city's finest secret bars whose dark, sexy vibes immediately immerse you in a subterranean cellar of cool. Sake flights are a thing. As are sakeritas. And saketinis. Sensing a theme here? Besides sake, it's throwing down Japanese-style wings, Japanese trail mix, rice bowls, and oyster shooters as DJs spin hip-hop amidst cedar sauna-like walls and the romantic glow of handcrafted red lanterns. If you can't seal the deal on a date, something has gone seriously awry.
Logan Square
Yes, its hipster level is off the charts. And yes, it's so far west it's basically in Aurora. But Best Intentions (located in the former Marble space) makes up for its shortcomings with its outdoor patio and party cabana alone. Inside you will see a fridge behind the bar stocked with Schlitz and High Life, bearing a "Fancy Cocktail Bar" sign reminiscent of the "Music Friendly Dancing" sign above Empty Bottle. Yet, there's nothing too fancy about the black & white checkerboard floor, the vintage Big Buck Hunter machine, or the jukebox playing sweet-ass 45s. The drinks do get a little fancy when opting for the AB Negative (honey liqueur and cold-brewed green tea) or the Sharlotka (vodka and apple juice box), but they're always as reliable as a good time at this good-time joint.
Humboldt Park
This refined, yet neighborhood-y tavern from the crew behind High Dive and Rocking Horse has floated largely under the radar, but those around the underserved Augusta/California corridor recognize it as a godsend with a beer-heavy drink menu and killer European-influenced Midwestern tavern fare guided by Longman & Eagle vet Rodney Stanton. Standout eats include the braised chuck rib and frites, smoked pork sandwich, and Slagel Farm double cheeseburger. Meanwhile, offbeat beers like Uinta BaBa Black Lager and cocktails including The Execution of Emperor Maximilian (tequila, mezcal, curaçao) are not to be trifled with either.
Sign up here for our daily Chicago email and be the first to get all the food/drink/fun in town.
Jay Gentile is a Thrillist contributor and he totally challenges you to a game of Big Buck Hunter, even though he sucks. Follow @innerviewmag.