While arcade bars and tiki bars continue to be the dominant themed-bar trends in Chicago, there are plenty of other off-beat options out there. So instead of another trip to a sports bar or faux speakeasy, explore Chicago's more out-there side with a trip to these 10 incredible theme bars. You just might enjoy partying like a Trappist monk.
Lakeview
Theme: Wisconsin Northwoods
At first glance, Will's looks like any other neighborhood corner dive with a slight taxidermy fetish (and antler chandelier). But stop by when teams from Wisconsin (Badgers, Packers, Marquette) are playing and enter a whole new vortex of geographic misplacement. You might see Bucky the Badger leading a parade. You might see a cheesehead hat placed atop a giant moose in the leafy beer garden. You might see the crowning of the "Musky Queen" at the bar's annual Musky Fest. The bar's known for its deep-fried, beer-battered cheese curds and friendly crowd that is pretty fun to party with, so you might end up having such a good time you'll find yourself rooting for the Pack. OK, maybe not that good of a time.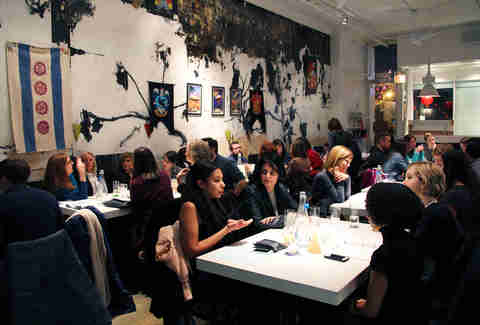 Geek Bar Beta
Wicker Park
Theme: Nerdom
It's got geek board games like Battlestar Galactica and geek media on the TVs around the clock. It's got geek trivia and a geeky staff well versed in the intricacies of The Walking Dead and Star Wars. It's even got geek guest speakers and geek-centric events like "Awkward Meet & Greet" and "Dungeons & Dragons Encounters." Play games of Mike Tyson's Punch-Out!! on Nintendo or Cards Against Humanity at the table. It's okay; no one's judging you because, unlike at many of the arcade bars and dive bars in the surrounding 'hood, no one's cool enough to be a hipster here. And that's the way they like it.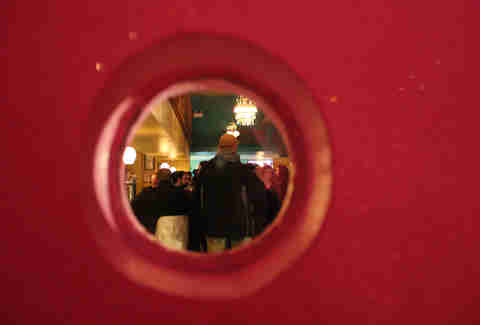 Noble Square
Theme: '60s beauty salon
Beauty Bar is well known as the place to grab "Martinis and Manicures" while seated in vintage beauty-salon chairs sipping drinks like the Deep Condition, Bed Head, and Platinum Blonde. Yet, unlike most salons, it's even more well known as one of the best places to dance in the city with an expertly curated rotation of DJ nights from '80s nights, to Y2K parties, to the indie-centric Indie-pendant dance party the first Saturday of the month. Stop by on Monday nights for $1 beer and free Pie-Eyed pizza, or Thurs/Fri happy hour for 32oz pitchers of Old Style and two shots of Malort for $10. Hey, you'll have plenty of money left over for that manicure.
Monk's Pub
Loop
Theme: Trappist Belgian monastery
Named after a monastery where the owner once spent a childhood summer, Monk's Pub nails the monastic theme right down to the font and cheerful beer-hoisting monk on the ancient-European-looking sign out front. Inside you'll worship in a den of aged woods, dusty old barrels, and Trappist beer banners as Monk's uncorks a divine selection of Trappist ales from the likes of Westmalle, Orval, and La Trappe. But the real holy trinity might be the bar's decadent trio of burgers from chili cheese burgers, to poutine burgers, to maple bacon brisket burgers. Either way, you're going to confession after.
Detention
Gold Coast
Theme: High school detention
If you took your high school social cues from Zack Morris and mouthed off to Mr. Belding after partying too hard with A.C. Slater, you may have found yourself in detention. Whether or not it included waitstaff in schoolgirl outfits, three-bottle party buckets, or scantily clad pole dancers, we don't know. We weren't at your high school. But this Clark/Division nightclub seeks to reimagine the experience with the aid of fishbowls, glow-in-the-dark parties, and fire-eating circus acts. So yeah, kind of like high-school detention. Only not really.
Bucktown
Theme: The almighty bicycle
If you didn't catch the theme in the name, the bike-toting sign and bikes parked out front should just about do the trick. If not, step inside this hipster den of vegan delights where indie-rock posters and dudes with mustaches (bonus points for handlebar 'staches!) set the tone for an evening of bearded-gentlemanly dining on catfish tacos and spirited discussion of the latest Pitchfork review. If that's not enough two-wheeled action for you, stop by on "Bike Messenger Mondays" for $1 PBRs and free fries for bike messengers.
West Town
Theme: Motorcycles
Twisted Spoke has a motorcycle on its roof. Twisted Spoke has motorcycles popping up from the grass out front. Entry to Twisted Spoke is gained by pulling a giant set of motorcycle handlebars. Home of some of the city's finest whiskeys and Bloody Marys, Twisted Spoke also has the fabled porn-and-breakfast combo known as Smut & Eggs. Yes, some people here probably rode in on their Harley. But a welcoming vibe and friendly rooftop patio welcomes all kinds, even if you don't know the difference between Easy Rider and Eazy-E.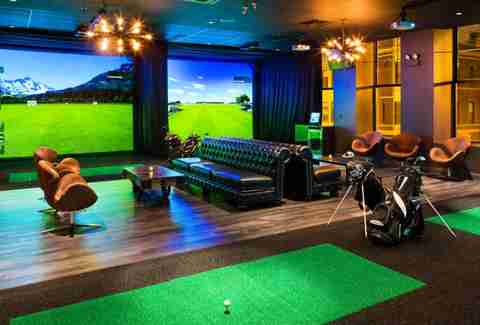 Fairways
Lakeview
Theme: Golf (like a lot of golf)
Sure, you've heard of sports bars. But golf bars? This is not normal (nor is it the 19th hole at your uncle's country club). Instead, Fairways is a slightly upscale bar that looks not all that different from any other neighborhood bar at first glance/first floor. But a visit upstairs makes the theme all too apparent as you come face-to-face with an entire Golf Channel's worth of putting greens, indoor golf simulators, huge video walls, a plaid lounge decked with framed golf pictures, and the "Back Nine Bar." Idiotic-looking golf pants not required, but always a plus.
Ukrainian Village
Theme: Prison
Start your prison sentence at one of the "jail cell" tables in the back (separated from the main area by a row of prison bars) and make a plea deal for burgers (the best in the 'hood, btw) like the Death Sentence, Arson, and Flight Risk as you watch live (and loud) metal on flat-screen TVs. Or post bail in the warmer months on the back patio next to rock 'n' roll wall art while drinking beers like Raging Bitch and Old Chub. But unlike real jail, there's only one rule here: "don't be shitty." There's even a sign saying so. So, no excuses for bringing that one shitty friend of yours.
Lincoln Park
Theme: Kentucky Derby
You would think a bar with a Kentucky Derby theme would be busy about one day a year. Yet, this horse-racing-themed neighborhood spot keeps the party going year-round with non-Derby events like Pinewood Derby races and trivia nights, in addition to a solid menu of Southern-fried delights like jambalaya fritters and the Kentucky Hot Brown open-faced turkey/ham/bacon brunch sandwich. So when you're not partying with dudes in undersized jockey outfits, and girls in oversized Derby hats, you're watching Mizzou sports on the TVs. Why this place went with University of Missouri and not Kentucky we have no idea, but it seems to work.
Sign up here for our daily Chicago email and be the first to get all the food/drink/fun in town.
Jay Gentile is a Thrillist contributor and he keeps a spare jockey outfit in the trunk of his car. Make him an offer: @innerviewmag.