Because someone had to do it, Chicago writer Anna Blessing hit up TWENTY Midwest breweries for her new book Locally Brewed, and was awesome enough to break us off some CliffsNotes about the coolest stuff she learned. Here're eight things you didn't know about the Midwest's best breweries (but really should).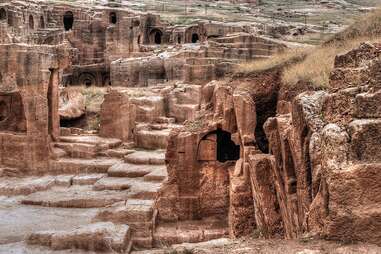 1. Great Lakes Brewing is searching the cradle of civilization for an upcoming beer
While breweries like Dogfish Head and Anchor have brewed from ancient beer styles in the past, Cleveland, OH's Great Lakes has taken BC beer-making one step further, by going all Indiana Jones. Working with University of Chicago archaeologists, co-owner Pat Conway has been searching for the link between beer and the Sumerians, the dominant culture of Mesopotamia. The plan is to go off the grid, using the same Sumerian materials to replicate ancient brewing techniques (possibly setting out petri dishes in Iraq to grab yeast) to remake the first-ever beer.
2. New Glarus Brewery has sampled President Obama's home brew
As a member of the White House's Small Business Council, Wisconsin-based New Glarus Brewing Founder Deb Carey met with President Obama in 2012 (not as part of a beer summit, unfortunately). Barry O sent her home with a honey ale and honey porter that had been brewed in the White House kitchen, to get a professional opinion.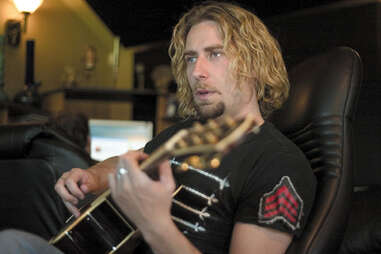 3. Dark Horse Brewing Co. refused to sell out to Nickelback
In 2010, perpetual ear drum abusers Nickelback put out an album called Dark Horse, and then approached Michigan brewery owner Aaron Morse about using his beer in a music video with a brewery truck showing up to a frat party, and kids partying with bottles of Dark Horse. Morse's response? "This is craft beer, not frat beer. And by the way, we don't like your band." The feud led to the brewing of a chamomile pale ale called Scary Jesus Rockstar, named after lead singer Chad Kroeger.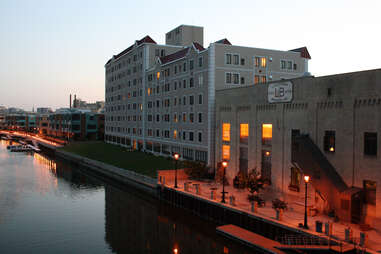 4. Lakefront Brewery challenged a BS ruling from the USDA, and won
In addition to innovations like making the first fruit beer since Prohibition and allowing employees to craft their own beer, Wisconsin's Lakefront hangs its hat on having introduced the first organic-certified beer in the US. So, when Anheuser-Busch and two smaller breweries lobbied to push the USDA to rule that organic hops weren't needed to make organic beer, Lakefront's President Russ Klisch testified before the department and successfully got them to mandate that organic beers have, you know, organic ingredients.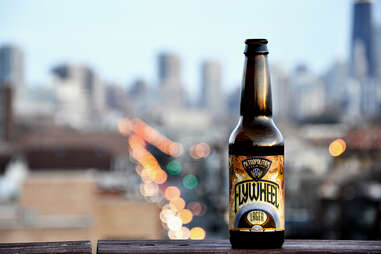 5. Metropolitan Brewing's brewer aced a botany class by brewing beer
While taking a botany class called Plants and Man at the University of Wisconsin-Madison, Doug Hurst was given permission to brew his first batch of beer in lieu of writing a term paper (an option that every college class should allow). He and a classmate picked up a homebrew kit at a local brew shop, documented the process, and later drank their grade-A homework.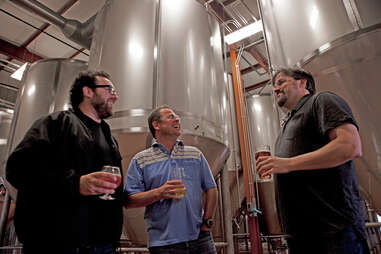 6. Founders Brewing Co. racked up (and overcame) $1 million in debt
Even though craft breweries are now popping up like wildflowers, it's not always easy to maintain the cost for start up and expansion of a, uh, wildflower. During Founders' first four years as a Grand Rapids, MI brewery, it managed to pile up more than a million dollars in debt, including $500,000 to the Federal Government in beer excise taxes, and a defaulted $500,000 bank loan. The property's landlord threatened to boot them out with a week's notice. Lucky for them, though, an investor bailed them out, covered the debt, and marked the turning point for the brewery, which's since stopped worrying about making balanced, unremarkable beers, and reinvented the brand with beers like Dirty Bastard, Curmudgean, and Breakfast Stout.
7. Bell's Brewery's founder will accept your crazy suggestions at Cubs games
Larry Bell, the eccentric baker-turned-brewer and founder of Bell's Brewery in Kalamazoo, MI, is a man of the people. While at a Cubs game, he introduced himself to a fan wearing a Bell's t-shirt who, in disbelief, told him, "If you were Larry Bell, you'd have a business card made of wood." From there, Bell began printing his calling cards on two-ply Eastern red cedar sheets.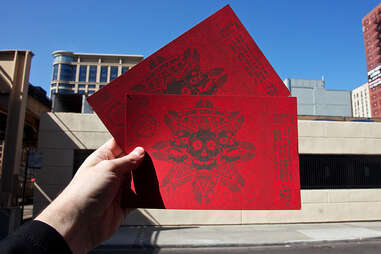 8. Three Floyds' Dark Lord Day has created a black market for beer
Over the past decade, Three Floyds' Dark Lord Day becomes a bigger beast every year with its signature beer being traded as actual currency. Because it's the only time to buy the coveted Dark Lord Imperial Stout, tickets to the event immediately sell out online and are reposted to StubHub at up to 4x the face-value. Folks have been caught forging tickets in an attempt to purchase the rare, barrel-aged variant at the Munster, IN brewery (tickets are now scratch-offs with a "Yes" or "Sorry" handed out at the door). You'll even find lucky stout winners dividing the 22oz bottles into smaller bottles, and re-selling them on the way out of the festival.
Sean Cooley is Thrillist's Chicago Editor, and he thinks frosted beer mugs are overrated. Follow him @SeanCooley.