You might not know this, but we're actually terrible at keeping secrets, especially when it comes to bars. And while you might know about a bunch of these already (because, again: us), there just might be a few you don't. Consider this your beginner's guide to Chicago bars that are -- in some way (hidden entrance!) or another (no address!) -- secret.
Recommended Video
Where to Get the Best Waffle Fries You'll Ever Eat
Wicker Park
As the west-of-Ashland stretch of Division Ave continues to attract more bros-to-the-wall by the minute, Bordel remains a charming cocktail lounge that stands firmly against the soul-crushing waves of party buses. Part of the reason is probably because the second-story establishment has an unmarked door. Actually, that's probably all of the reason. Once inside, visitors can expect classic cocktails, table service that serves up booze in a tea set, and live performances that range from burlesque to flamenco dancing.
How to get in: Open the door located to the right of the Black Bull entrance, head up the stairs, and then open the next door on your left.
Hyde Park
Located in the gorgeous Ida Noyes Hall on University of Chicago's campus, The Pub is a historic bar that looks like the kind of place Harry Potter and all his broom-riding wizard friends would hang out. Also: students, faculty, and staff of the university, because those are the only people who can buy a membership to this private club. If you manage to tag along with a member, inside you'll find old-timey photos, 24 beers on tap, and more than 100 bottled brews. And wine, if you're into that sort of thing.
How to get in: Find a member, follow them to The Pub (with their permission hopefully), and once you get there, purchase a visitor's day pass for $3.
River North
The Green Door Tavern is a historic watering hole with a notably vintage vibe. And beneath it you'll find The Drifter, which somehow actually feels even more vintage-ier. That's because it wasn't designed as a speakeasy: it's an ACTUAL speakeasy from the tragically thirsty days of Prohibition. Restored to a sparkling sheen, The Drifter offers a new cocktail menu every night and quirky entertainment that includes burlesque shows.
How to get in: Enter the Green Door Tavern, walk through the bar, head down the stairs in the back, and you'll come to a waiting room. Capacity is 37, so you may have to wait a bit.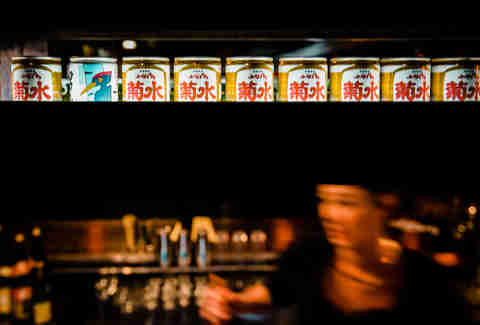 West Loop
Located in Sushi Dokku's basement, Booze Box is a dark and sexy bar where you'll find great drinks, Japanese bites, and a laid-back vibe. Hip-hop on the speakers is pretty common and the red lighting makes this a great spot for a date/million-dollar diamond heist planning session.
How to get in: Head to the alley located just south of Sushi Dokku and find the door with a Booze Box sticker near its handle.
River North
River North has plenty of loud spots that are about as wallet-friendly as a munchies-induced visit to Whole Foods. Watershed is not one of them. This subterranean lounge is definitely a looker, and the comfy booths and sofa seats have a tendency to make time melt away. You won't mind one bit though, since the cocktails here are great and a $5 shot-and-beer special is available daily.
How to get in: Head into Pops for Champagne and find the stairs in the Southeast corner of the bar.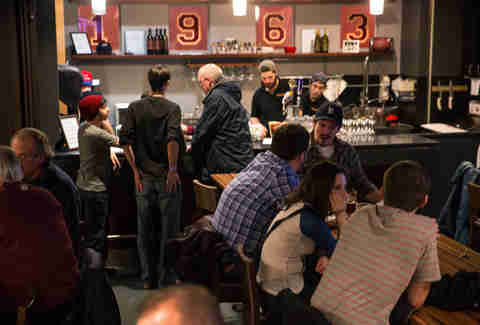 Rogers Park
Unlike other student-frequented bars that you're not allowed to go to anymore, we fully encourage you to check out this unique drinkery located in the basement of Loyola University Chicago's Damen Student Center. It's actually a student-run operation, and the ones working here are getting hands-on experience on how to run a full-blown bar. Expect a menu of pub-style food, frosty pints, and a few communal tables. It's also a solid spot to grab a beer before, during, or after Rambler basketball games.
How to get in: Find the stairs next to the food court inside the Damen Student Center and head down. Also, the bar is closed when school isn't in session (from May 8 to August 24).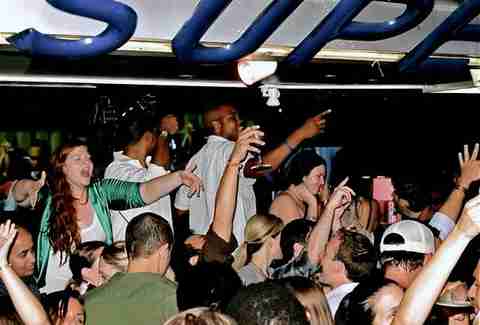 Lakeview
On the exterior wall of Matilda bar, there's a curious sign that simply reads "Baby Atlas." While it sounds like a clothing line for plus-sized toddlers, it's actually the turnt-up lounge located in the basement of Matilda. A night-and-day difference from its upstairs neighbor, Baby Atlas is a small, loud boozery where you'll probably have to shout-talk but also probably won't even care because you'll be busy CRUSHING IT like a Beyonce backup dancer.
How to get in: Walk inside Matilda, find the stairs in the back of the bar, and head down.
Irving Park
The Fifth Province is a traditional Irish pub, but its location is about as traditional as wearing clown shoes to a non-clown wedding. Located in the South wing of the Irish American Heritage Center, the pub is completely hidden away from plain view. The building itself looks very much like a local high school, so finding a bar inside really makes it seem like you've stumbled upon a Stonemasons hangout. In addition to hearty pub fare and pints of Guinness, you can expect live music after 9pm.
How to get in: Enter through the main doors of the center, take a left and head down the hall. The bar has limited hours, however: Fridays and Saturdays from 6pm-12:30am.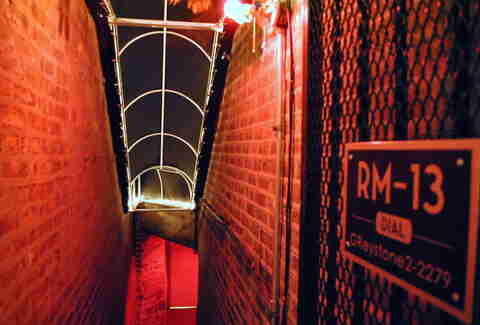 Lakeview
With a discreet alleyway entrance just to the left of the Old Chicago Inn, this is perhaps the most traditionally "secret" bar in town. Protected with an ever-changing password for members only, you can either apply for membership for a yearly fee or earn an invite by staying at the hotel. Your reward? Mixology-perfect drinks from the 1920s (did someone say Manhattan?), served with a healthy side of secrecy.
How to get in: Apply for a membership at the Old Chicago Inn, or book a room there.
West Loop
Located below The Aviary is one of the most exclusive rooms in town, the entrance to this Grant Achatz-backed den of $22 cocktail art is secured by invitation only. A workaround? Book a private party for up to 16; then they have to let you in.
How to get in: Ask around upstairs for an invitation, or book the room for a private party.
Logan Square
If you define "secret" as "not having a sign," this Logan Square hotspot fits the bill nicely, with nothing but a black alley door and red light enabling you access to a dimly lit lair of exposed brick, black curtains, and ubiquitous PBRs. But it's not all dark and brooding inside -- grab a wooden picnic table on its bright outdoor patio space surrounded by graffiti art from people who clearly already know about this place.
How to get in: Locate the nondescript side entrance off Medill, and look for the red light above the door, which is lit when the bar is open.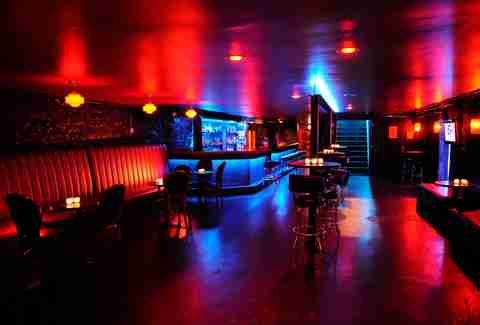 Wicker Park
Double Door's speakeasy-style basement lounge has its own separate entrance in the alley under the Blue Line tracks that gives it the feel of secrecy. And that's all you really want in a secret bar, isn't it? Home to DJ acts who often spin after the upstairs bands put down their guitars, this is a world diametrically opposed to the dive bar feel above, featuring leather seating, blue-hued lighting, and a sexy steel staircase.
How to get in: Find the sign in the alley off Damen, under the Blue Line tracks, or just head downstairs from the main venue room on nights when there's a show.
Sign up here for our daily Chicago email and be the first to get all the food/drink/fun in town.