10 things you should know about Lagunitas and its new Chi brewery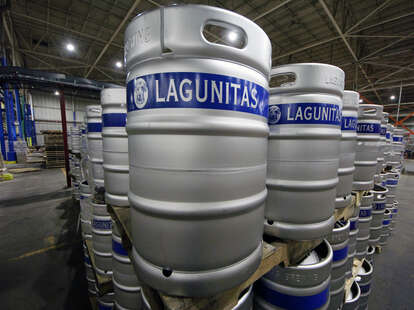 Sean Cooley
Sean Cooley
Lagunitas has been penetrating the Midwest by way of Northern California for years, but with its new Pilsen brewery finally up and brewing the first batches of its flagship IPA (+ the penetrating thing), it's probably time you actually got to know them. Here's a Little Sumpin' Sumpin' about Chicago's new beer overlords:

1. Lagunitas' Imperial Warlord (aka founder) is a Chicago native
The Chicago facility's opening marks the return of prodigal brewing son Tony Magee, who was born in Rogers Park. After studying music composition at NIU, Magee left for California, where a Christmas homebrew kit in 1992 hooked him on brewing and set in motion the founding of the company in Lagunitas, CA... which eventually led to a bigger facility in Petaluma that mirrors the new Chicago brewery.
2. It's now Chicago's largest craft brewery
Lagunitas has moved in to a 300,000sqft facility at 1843 S Washtenaw Ave, a former steel plant that briefly served as a TV/film set for productions like Chicago Fire. That makes it the fifth-largest craft brewing company in the US (putting out 15.5 million gallons of beer last year), and surpasses Goose Island as Chicago's largest craft brewery.
3. There's a tap room on the horizon
Opening in June, the Chicago tap room will have room for 300, a 360-degree view of the brewing operation, live music, and munchies. On tap will be the usual Lagunitas lineup, plus seasonals and the occasional one-off like High West-ified Cappuccino Stout. Also cool? The room'll be turned over to local non-profit organizations twice a week for events and fundraisers.
4. The Feds once shut the brewery down over a doobie
In 2005, Lagunitas was the subject of an eight-week undercover investigation wherein it was suspected of selling marijuana. Thing is, when the government agents tried to buy weed from the employees, they simply offered them a joint for free. Eventually, the brewery was charged with Moral Turpitude and Disorderly House -- laws that were, no joke, used to shut down brothels during Prohibition -- and forced to close the operation for 20 days (time used to install a new bottling line). Every March, Lagunitas releases a beer called Undercover Investigation Shut-Down Ale.
5. The brewery will produce 450 bottles of beer per minute
The 250-barrel brewhouse has 13,000 new kegs ready for keg-standing/filling. The goal of the Chicago operation is to put out one million barrels of beer per year by 2015 using high-end equipment brought in from Germany.
6. Its got bottle-opening ninjas
With butterfly bottle openers.
7. Lagunitas is 4/20-friendly
In addition to the Undercover Investigation escapade, the brewery's released a beer called the Kronik (slapping a censored bar on the label to get it approved), and release a Waldo's Special Ale with the dudes who originated the term "4/20" every April 20th.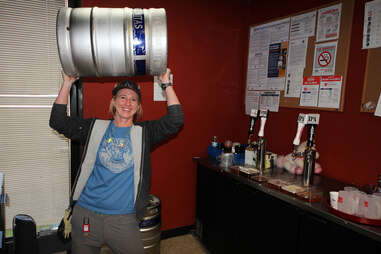 8. It recently hired its 420th employee
Her name is Tracy Beer. She once dated a guy in Colorado with the last name Weed. These can't all be coincidences.
9. Its favorite seasonal brew was a complete accident
In 1997, Lagunitas brewers botched a batch of Olde GnarlyWine, then attempted to rescue the beer by sending its crew out to buy up all the brown sugar in Petaluma. 200lbs of brown sugar and almost one month later, the widely feared 9.9% ABV Brown Shugga' was created. The seasonal has become such a staple that in 2011, when construction issues meant there wasn't enough time to produce the beer, the brewery put out a Brown Shugga' substitute expecting a fan backlash, calling it Lagunitas Sucks (which is now ironically also a top seasonal beer).

10. Your first chance to see the brewery is coming up
If you're foaming at the mouth to see Lagunitas' new Chicago operation, then hit the freaktacular Beer Circus -- live music, carnival rides, vaudeville performers, kegway scooters, and possibly the second coming of Randy Savage -- on May 17th and 18th. Event info and tickets here.
Sean Cooley is Thrillist's Chicago Editor, and we'll see if his 2014 Eater prediction comes true at the beer circus. Follow him @SeanCooley.