Fill your stomach and growlers at this impressive brewpub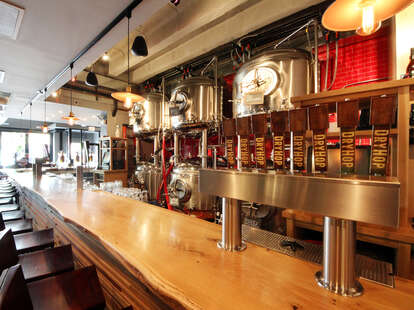 Eighteen hundred gallons. In water, that's enough to fill a fire truck. In beer, it's enough to stock the six tanks directly on tap behind Dryhop's 50ft lightning-struck oak bar (and also enough to make your liver go on strike). The 70-seat brewery and kitchen is outfitted with butcher block tables and booths that, like Al from Home Improvement, are covered in flannel.
The rotating roster of six beers will include new offerings weekly, including experimental collaborations with other local breweries on one-offs and seasonal ales (you may have a blood orange wit or vanilla bourbon porter in your future). Want to take some home? Prepare to fill a growler in…
... this amazing counter-pressure growler-filler that doesn't allow any air inside the jug, making for longer-lasting beer. Not that the beer is expected to last all that long.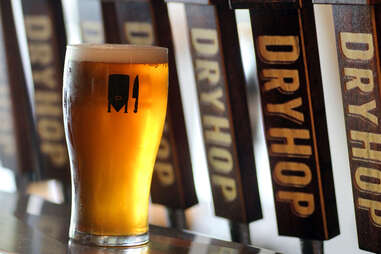 A mainstay on the beer menu that will liberate you from skinny jeans is the Shark Meets Hipster, an American wheat ale featuring Galaxy hops and passion fruit. Try pairing it with some Bar Harbor red curry mussels (lemongrass, chiles, coconut milk).
You never forget your first (unless you're the guy from Memento), right? Batch 001 was the brewery's first recipe, a pre-Prohibition cream ale and steam beer hybrid. It goes nicely with their bacon-wrapped sea scallops (chipotle shrimp hash, sweet corn sauce, papaya relish).
Not just what everyone called The Rock behind his back on the set of Fast & Furious 6, The Angry Samoan is a jet black coconut milk stout. Try downing it with a slice of chocolate pecan pie and some brown sugar bourbon ice cream from nearby Bobtail.
Should you get your fill of barley and hops, head over to the whiskey wall with more than 45 varieties of bourbon, Scotch, and other specialty bottles that'll help you hit your whiskey wall.
Other options to soak up all that booze (or at least some of it) include wild boar porchetta, Cajun-spiced quail, and this Gulf shrimp with smoky corn grits and a poached egg.
No need to worry about spring-loaded snake attacks when opening up this peanut brittle with almonds, pepitas, bacon, and smoked chiles, with further snackage coming from beef-fat fries in hops salt and fried boudin balls with pimento cheese dip, which you'll undoubtedly wish you had 1800gal of.