Setting the highest score on every game at Headquarters just got a hell of a lot harder (like, Contra harder) thanks to their 7000sqft pinball expansion, sporting 20 machines, with all of them set to free play, leaving you more money for drinks! But which drinks? To help you maximize your drinking and gaming enjoyment, check out these five specialty cocktails and the machines with which they pair perfectly.
The Avengers & The Brooklyner
Since Marvel's superteam was last seen having left New York City looking as bad as Tony Stark's facial hair, it's only fitting that you return to the scene of the crime with this combo of rye, sweet vermouth, and Angostura. Bonus points for: smashing the Tesseract open to reveal Joss Whedon's collection of private Buffy footage.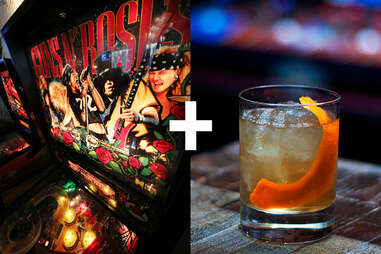 Guns N' Roses & the Cereal Killer
Axl Rose has torched more GNR fans' hopes than a Montreal street riot (the Metallica pinball machine across the room is still bitter). Hopefully your cocktail (Cinnamon Toast Crunch whiskey with walnut bitters) won't take you 15yrs to finish. Bonus points for: shaking the machine like Steven Adler going through withdrawal.
Playboy & Curry-ous
Before the Interwebs, Playboy was a curious boy's best friend. Have a look at this retro cabinet's calendar of playmates who are now likely MILFs while sipping a concoction of rum, curry syrup, Greek yogurt, soda, and chocolate. Bonus points for: not snickering at the "shoot again" signage near the flippers.
Popeye & Soda Popinski
Since both are bald men with aggression disorders, double up with a mix of Bourbon, cherry liqueur, and cream soda (it beats spinach). Bonus points for: shooting your balls in Bluto's mouth. Again, no snickering.
Avatar & Assault and Pepper
You may require strawberry-jalapeno tequila to numb the pain of James Cameron's onslaught of bad dialogue and clichés. Bonus points for: getting the Na'vi to do that thing with their tail.